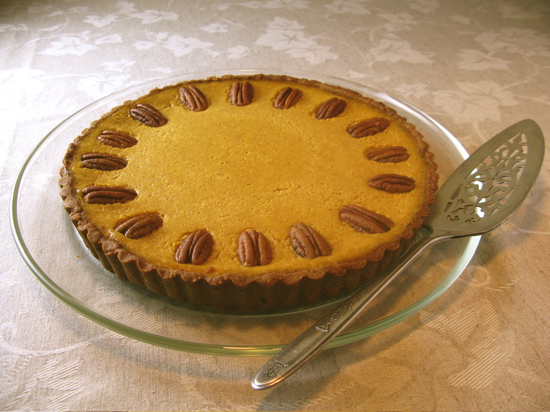 Most years, I reach for a can of pumpkin puree when I'm baking Thanksgiving pies. This fall, though, the cute little Sugar Pie pumpkins called out to me from their bins at the market.
They're locally grown, organic and perfectly packaged – the only waste goes straight into the compost bin. Plus they really do taste better, with a lovely, delicate flavor unsullied by tin can undertones. I've become a convert.
Preparing these little pumpkins isn't that difficult: Split them in half vertically, scrape out the seeds, and bake them in a 400-degree oven for about an hour, until a knife easily pierces the skin. Let them cool a bit, scoop out the pulp and whirl in a food processor and you're set. You could mash the pulp with a potato masher or put it through a ricer, but the processor makes a smoother puree for pies.
Although the tiniest pumpkins are appealing, look for one around 3 pounds or more. The 5 pounder I baked yielded almost 5 cups of puree.
Such luscious, fresh-tasting puree calls for something more special than my usual pie. So I created a new tart recipe that contrasts the pure pumpkin flavor of a silky custard with the dark and spicy character of a crisp gingersnap cookie crust. The secret to the filling is just enough cream cheese to firm up the texture without stealing the the pumpkin's spotlight. The cookie crust stays crisp and crunchy even after being refrigerated overnight.
To speed things up, you could use canned pumpkin and substitute a traditional crumb crust – with packaged gingersnaps instead of graham crackers – for the cookie shell. It would still be good, but far less elegant.
This tart is a star. Think of it as the Katharine Hepburn of pumpkin pies, sophisticated and urbane but still honoring its roots. It's definitely worthy of a place of honor on the Thanksgiving table or a holiday dessert buffet. The only embellishment it needs is a dollop of softly whipped cream.

Gingersnap Pumpkin Tart
Makes one 9½-inch — 10-inch tart
For crust:
1½ cups flour
2 teaspoons ground ginger
½ teaspoon ground cinnamon
1/8 teaspoon freshly grated nutmeg
1/8 teaspoon ground cloves
Pinch kosher sat
½ cup unsalted butter (1 stick), cold
1/3 cup sugar
1 large egg yolk
2 tablespoons molasses
For filling:
1 (8-ounce) package cream cheese
¾ cup sugar
1 teaspoon ground cinnamon
¼ teaspoon freshly grated nutmeg
¼ teaspoon salt
¼ teaspoon allspice
2 eggs lightly beaten
1½ cups pumpkin puree
¼ cup cream
16 pecan halves (optional)
To make crust: Sift flour with ginger, cinnamon, nutmeg, cloves and salt into a bowl. Cut butter into small cubes and place in work bowl of a food processor fitted with a metal blade. Add sugar and pulse until blended, about 30 seconds. Add flour mixture and pulse until just mixed. Stir egg yolk and molasses together in a small bowl, add to the food processor and pulse until the dough begins to come together. Turn dough out onto a piece of plastic wrap. Knead briefly, using plastic wrap to protect your hands if dough is too sticky. Shape into a flat disc about 6 inches in diameter and wrap tightly in plastic. Refrigerate for 30 minutes.
Remove dough from refrigerator and roll out to a thickness of about 1/8-inch between sheets of plastic wrap (overlap two pieces to make a larger sheet if necessary). Transfer dough to tart pan, pressing firmly into the sides and bottom. Cut off excess, cover crust with plastic wrap and refrigerate at least an hour.
Preheat oven to 425 degrees. If crust has been refrigerated for less than 6 hours, line with parchment paper and fill with weights such as raw rice or dried beans. Bake for 5 minutes, then reduce heat to 375 and continue baking for 15 minutes, until set. Lift out the paper and weights and bake for about 10 minutes more.
If crust has been refrigerated for 6 hours or more, bake at 425 for 5 minutes, remove from oven and lightly prick with a fork any spots that have begun to puff up. Lower oven heat to 375 and return crust to bake for 10-15 minutes.
Reduce oven temperature to 325 degrees and let crust cool for a few minutes while you mix the filling. Alternatively, cool crust and set aside until you're ready to make the filling and bake.
To make filling: Whirl cream cheese and sugar in food processor until smooth and creamy, about 1 minute. Scrape down sides of work bowl, add remaining ingredients and process until well blended. Pour into prepared tart shell and bake at 325 degrees for about 55 minutes, until custard is fully set and a small, sharp knife inserted into the center of the tart comes out clean. For a decorative effect, remove tart from oven about 10 minutes before it's done and lightly press a circle of pecan halves into the custard along the outside edge. Return to oven and finish baking.
Let tart cool completely on a wire rack. It can be served immediately but benefits from chilling in the refrigerator.
Note: Depending on the size of your pan, you may have a little excess filling. If so, pour into a custard cup or ramekin and bake alongside the tart. Consider it the cook's prerogative.
Aleta Watson