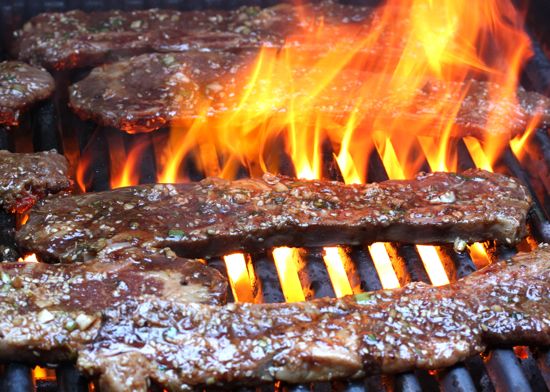 Of course you can grill hot dogs and hamburgers at the Fourth of July barbecue. That's what most people will expect.
There's a whole world of great grilling traditions to explore, though, if you'd like to try something new.  One of the best is Korean-style barbecue with its sweet and spicy rendition of beef short ribs known as kalbi.
These are the same tasty, tender ribs you may have cooked over a tabletop grill in a Korean restaurant.   They're almost as easy to make at home and they're guaranteed to wake up the palates of guests expecting the old standards at the annual Independence Day festivities.  We're such a diverse nation, who's to say what's American food now?
Korean-influenced fare is one of the hottest trends in American cooking.  Celebrated chef David Chang has made his name at his string of Momofuku restaurants in New York City with food influenced by his Korean-American upbringing.   In Los Angeles, crowds follow Roy Choi's Kogi taco trucks on Twitter for the opportunity to stand in long lines for short rib tacos and burritos.
Making your own is as simple as marinating the meat in soy sauce, sugar, garlic, ginger, and sesame overnight, then quickly cooking the ribs on a hot grill.  They're cut so thinly  there's little worrying about when they're done.
The trickiest part may be finding the right cut of ribs.  The beef chuck short ribs should be cut across the bone about a quarter to a half inch thick, leaving three or four flat bones at the top of a long strip of meat.  Some Asian markets carry this cut but you may have to go to a butcher shop and ask for them to be cut for you.  My butcher calls them English style short ribs, but many cookbooks refer to them as flanken-style ribs.
Lacking a helpful butcher, barbecue guru Steven Raichlen suggests butterflying individual ribs in his latest cookbook, "Planet Barbecue" (Workman, 2010).  That takes kalbi out of the easy category, however, and I'm glad I haven't had to do it.
Every Korean family has its own recipe.  I've adapted one from Sang Jung Choi in "The Asian Grandmother's Cookbook" by Patricia Tanumihardja (Sasquatch Books, 2009).  She uses kiwi puree to tenderize the meat then adds a big bottle of lemon-lime soda to the marinade for good measure.  Since I just can't bring myself to endorse soda in anything, I've increased the honey in the recipe to make up for the omission.  I've also substituted cayenne for the Korean red pepper powder that I couldn't find locally.
Traditionally, the meat is cut into strips after it's grilled.  Diners wrap the strips in lettuce leaves with a bit of white rice, a little kimchi – the pickled and fermented vegetables at the heart of Korean cuisine – and perhaps a dab of hot sauce for the brave.   I made the quick cucumber kimchi from Chang's cookbook, "Momofuku" (Clarkson Potter, 2009), to go with my last batch of kalbi and it delivered quite a kick.
You also could take the fusion route and turn your kalbi into tacos or burritos like the Korean taco trucks in LA. do.  They layer strips of short ribs in a fresh tortilla with  salsa, cilantro and onion relish, and a slaw tossed in a chile-soy vinaigrette.  I like the rib meat in a taco with salsa and the smoked jalapeno sauerkraut from Farmhouse Culture.
Feel free to make it up as you go along. It is Independence Day, after all.
KALBI
(Korean Barbecued Short Ribs)
Serves 4
2  pounds beef short ribs cut Korean-style
1 ripe kiwi, peeled and pureed in a blender
1 tablespoon brown sugar
¼ cup low-sodium soy sauce
3 cloves garlic, finely chopped
1-inch length fresh ginger root, peeled and grated
1 tablespoon sesame seeds, toasted in a dry skillet
1 tablespoon toasted sesame oil
3 tablespoons honey
1½ teaspoons ground cayenne pepper
¼ teaspoon freshly ground black pepper
Juice of 1 lemon
2 scallions, white and green parts, minced
Rub kiwi puree into both sides of ribs,  sprinkle evenly with brown sugar and set aside.   Blend together the soy sauce, garlic, ginger, sesame seeds, sesame oil, honey, cayenne, black pepper, lemon juice and minced scallions in a medium bowl.  Place ribs in a large shallow pan or zippered plastic bag and pour the marinade over them, turning to be sure they're evenly coated.   Cover pan with plastic wrap or seal bag and refrigerate marinating ribs for at least 1 hour but preferably overnight.  Turn ribs periodically to make sure all sides are immersed in the marinade.
Preheat a charcoal or gas grill to high heat.  Clean and brush the grate with oil.  Drain ribs and place directly on the grill.  Cook, turning every couple of minutes until the meats are browned and tender.  Using kitchen shears, cut cooked meat into strips and pile on a serving platter.
Serve with steamed rice, leaves of red lettuce, kimchi and hot sauce, if desired. Or turn into your personal interpretation of Korean tacos.
Adapted from "The Asian Grandmother's Cookbook," by Patricia Tanumihardja (Sasquatch, 2010)