As soon as we started planning the camping trip we took to Death Valley last month, I began thinking about flat breads.  There aren't many places to buy fresh supplies in the desert and I'm pretty picky about bread.
I wanted to be able to make my own.  But I wanted to keep it simple – no rising, no rolling, no oven.
The more I looked for traditional flat bread recipes to cook in a skillet, though, the more frustrated I became.  After all, we wanted to spend our time in Death Valley marveling at the incredible landscape and perhaps spotting a few wildflowers, not waiting around for bread to rise.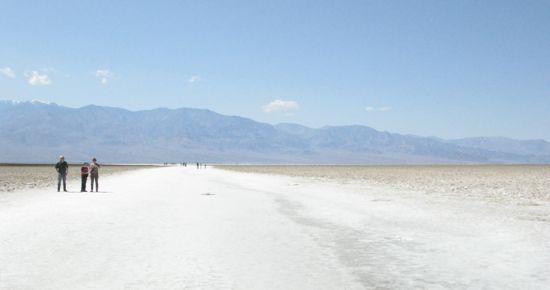 Inspiration finally came from an old copy of "Joy of Cooking," where I found a recipe for the Johnnycakes that travelers carried in their rucksacks as long ago as the mid-18th century.  Also known as journey cakes and hoe cakes, these corny flat breads sounded a bit austere, though, and my eye was drawn to the corn flapjacks on the same page.
Why couldn't I dress the flapjacks up with some chiles, sun-dried tomatoes and green onions to create an Americanized version of the  uttapam made with a lentil and rice batter?  The result was an extremely tasty cross between a Mexican tortilla and a spicy Indian street snack.
I tweaked the the flapjack recipe to use powdered buttermilk and mixed the dry ingredients together at home.  In camp, I stirred in water, olive oil, and an egg. Then I poured a spoonful of batter into a hot skillet and sprinkled each cake with jalapeños, sun-dried tomatoes and scallions while the first side cooked, before flipping it over to finish.
The batter was thin and the cornmeal quickly settled to the bottom, so it had to be stirred before dropping each spoonful onto the hot skillet. But that was the extent of the special effort.   The corn cakes were super simple to prepare and we had fresh, hot bread in no time.
The cakes were great warm with a big bowl of chili.  They were even nice a couple of hours later, after they had cooled.
And we had plenty of time left to look for those elusive desert wildflowers.
SPICY CORN FLAPJACKS
Makes about 10 3½ -inch cakes
¾ cup cornmeal
2 tablespoons all-purpose flour
½ teaspoon salt
¼ teaspoon baking powder
3 tablespoons powdered buttermilk
¾ cup water
2 tablespoons vegetable or olive oil
1 egg
1 jalapeño, thinly sliced
About ¼ cup sun-dried tomatoes, soaked briefly in hot water to soften
2 scallions, including green parts, thinly sliced
Whisk cornmeal, flour, salt, baking powder and powdered buttermilk together in a medium bowl.  In a separate bowl, whisk together water, oil and egg.   Beat liquid ingredients into the dry ingredients.  Since the cornmeal settles to the bottom of the batter, stir again before pouring a large spoonful of batter onto a hot, lightly oiled griddle.  Make cakes small so they're easier to turn.
Sprinkle jalapeños, tomatoes, and scallions over each cake.  Watch for tiny bubbles to appear on the surface of the batter, then flip the cake over to cook the second side until lightly browned.  Serve warm.
Note:  The recipe is easily doubled.  If you don't have powdered buttermilk, you may substitute one cup fresh buttermilk for the powder and water.
Inspired by "Crisp Corn Flapjacks" in "The Joy of Cooking" by Irma S. Rombauer and Marian Rombauer Becker (Bobbs-Merrill, 1975)