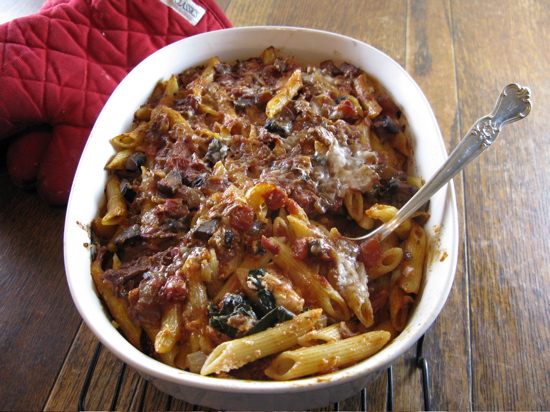 I know, I know. The rest of the country is shivering. Just look at those hundreds of thousands of hardy souls at the Capitol Mall, all bundled up with hats pulled down over their ears and scarves wrapped up to their chins as they witnessed history earlier today. The inauguration of our nation's first African American president, a man who brings hope to so many, was an incredible moment and an inspiring sight. But it looked unbearably cold.
There's a reason I live in California, albeit in the northern half of the state, which does get a taste of real winter now and then. Even so, it's been unseasonably warm for the last week. With temperatures in the mid-70s, it's felt as if spring had come and summer was on its way.
In the market, though, there's no avoiding the fact that it's winter. We're down to root vegetables and hardy greens in the produce section unless we want to buy imported vegetables, which never taste as good as they look anyway.
This is the most challenging time of the year for anyone who wants to cook and eat seasonally. Thank goodness for canned tomatoes. They bring the bright flavors of summer to our winter meals.
I've been experimenting lately with a baked pasta that would bring out the best in winter produce while delivering the fresh, acidic jolt of ripe tomato. A little more involved than spaghetti, yet less work than lasagne, it's a company dish than can be made ahead and baked at the last minute – an ideal contribution to a casual pot luck.
The dish was inspired by a baked penne recipe for a crowd that I cut out of Gourmet magazine more than a decade ago. It was a great summer party dish filled with tomatoes, sausage, cheese and a rainbow of bell peppers. Surely it could be converted to the deeper flavors of winter.
By the time I was finished tinkering, this pasta bore little resemblance to the original. The sauce was studded with meaty mushrooms, chard and leeks replaced the peppers, and the sausage had disappeared altogether. Fresh, whole milk ricotta and mozzarella cheese seemed lighter and more delicate in flavor than the ordinary cheeses I had used before.
Just let me admit now that the butternut squash I incorporated in an earlier version was a real mistake. The squash was so starchy and heavy that it weighed down an already hearty dish. What was I thinking?
This final version, on the other hand, is substantial but not dense. It's just the thing for a Super Bowl party. Vegetarians will be delighted and carnivores will never miss the meat.
Baked penne with mushrooms, chard and leeks
Serves 6-8
1 ounce dried porcini mushrooms
1 tablespoon unsalted butter
4 tablespoons extra virgin olive oil, divided use
1 small onion, diced
2 cloves garlic, minced
1 large portabello mushroom, coarsely chopped
1 26-ounce box chopped tomatoes
Salt and pepper to taste
1 large bunch Swiss chard, green or red
2 leeks
1 pound penne pasta
1 cup ricotta, fresh if possible
¼ cup minced parsley
8 ounces fresh mozzarella, grated
1 cup grated Parmigiano Reggiano
Rinse dried porcini briefly in cold water then cover with boiling water in a small bowl. Let soak about 30 minutes until rehydrated. Pluck mushrooms from soaking liquid and squeeze gently, allowing excess liquid to drip back into the bowl. Chop mushrooms coarsely and set aside. Reserve liquid for later use.
Melt butter over medium heat in a large saucepan. Add 2 tablespoons of the olive oil, onions and chopped portabello mushrooms. Reduce heat to medium low and cook, stirring often, for 10 to 15 minutes until onions are soft and translucent. Stir in the garlic, porcini and tomatoes.
Drain reserved mushroom liquid into a measuring cup, being careful to leave any grit behind in the bowl. Add enough water to make 1 cup. Pour mixture into the saucepan with other ingredients.
Simmer sauce, partially covered for 20 to 25 minutes, until the mixture has thickened slightly and the mushrooms are very tender. If necessary, remove lid for the last 10 minutes to allow some of the liquid to evaporate. Season to taste with salt and pepper.
Meanwhile, bring a large pot of well-salted water to boil and cook penne 8-10 minutes. You want it to be slightly underdone. Drain pasta and rinse in cold water to stop the cooking. Set aside.
Wash and dry chard. Cut out the large center stems and discard or reserve for vegetable stock. Chop leaves coarsely. Clean leeks and slice the white part thinly, discarding the tough green stalks.
In a large, heavy skillet or wok, saute leeks in the remaining 2 tablespoons of olive oil until soft. Add chard and cook, stirring often, until wilted and all excess moisture has cooked off. Remove from heat, season with salt and pepper and set aside to cool.
Preheat oven to 375 degrees and lightly oil a 9-inch by 13-inch baking dish or 3-quart casserole.
Toss penne with half of the sauce in a large bowl. Stir in the grated mozzarella and half of the Parmigiano. Layer about half of the pasta mixture in the bottom of the baking pan and cover with the leek and chard mixture. Dot ricotta by small spoonfuls over the top then spread about half of the remaining sauce over all. Add the last of the pasta mixture to the pan and smooth out into an even layer, cover with the last of the sauce and sprinkle with the remaining Parmigiano. Seal baking pan tightly with foil.
Bake for about 35-40 minutes until the sauce is hot and bubbling, then remove foil and bake 15 minutes more until lightly browned. Serve hot.
Note: You can make the sauce a day ahead. The rest of the dish may be assembled in the morning and refrigerated, tightly covered in foil, until baking time. Remove the dish about an hour before baking then proceed according to the instructions. The pasta may take as much as 30 minutes longer to reach serving temperature.