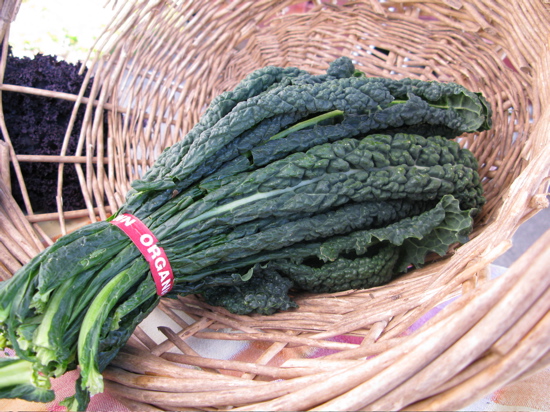 Italians call it cavalo nero, or black cabbage.
Here it's known as Tuscan, lacinato or even dinosaur kale – a relatively tender and mildly bitter member of the hardy brassica family. Although it's not as beautiful as some of its ruffled, brightly hued cousins, it's prized by cooks for its deep, savory flavor and meaty texture. It's all 0ver farmers markets at this time of year, a sturdy bearer of calcium, iron and vitamins C and A in the heart of winter.
Tuscan kale is the star ingredient in Italian dishes from robust ribollita soup to a wintery bruschetta. It has a real affinity for beans and grains, making it a favorite with vegetarians. But it also partners well with pancetta or bacon.
Simply braised, kale can be a bit austere. Paired with garlic, onions and a little red wine vinegar, it becomes more interesting. Dressed with olives, red pepper flakes and a little lemon, it becomes a delightful side dish for roasted meats and poultry.
The key is to cook it thoroughly. Al dente kale is not very palatable. I like to use Deborah Madison's technique and simmer it uncovered with a little water in a wide skillet for up to 20 minutes, until tender enough to chew easily. My son loves it misted with oil and baked on a cookie sheet at 350 degrees for 15-20 minutes, until the leaves are as crisp and crunchy as potato chips.
In any case, you need to strip the greens off the stems, which stay tough and fibrous however you cook them. A small, sharp knife works well for this chore but I often just tear the leaves off the stems then slice them in strips about ½-inch wide .
Kale is a natural for soups, where the concentrated flavor of the leaves adds depth to the broth. Ribollita is the classic, a sturdy, slowly cooked concoction of beans, stale bread and greens that's meant to be prepared one day and reheated for serving the next.
A fresher tasting, less complicated dish is this quickly cooked farro and kale soup I ran across in "Olives & Oranges," by Sara Jenkins and Mindy Fox (Houghton Mifflin, 2008, $35). I like the way the aromatic vegetables are cooked down to create a tasty base for the broth. Farro, an ancient grain similar to spelt, contributes body and a pleasantly chewy texture. Tuscan kale adds intensity. Jenkins suggests serving with a poached egg on top but I've never been a fan of runny yolks.
I've cut the recipe in half because my family is small and four servings are plenty for one round of leftovers. Besides, the original calls for three bunches of kale and I would need a sous chef to clean, strip and slice that much kale in time for dinner. One bunch is just about right.
If you can't find farro at your local market, just substitute barley. It may not be as authentic, but it has a similar texture and a bland flavor that lets the greens take center stage.
FARRO AND KALE SOUP
Serves 4
1 leek
1 celery stalk, coarsely chopped
1 medium carrot, coarsely chopped
½ small onion, coarsely chopped
1 clove garlic
2 tablespoons olive oil plus more for drizzling
Kosher salt
1 teaspoon tomato paste
¾ cups farro or barley
1 bunch kale
Freshly grated Parmigiano Reggiano cheese for serving
Freshly ground black pepper
Clean leek by cutting in half and rinsing thoroughly with running water. Coarsely chop the white and light green portions only. Place leek, celery, carrot, onion and garlic in the work bowl of a food processor fitted with a metal blade. Pulse until vegetables are finely chopped but not pulverized.
In a heavy 3-quart pot, heat oil over medium high heat. Add chopped vegetables and a pinch of salt and cook, stirring frequently, about 4 minutes, until vegetables start to soften. Add ½ cup water and tomato paste, stirring to dissolve paste. Reduce heat to a simmer and continue to cook slowly, stirring now and then, about 20 minutes, until liquid has all but evaporated.
Stir in 3 cups of water, farro and kale. Bring to a boil, then reduce heat to a simmer, cover and cook, stirring occasionally, until both farro and kale are tender – about 30 minutes. Season to taste and serve with a drizzle of olive oil and a dusting of grated cheese.
Adapted from "Olives & Oranges" by Sally Jenkins and Mindy Fox