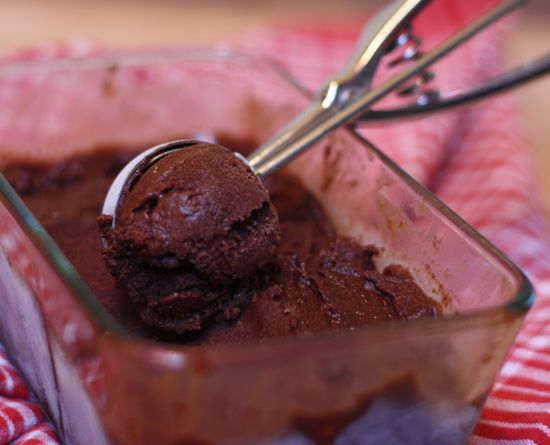 I'd been looking for a great new use for cocoa ever since Valrhona sent me some of its products for review late this summer.  The bars of solid chocolate from France are my first choice for baking and I always try to pick up a couple while shopping at Trader Joe's just to keep my pantry stocked. But I generally think of cocoa powder, no matter the label, as a pale substitute for the real thing, dry and dusty rather than rich and silky.
Then I tasted a fabulous chocolate sorbet from SCREAM Sorbet at the Wednesday farmers market and inspiration struck.  Melted chocolate alone wouldn't deliver that intense taste.  I needed a dark and dusky cocoa with an intoxicating aroma for an extra layer of flavor.  What better use for that stash of Valrhona?
The recipe for this sorbet began, as most good frozen desserts seem to, with David Lebovitz's "The Perfect Scoop." The cookbook author and former Chez Panisse pastry chef, now living in Paris, is a wizard with an ice cream machine.  To make his basic chocolate sorbet recipe my own, I added a sparkling citrus note from grated orange rind and a little kick from a couple of tablespoons of Grand Marnier.  The results were stunning.   Without an ounce of milk or cream, it was as thick and satiny as chocolate mousse, with an intensity unmatched by most commercial products.
This is a super simple recipe.  All you need is an ice cream maker and they're not such a big splurge anymore.  I use an inexpensive Cuisinart with a cannister that I store in the freezer between uses.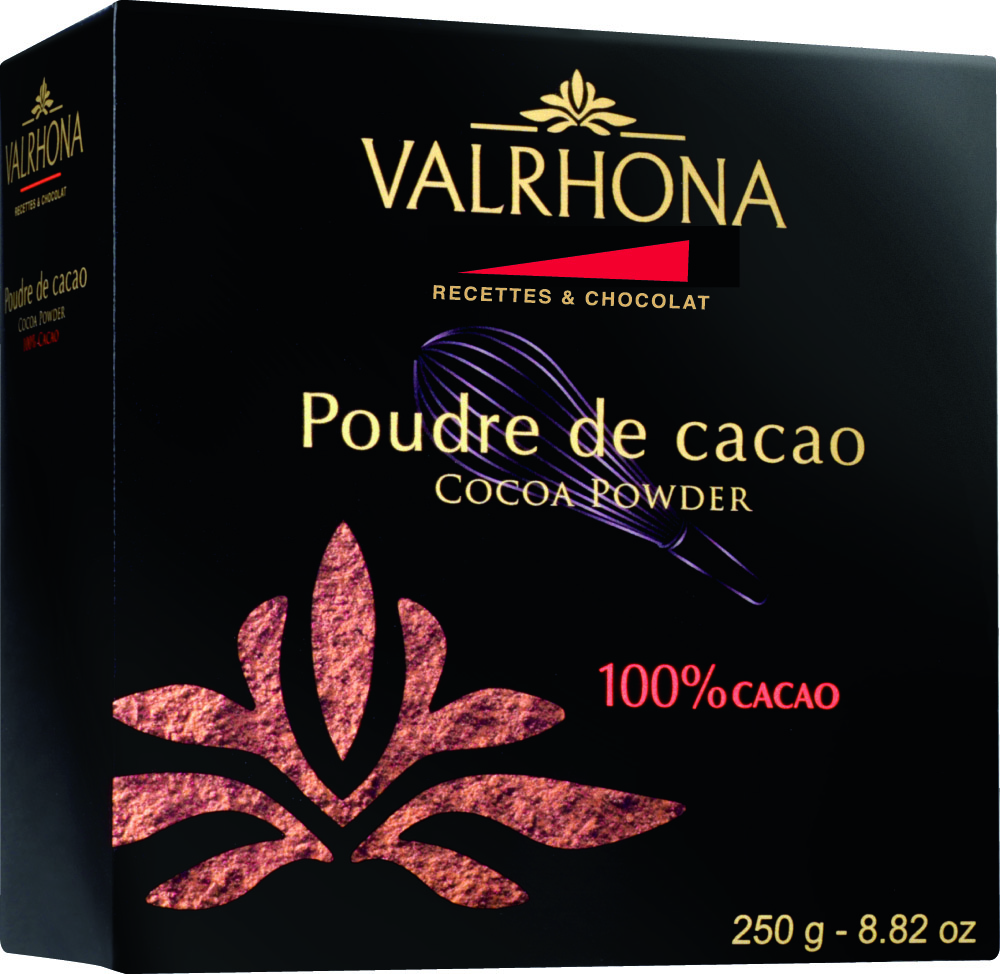 Don't worry if you don't have Valrhona cocoa, as good as it is.  Although it's worthwhile to search for it in grocery stores or order it online, it's definitely a luxury item.   I've found only the most upscale markets carry it, including Draeger's on the Peninsula.   Alternatively, use the best-tasting cocoa you can afford because it makes so much difference in the dish.
Just be sure your cocoa is Dutch processed, meaning it's been treated with an alkaline solution to partially neutralize acid, which also makes it easier to dissolve in liquids.  Most European chocolates have been Dutched, but many American cocoas, Scharffen Berger among them, have not.
Melted bittersweet chocolate contributes thickness to this sorbet.  It should be top quality, too.  I used the 61 percent cacao "le noir" from Valrhona.
The only real trick here is to remember to give yourself enough time to chill the mixture well before freezing.  I was in a rush and didn't leave my batch in the refrigerator quite long enough, so it never thoroughly froze in the ice cream maker.  No worries.  I just transferred the slush to a storage container and let it finish up in the freezer.
It was terrific by any measure.
CHOCOLATE ORANGE SORBET
Makes about 1 quart
Grated zest of 1 medium orange
¾ cup sugar
2¼ cup water
¾ cup unsweetened cocoa powder (Dutch-process)
Pinch of salt
6 ounces bittersweet chocolate, finely chopped
2 tablespoons Grand Marnier
In a blender, grind together orange peel and sugar until very fine, adding a few tablespoons of the water if necessary to thin the mixture enough for it to whirl.  Add 1½ cups of the water and blend.  Then add cocoa and salt and whirl until smooth, scraping down the sides of the jar as needed.
Pour mixture into a large saucepan and bring to a boil, whisking if the mixture still has clumps of cocoa.  Let boil about 30 seconds and remove from heat.  Stir in the chopped chocolate and stir until melted.  Return mixture to blender jar, add the remaining ¾ cup water and Grand Marnier, and whirl just long enough to blend, about 15 seconds.  Leaving the mixture in blender jar, place in refrigerator until well chilled.  This could take up to 8 hours.
When it's ready to freeze, whirl the mixture briefly in the blender again.  Freeze according to the instructions that came with your ice cream maker.  If you're patient enough and you prefer a fairly firm sorbet, pack the finished sorbet in a freezer-safe container and put it in the freezer to firm up.  If you like it soft, just dig in.
–Aleta Watson