There was a definite nip in the air when I took the dogs for their walk this morning.  We needed a flashlight to finish grilling on the deck last night and the evening was just cool enough to pull on a pair of socks after months of barefoot living.  No doubt about it, fall has arrived.
Summer lives on, however, in the beautiful peppers that have been stealing the limelight at farmers markets for the last couple of weeks.  Since this is California, we can expect to continue finding them through October.  There's still time left to taste the fruit of months of sunshine and warm breezes. That's cause enough for celebration.
Peppers are never so sweet as when they've ripened in the summer sun. And the selection is fantastic right now.  I counted seven different peppers, from the mild Italian Corno di toro to the spicy poblano, at the Live Earth Farm booth in Santa Cruz last week.
The classic Mediterranean combo of roasted peppers, eggplant, onions, tomatoes and garlic is even better when you include a variety of peppers. I like mixing the exceptionally sweet Gypsy peppers and heart-shaped Spanish pimientos with the more common red bells for this dish from the Catalonia region of northeastern Spain.  It's called escalivada for the traditional method of roasting the vegetables over wood embers. But a gas grill works nicely and you can even bake the components in a hot oven until the skins blacken and blister.
Since this is such a simple dish, the produce must be impeccable.  The peppers should be plump and firm, the tomatoes fully ripe but not soft, and the eggplants small and shiny.  I used tiny Indian eggplants, not much bigger than lemons, although slender Asian varieties would work as well.  Just avoid the big globes, which are packed with seeds.
Not all the great peppers at this time of year are red, though.  The tiny green pimientos de Padron and slender Japanese shishito peppers also are abundant in the markets.
Padrons–named for a town in Galicia, Spain–tend to be mild with a unique herbal flavor when they're harvested young. They make addictive tapas when tossed with olive oil, grilled or fried until they start to blister, and sprinkled with sea salt.  Occasionally a fiery one or two will slip into a basket, though, leading some people to compare eating pimiento de Padron to Russian roulette.  You never know for sure what you'll get but even the spicy ones are incredibly tasty.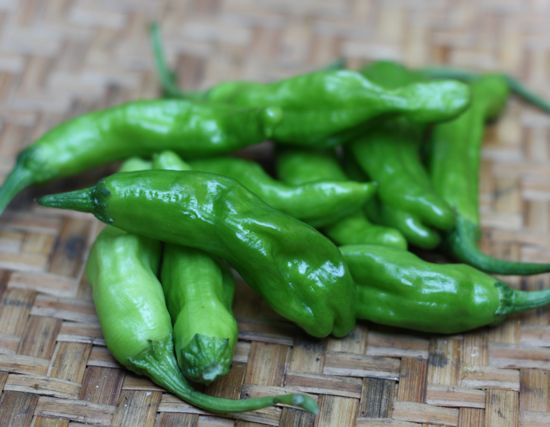 Milder are the shishito peppers, which have become so popular at Japanese isakaya and yakitori restaurants, casual places where the food is often accompanied by sake or beer.  These peppers are 2-3 inches long and wrinkly.  Prepare them the same way as the pimientos or season them with Asian flavors such as sesame oil or shaved bonito.  At yakitori, they're usually threaded on bamboo skewers and grilled over charcoal.
No matter how you like your peppers, you'd better eat your fill now.  The end of their season is in sight.
ESCALIVADA
Serves 4
4 small eggplants
½ small onion
4 medium sweet red peppers (see Note)
2 tomatoes
¼ cup extra virgin olive oil, plus more for coating vegetables
2 cloves garlic, thinly sliced
Baby lettuces for garnish (optional)
Sea salt
Heat grill to high or preheat oven to 500 degrees.  Rub eggplants, onion, peppers, and tomatoes with a small amount of olive oil and place directly on grill grate or on an oiled baking sheet in the oven.  Watch vegetables closely, turning them as their skins blacken and blister.  They should become soft and tender although tomatoes should remain firm enough to hold their shape. This should take 15-30 minutes depending on the vegetable.  Tomatoes tend to cook most quickly, while eggplants and onions take longest.
Remove vegetables from heat as they're ready and place in a large bowl covered with a plate, a large pot with a tightly fitting lid,  or paper bags, closed and slipped into plastic bags.  Let them steam and cool for an hour.  Remove vegetables and carefully peel away the burned peels.  Split peppers in half vertically, remove and discard the stems and seeds, and cut into lengthwise strips about 1½ inches wide.  Trim stems from eggplant and cut into strips about the same size.  Core tomatoes, slice thickly, then cut into strips.  Cut onions crosswise into thin rings.
Arrange roasted, peeled and cut vegetables decoratively on a platter. Scatter garlic slices over all, drizzle with about ¼ cup olive oil, and sprinkle with salt to taste.  A few touches of green make it more attractive.
Alternatively, place all the vegetables in a large bowl with garlic slices and toss with ¼ cup olive oil and salt to taste.
Serve at room temperature.
Note: You'll need the equivalent of 4 medium bell peppers.   If you're using the smaller Gypsy peppers or Spanish pimientos, adjust the quantity accordingly.
–Aleta Watson