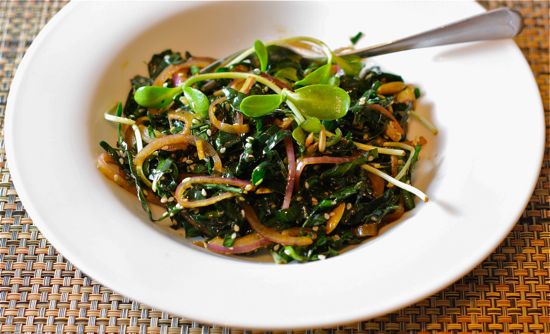 One of the best gifts I received over the holidays was an introduction to this kale salad. I spotted it in the deli case when I was shopping at my local natural foods store a couple of days after Christmas and bought a quarter pound on a whim.
It was an instant hit.  My family and I began nibbling on little bits of sesame seed flecked Kale right out of the carton as soon as we got home and it never made it to the dinner table.
With all the crunchy textures and savory Asian flavors, the dish reminded me of the seaweed salad I always order at sushi bars. Most of the ingredients were readily identified–raw kale, red onion, sunflower sprouts and a trio of pumpkin, sunflower and sesame seeds. I wasn't sure about the dressing, though.  It tasted a lot like soy sauce, yet not quite.
After New Year's, I contacted Naomi Dresser at New Leaf Community Markets, a small chain of natural foods grocers in the Santa Cruz area.  The Coastal Kale Salad is one of the store's favorites, Dresser said, and she was happy to share the ingredients. But New Leaf does not give out recipes.
A web search, however, brought up several mentions of a kale salad with very similar ingredients in "Esalen Cookbook," by Charlie Cascio (Gibbs Smith, 2006). I used that recipe as a guide for some of the proportions in mine.
The mystery ingredient turns out to be Bragg's Liquid Amino, a soybean based condiment long favored by health food advocates.  I don't have any on my shelves, so  I've used tamari, a mellow cousin of soy sauce that is derived from miso paste.  Its salty, savory character gets a lift from the lemon juice and olive oil in the vinaigrette.
Although any variety of kale would work in this salad, I like it best with Tuscan kale, known as cavolo nero in Italy.  The leaves are more tender and the flavor a little more mellow than ordinary curly kale.
They're also easier to handle.  You just fold each leaf lengthwise and strip it from the center stem.  Stack the leaves in thick bunches and slice them crosswise into narrow ribbons, which tenderize more quickly in the lemony dressing.  To speed up the tenderizing process, you also can squeeze and massage the leaves vigorously for a couple of minutes after pouring on the dressing.
Or just let the dressed leaves stand for half an hour or so before serving.  Unlike most salads, this is better when it's made ahead of time.  The leaves get softer but don't wilt.  So it's even good after a night in the refrigerator.
Kale salad is going to be a regular on my dinner menus this winter.
KALE SALAD A LA NEW LEAF
Serves 4 generously
1/4 cup raw sunflower seeds
1/4 cup raw pumpkin seeds
1/4 cup raw sesame seeds
1 large bunch fresh kale (about 1 pound), rinsed and dried
1 small or 1/2 medium red onion (about 8 ounces)
1 cup sunflower sprouts
3 tablespoons
tamari
3 tablespoons lemon juice
3 tablespoons extra virgin olive oilIn a small, heavy skillet, toast each type of seed separately over medium heat just until they are lightly browned and fragrant.  Combine toasted seeds in a small bowl and set aside until cooled.Strip kale leaves from their tough stems and slice crosswise into fine ribbons about 1/4-inch thick.  Place greens in a large bowl.
Cut red onion in half lengthwise and slice as thinly as possible into half moons.  Set aside.
In a small bowl, whisk together tamari and lemon juice, then add oil in a slow stream, whisking steadily as you go.  Pour dressing over kale and massage into greens with your hands.  Add onions, sunflower sprouts and seeds and toss again.
Let salad rest for at least half an hour before serving.  The greens will soften as they marinate.
Salad will be even better the next day.
Inspired by New Leaf Community Markets' Coastal Kale Salad