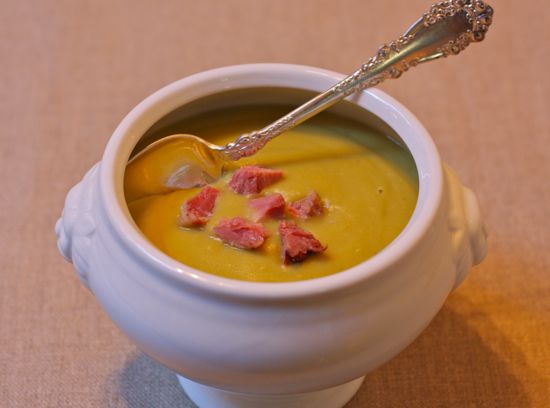 After the excesses of the holidays, all I want to eat right now is simple, nutritious food.  I loved all those cookies, extravagant meals and festive cocktails – far too much, I'm afraid.  My body needs a break.
If you feel the same way, I've got a soup for you.  This split pea soup takes just minutes to put together and only a little more time to cook, thanks to the pressure cooker.  You could cook it in a regular pot, too, although it will take a little longer to cook the peas until tender and require careful watching to avoid scorching.
Leave out the ham hock and you have a terrific vegetarian version.  Just be sure to look for bright green split peas for the best flavor.
I've been using my Fagor pressure cooker a lot more in recent weeks because I wanted to show a visiting relative how easy and safe it is.  Modern pressure cookers are designed to avoid the hazards of pea soup on the ceiling associated with the old style cookers, which would blow their weights and the contents of the cooker if something wasn't quite right.
The only real risk now is burning yourself with hot steam if you're not cautious when removing the lid.  This soup doesn't even require that precaution since you let the pressure fall naturally with the lid still locked in place.
I like to puree the finished soup to achieve the velvety texture that always drew us to Andersen's Pea Soup restaurant in Buellton when we used to travel up and down Highway 101 a couple of times a year to visit my mother-in-law in Southern California.
If you're feeling ambitious, you can set out little bowls of croutons, crumbled bacon, shredded cheddar and chopped green onions as garnishes.  I'm happy with a little of the smoky, salty ham hock.
Savory and quick are all I want this week.  Oh yes, and a minimum of dishes to wash.
SPLIT PEA SOUP IN A HURRY

Serves 6-8
1 tablespoon olive oil
1 medium onion, chopped
2 medium carrots, chopped
1 stalk celery, chopped
2 cloves garlic, smashed
1 bushy sprig fresh thyme
1 teaspoon sea salt or more to taste
2 bay leaves
1 ham hock (about 1 pound)
1 pound dried split peas
8 cups water
Freshly ground black pepperCombine all ingredients but pepper in 6-quart or larger pressure cooker.  Lock lid in place and heat on high until cooker reaches high pressure.  (In modern cookers, a colorful pin usually pops up and a steady stream of steam comes out of the pressure valve.)  Lower heat just enough to maintain high pressure and a gentle whisper of steam.  Cook for 10 minutes.
Remove cooker from heat and let pressure drop naturally.  When pressure has dropped, carefully remove lid, angling cooker away from you to allow any remaining steam to escape safely.
The soup is terrific at this point.  For creamiest texture, however, remove ham hock and transfer soup to blender or food processor and whirl until smooth.  You may need to work in batches.  An immersion blender also does the trick. Season to taste with more salt, if needed, and freshly ground black pepper.
Remove meat from bone and chop into small pieces for garnish or stir back into soup and serve.
Note:  Leftover soup will thicken as it cools.  Thin with hot water or broth when reheating.
Aleta Watson