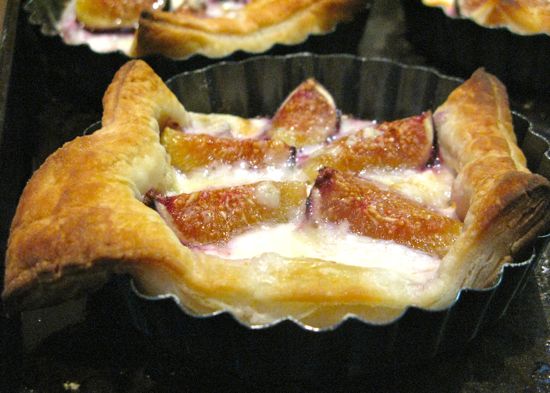 I can't believe I nearly missed the best figs of the year.  I was out of town on family business during the height of the fabulous fruits' late summer season in September. When I got back, the local harvest was almost over.
With any luck, however, luscious fresh figs should be available for another week or so in farmers markets and through the fall at specialty grocers. Let's hope this week's rains don't wipe them out.  It would be a shame to miss at least one more opportunity to enjoy this easy fig tartlette.
The little tart is so simple that it hardly requires a recipe. The combination of buttery puff pastry, jammy figs and salty Gorgonzola is irresistible and works as well as an appetizer as dessert.  The figs soften and become even sweeter in the heat of the oven, so no sugar is required, although a little drizzle of honey after baking is a nice touch.
I've made these tartlettes with an almond cookie crust, which is quite nice, but frozen puff pastry is very good, too.  It's also a frugal choice right now, when Trader Joe's is selling boxes of all-butter pastry again for $3.99.
Just roll the sheet of pastry out, cut into squares and line a little tart tin or large muffin cup. Add quartered figs, crumbled blue cheese and a little cream, then bake.  That's it.  No one will believe it was so easy.
I'm such a big fan of figs now, it's hard to believe there was a time when I wouldn't even taste one.  My loathing stemmed from the squishy, sticky orbs we found rotting on the ground in a friend's family orchard every summer when I was a child.  They were far better suited for missiles than for food.
As an adult, though, I finally screwed up my courage and took that first bite.   I was stunned by the soft, yielding texture and delicately sweet flavor with hints of honey and vanilla.  It was depressing to realize what I had been missing all those years due to my childish stubbornness.
More than most fruits, figs must be perfectly ripe or they  aren't worth eating.  The fruit should be soft, moist and heavy for its size and feel a bit like a water balloon in your palm. Some cracking along the sides, slight wrinkling at the neck and a drop of syrupy juice at the blossom end are good signs.
Figs of every variety have two seasons.  The first small crop in late spring grows on branches that sprouted the previous year.  The main crop ripens in the long, hot days of August and September, producing more voluptuous fruit with richer flavors.
If you can't find fresh figs for this tart, you might try making it with pears, which will be around for months.  The flavor will be more subtle but delightful nonetheless. Every fruit is best in its season.
FIG TART RECIPE
Serves 6
1 sheet frozen puff pastry, about 8 inches by 9 inches (8 ounces)
8 medium, perfectly ripe figs, preferably black mission
¼ cup crumbly blue cheese such as aged Gorgonzola (about 2 ounces)
½ cup heavy cream
Honey for drizzling
Preheat oven to 400 degrees.  Remove pastry sheet from freezer.  Let rest and come to room temperature for 10 minutes, then roll out on a floured surface into a large rectangle approximately 10 inches by 15 inches.  Cut in half lengthwise, then in thirds crosswise, to get six squares.  A pizza cutter is good for this.
Place six little tart tins, about 4½ inches in diameter, on a large rimmed baking sheet.  Line each tin with a square of pastry, gently shaping it to create a depression for the filling.  Remove stems from figs and slice vertically into quarters.  Arrange four or five quarters atop the pastry in each tin.  Sprinkle a little crumbled cheese over the fruit, dividing it equally among the tart tins.  Slowly pour just enough cream over the fruit and cheese in each tin to cover the bottom of the pastry.
Don't worry if some of the cream begins to seep out of the tins and onto the baking sheet.  The pastry will puff up during baking and you just need enough cream to bring the cheese and fruit together.  You may not use all the cream.
Place baking sheet on the center shelf of oven and bake tartlettes for 8 minutes.  Add a little more cream if possible and return to oven.  Bake for 8 to 9 minutes more, until the the cheese mixture has set and the pastry is puffed and golden brown.  Let cool on a wire rack for at least 10 minutes.  Drizzle with honey, if desired, before serving.
Aleta Watson