It's only natural to envy Patricia Wells.  The American journalist has lived the fantasy of many a food lover since she moved to Paris in 1980.
As the restaurant critic of the International Herald Tribune for 27 years, she made her living by eating and writing about some of the best food in the world.  Now she splits her time between Paris and Provence, teaching small groups of students how to shop, eat and cook like a French woman.  Hard life, eh?
The rest of us are grateful that Wells shares her good fortune in a string of  terrific cookbooks, starting with "Bistro Cooking" (Workman, 1989), which revealed the secrets of the small family restaurants of France for soul-satisfying dishes such as celery remoulade and pot-au-feu.  Now, just in time for the salad days of spring and summer, William Morrow has released "Salad as a Meal," her ninth collection of recipes.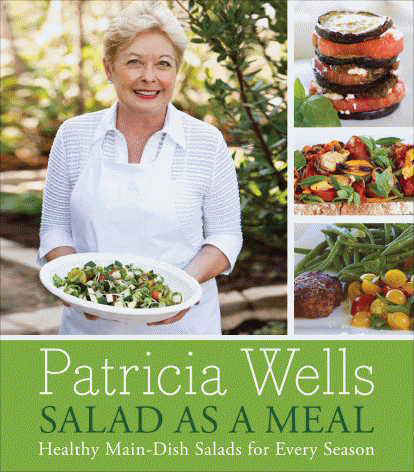 This is a cookbook for the way we eat now, based on fresh produce and bright flavors.  Along with updated versions of classics such as salad Nicoise and the iceberg wedge, Wells presents inspired new ideas, like this hearty quinoa salad with a jolt of lemony dressing.  Bay leaves contribute a deep, herbal bass note to the trendy grain.
Her soba noodles and chicken salad with a ginger-peanut sauce was a bit heavy on the sodium for my taste with 6 tablespoons of tamari in the dressing, but the flavors and textures were very nice.   I really like the spring salad with asparagus, peas, slender green beans and crisp fennel.
The real treasures of this collection, however, may be the little extra touches.  Baking polenta into croutons is an inspired idea, picked up during one of  Wells' regular frequent visits to Rancho La Puerta spa in Mexico.
I'm addicted to her extremely simple vinaigrette made by shaking together in a small jar 1 tablespoon good sherry vinegar, 1 tablespoon good red wine vinegar and 1/2 cup extra virgin olive oil with a pinch of sea salt.  If you can't find red wine vinegar that comes up to the mark, Wells also gives easy instructions for making your own.  I wish I had found them before I began making mine last year.
She also offers appealing recipes for appetizers, soups, and homemade bread to go with the salads.
I can't wait until the summer tomato harvest begins so I can try her stacks of eggplant, tomatoes and goat cheese, the deconstructed club sandwich salad, or a crunchy Greek salad with homemade pita.
After a long winter, the salads of spring and summer beckon.
QUINOA AND SPINACH SALAD
4 servings
1 1/2 cups quinoa
3 cups vegetable or chicken stock
2 fresh or dried bay leaves
1 teaspoon fine sea salt
1 tablespoon freshly squeezed lemon juice
1 bunch fresh parsley leaves (2 cups loosely packed)
1 tablespoon extra virgin olive oil
3 small scallions, white part only, thinly sliced
5 ounces fresh spinach, stemmed and sliced thinly into chiffonade (4 cups loosely packed)
Creamy lemon-chive dressing (recipe follows)
Toast quinoa over medium heat in a large, dry non-stick skillet, stirring regularly, until it crackles and becomes aromatic, 3-5 minutes.  Place quinoa in a sieve and rinse under cold water to remove grain's often bitter coating.
Bring stock to boil in a medium saucepan.  Add quinoa, bay leaves and salt.  Reduce heat to low, cover and simmer  20 minutes, stirring occasionally to prevent sticking.  Remove from heat, cover and let stand 10 minutes.  Remove and discard bay leaves.
Combine lemon juice, parsley and olive oil in a food processor or blender and whirl until parsley is finely chopped to make a vinaigrette.  Toss quinoa with the vinaigrette and scallions.  (May be stored at this point in an airtight container in the refrigerator for up to 8 hours.)
To serve, toss the spinach chiffonade with just enough lemon-chive dressing to lightly coat the greens.  Add quinos, gently toss and serve.
CREAMY LEMON-CHIVE DRESSING
Makes 1 1/4 cups dressing
2 tablespoons freshly squeezed lemon juice
1/2 teaspoon fine sea salt
1 cup half and half
1/3 cup finely minced chives
Zest of 1 lemon
Combine lemon juice and salt in a medium jam jar.  Cover tightly with lid and shake.  Add cream, chives and lemon juice and shake again to blend.  Taste for seasoning.
Dressing can be stored in refrigerator for up to a week.  Shake again to blend before serving.
Adapted from "Salad as a Meal" by Patricia Wells