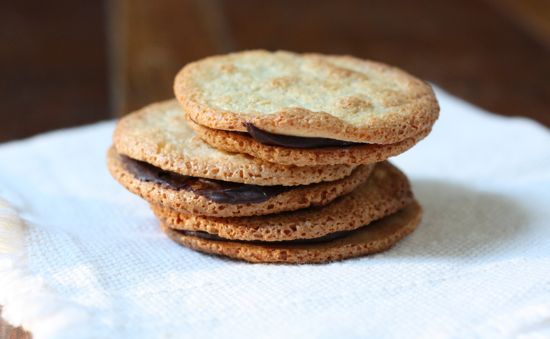 Baking for Passover is a challenge, especially for cooks who weren't raised in the Jewish tradition.  Dietary restrictions forbid the use of wheat flour, leavening – even confectioner's sugar and vanilla extract, which rules out most of the average home baker's best recipes.
Yet dessert is the one course where there's room for innovation in a menu bound by tradition.  The brisket may have to be braised Great Aunt Ethel's way for the seder every year and the matzo balls prepared according to an old family recipe, but everyone's open to new delights by the end of the meal.  A guest can feel safe contributing something sweet to the feast.
This year, I've been playing around with a variation on the macaroons that I initially found in Jacques Pepin's "Fast Food My Way" (Houghton Mifflin, 2004).  I've adapted the recipe over the years to the point where Pepin probably wouldn't recognize it anymore.
These are not your delicate, colorful Parisian macarons a la the famous patisserie, Pierre Herme.  They're sturdy, chewy, home-style macaroons with deep almond flavor, a hint of orange  and a filling of bittersweet chocolate ganache.  Crunchy on the edges, they get softer and chewier in the middle as they stand.
As an added benefit, these cookies are gluten-free.
The dough is whirled together quickly in a food processor.  The only real trick is to leave plenty of space on the baking sheet for the cookies to spread.  If you're not careful in portioning out the dough, the cookies can end up misshapen as well.  I've had best results by using a zippered plastic bag as a makeshift pastry bag and piping the dough onto the baking sheet in circles.  But spoons and small scoops will do.
Pepin's original recipe uses prepared almond paste, which really speeds up the process.  I've substituted homemade almond paste to make the cookies more acceptable as a Passover dessert.  It only takes a couple of minutes to whirl together and the taste is fresher, with more pronounced almond flavor.
To balance the sweetness of the cookie base, I've also introduced a bittersweet chocolate ganache in the place of Pepin's apricot jam filling.  That does create a problem for people who keep strictly Kosher, though, since the ganache brings a prohibited dairy element into a meal featuring meat.
A marmalade filling, suggested by my friend Sheila Himmel, is a better choice if seder participants observe Kosher dietary rules.
ALMOND MACAROONS
Makes 20 sandwich cookies
8 ounces blanched, sliced or slivered almonds (about 2 cups)
½ cup orange juice
2½ cups sugar, divided use
2 egg whites from extra-large or jumbo eggs
½ cup cream
5 ounces bittersweet chocolate, finely chopped
or  ½ cup orange marmalade
Preheat oven to 375 degrees and line a large cookie sheet or jelly roll pan with parchment paper. Put 1 cup of the almonds, orange juice and 1 cup sugar in food processor and blend until almonds are a fine meal, about 30 seconds. Add remaining almonds and process for a minute or more, until a thick, smooth paste is formed. Add remaining 1½ cups sugar and process at medium speed for 10 to 12 seconds. Add the egg whites and process for 6 to 8 seconds more, just long enough for the mixture to become smooth and creamy.
Pipe or spoon about 1 tablespoon of the macaroon mixture onto the cookie sheet, spacing mounds about 2 inches apart to allow space for macaroons to spread. If you're piping the dough, mark circles as guides by tracing around a 1½-inch cookie cutter with a non-toxic marking pen.  For a makeshift piping bag, snip about half an inch off the tip of a bottom corner of a gallon zippered plastic bag.
Bake macaroons for 10-12minutes, or until they are nicely browned and have a cracked surface. Remove cookie sheet from oven and place on a rack. Let cool, undisturbed, about 15 minutes, then remove cookies with spatula.
While cookies are cooling, make ganache filling.  Place chopped chocolate in a small bowl.  Heat cream in a small saucepan just until it starts to simmer; pour over chocolate. Let mixture sit 1 minute, then stir until melted. Let stand at room temperature until chocolate ganache is thick enough to spread.
Spread about 1 tablespoon ganache or 1 teaspoon marmalade on the flat side of one of the macaroons, and press another macaroon on top, flat side down. Repeat with the remaining macaroons, spreading half of them with the preserves and pressing a plain macaroon on top of each to create 20 sandwiches.
Put the macaroons in a container with a tight-fitting lid, and, for best results, refrigerate until serving time.
Note: Those who are not bound by Passover dietary rules may substitute 2 (8-ounce) cans or tubes of almond paste for the homemade paste in this recipe. In that case, omit the almonds, orange juice and 1 cup of sugar.
Inspired by almond and apricot macaroons in "Fast Food My Way," by Jacques Pepin