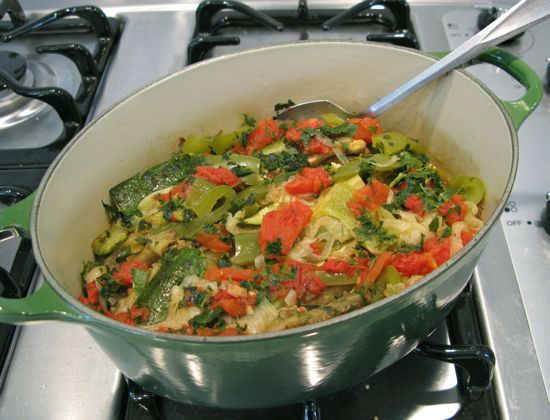 There's no question Julia Child changed the way America thinks about cooking.  The first television food celebrity made food look like fun.  At her urging, home cooks began to expand their horizons, baking their own baguettes and serving coq au vin at dinner parties.
Over the years, she became known more as a beloved celebrity than a cook as she hosted television series in which other people prepared the food.  I was one of dozens of people lined up outside the Sur La Table in Los Gatos some years ago to get her scrawled signature in "Julia's Kitchen Wisdom," the last book published before her death in 2004.  She was in her late 80s at the time and just as charming in person as on the small screen.
What is often overlooked, is how good Julia's recipes are.  Although early editions of both volumes of "Mastering the Art of French Cooking" will once again share an honored place on my new kitchen bookshelf (as soon as it arrives), I rarely cook out of them anymore.   Like everyone else, I'm always looking for new ideas.
But JC100, a campaign celebrating the 100th anniversary of Julia's birth next month, is refocusing attention on some of her most loved recipes.  Even though I haven't had a working kitchen much of the time since I moved from Santa Cruz to Portland, I've been following the recipes ranging from rolled omelets to vichyssoise and filets of sole meuniere.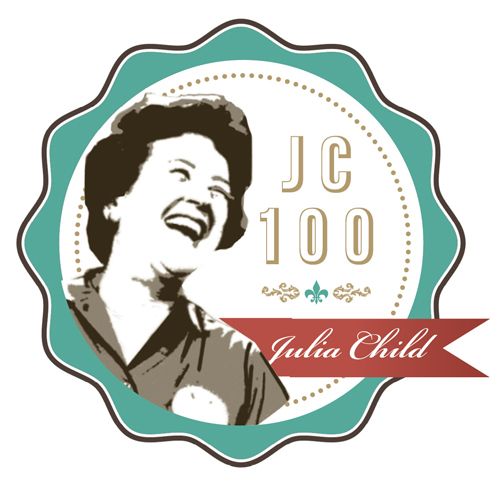 When ratatouille came up as this week's recipe, I hit the market and then the kitchen. There are few dishes I like better than this classic combination of eggplant, peppers, onions, garlic and tomato from Provence.  It's the best of summer on a plate.
I have to confess, though, that most of the versions I've made over the years have ended up pretty soupy.   The flavor was always so good, I was willing to overlook the texture.
Julia had higher standards.  She wanted each vegetable to retain its own shape and identity throughout the cooking.  With signature precision, she cut the vegetables into large pieces and sauteed them separately before combining them in a casserole for a slow simmer on the stove.
Although I've rearranged her instructions here to fit my format, I followed them to the letter.  She did expect the cook to know more than most recipe writers do today.  For instance, she just says to use 4 tablespoons of olive oil to saute the eggplant and zucchini but doesn't point out that you should only use a tablespoon or so at the time, or the first batch of eggplant will soak it all up.
The results were stunning.
It was more work her way but the eggplant and zucchini came out luxuriously soft, not mushy.  The flavors were perfectly balanced without any tricks or secret ingredients.  Just good produce prepared with care.
We still have a lot to learn from Julia Child.
RATATOUILLE
Serves 6 to 8
1 pound eggplant
1 pound zucchini
Salt and pepper
6 tablespoons olive oil, plus more if needed
1/2 pound onions, thinly sliced
2 small to medium green bell peppers, sliced
2 cloves garlic, mashed
1 pound firm, ripe, red tomatoes
3 tablespoons minced parsley
Peel the eggplant and cut into lengthwise slices 3/8 inch thick, about 3 inches long and 1 inch wide.  Scrub the zucchini, slice off the two ends, and cut into slices about the same size as the eggplant slices.  Place the vegetables in a 3-quart, non-reactive mixing bowl and toss with 1 teaspoon salt.  Let stand for 30 minutes.  Drain.  Dry each slice in a towel.
One layer at a time, saute the eggplant and then the zucchini in a 10- to 12-inch skillet over medium high heat with about 4 tablespoons of olive oil, using more if needed.  Cook for about 1 minute on each side to brown very lightly.  Remove to a side dish.
In the same skillet, cook the onions and peppers slowly in 2-3 tablespoons of olive oil for about 10 minutes, or until tender but not browned.  Stir in the garlic and season to taste with salt and pepper.
Peel, seed and juice the tomato to make about 1 1/2 cups pulp.  Slice the tomato pulp into 3/8-inch strips.  Lay the strips over the onions and peppers.  Season with salt and pepper.  Cover the skillet and cook over low heat for 5 minutes, or until tomatoes have begun to render their juice.  Uncover, baste the tomatoes with the juices, raise the heat and boil mixture for several minutes, until juice has almost entirely evaporated.
In a 2 1/2 quart fireproof casserole about 2 1/2 inches deep, place a third of the tomato mixture, spreading it evenly over the bottom.  Sprinkle with 1 tablespoon of the minced parsley. Arrange half of the eggplant and zucchini on top, then half the remaining tomatoes and parsley.  Put in the rest of the eggplant and zucchini, and finish with the remaining tomatoes and parsley.
Cover the casserole and simmer over low heat for 10 minutes.  Uncover, tip casserole and baste with the rendered juices.  Correct seasoning if necessary.  Raise heat slightly and cook uncovered for about 15 minutes more, basting several times, until juices have evaporated, leaving a spoonful or two of flavored olive oil.  Be careful of your heat; do not let the vegetables scorch in the bottom of the casserole.
Set casserole aside.  Reheat slowly at serving time or serve cold.
Note:  A ratatouille may be cooked completely the day before it is to be served, and it seems to gain in flavor when reheated.
Excerpted from Mastering the Art of French Cooking by Julia Child. Copyright © 1961 by Alfred A. Knopf. Reprinted with permission from the publisher Alfred A. Knopf, a division of Random House, Inc.