Celery root may well be the most homely vegetable in the garden.  It's a wonder anyone ever thought of eating anything so gnarled, lumpy and hairy.
Yet once you get past its ugly exterior, the humble celery root is the most affable of winter vegetables.  Best known as the key ingredient in the crunchy French salad, celery remoulade, it's also perfectly suited for soups, purees and gratins, where its texture becomes soft and melting.  It's a natural partner with potatoes, lending a pleasant aroma and herbal flavor to familiar comfort food.  At the same time, it lightens up otherwise heavy dishes because it contains little starch.
This year, celery root is my nominee for the perfect side dish for the holiday table.   Layered with fennel, potatoes and Gruyere cheese, it makes an impressive  gratin that would be happy alongside a platter of roast beef or ham.   The gratin could serve as a substantial vegetarian entree as well.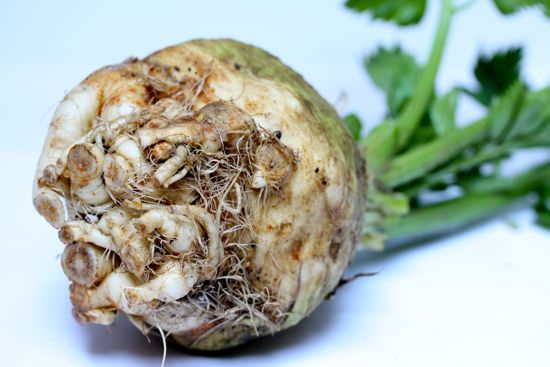 Also known as celeriac, celery root is a cousin to the tall, elegant stalks of celery that grace relish plates and lend flavor to salads, soups and stews. Its flavor is similar.
Where stalk celery is easy to clean and handle, though, celery root is a challenge.  The dirty beige skin with a slightly greenish tinge is so tough and uneven, peeling the root requires strategy.  I trim off the top and bottom and cut the bulb vertically into quarters with a sharp knife before peeling with a paring knife.  A mandoline makes slicing the quarters thinly a snap but a food processor fitted with a thin slicing blade also will do the job.
Inspiration for this recipe comes from "Your Organic Kitchen," by Jesse Ziff Cool (Rodale, 2000). 
Cool, who owns Flea Street Cafe and CoolEatz Catering in Menlo Park, has built her reputation on organic food from local sources.  Her food is simple, straightforward and always delightful.
I've added a bread crumb topping for textural contrast with the creamy baked vegetables and revised the quantities of ingredients a bit.  But I've kept Cool's uncomplicated sauce, made by whisking flour and milk together before pouring the mixture over the layers of sliced vegetables and grated cheese.
The result is a hearty dish that's a little lighter than most gratins.  It's modest enough to cede the spotlight to the main dish at a holiday feast but flavorful enough stand out among the supporting cast.
Beauty, it's true, is a matter of perspective.  I now think of celery root as a most attractive vegetable.
CELERY ROOT AND FENNEL GRATIN RECIPE
Serves 8
1 medium celery root, peeled and thinly sliced
1 pound small Yukon gold potatoes, peeled and thinly sliced
1 large fennel bulb, thinly sliced
¼ cup unbleached flour
½ teaspoon kosher salt
½ teaspoon freshly ground black pepper
2 cups whole milk
1 cup fresh breadcrumbs
6 ounces Gruyere or Swiss cheese, shredded (1½ cups)
Preheat oven to 350 degrees and butter a 2-quart, ovenproof casserole dish.
Combine celery root, potatoes, and fennel in a large bowl and toss.   Mix flour, salt and pepper in a large measuring cup and slowly whisk in milk, making sure the mixture is smooth and well-combined. Set aside ¼ cup of the grated cheese for later use.
Place a third of the sliced vegetables in an even layer in the casserole.  Sprinkle with a third of the remaining grated cheese.  Repeat with two more layers of vegetables and cheese.
Slowly pour milk mixture evenly over the vegetables, whisking a couple of times as you pour to keep the flour from settling to the bottom of the cup.  Scatter breadcrumbs over the top and sprinkle the reserved cheese over all.
Bake until vegetables are very tender, about 1 hour.  If topping begins to brown too much before the vegetables are cooked through, cover lightly with aluminum foil and continue baking.
Inspired by "Your Organic Kitchen," by Jesse Ziff Cool (Rodale, 2000)