Candy has never been my strong suit.  With the exception of my family's easy fudge, I tend to stay away from vats of boiling sugar.
So when I say these caramels from Jacques Pepin are amazingly simple to make and almost foolproof, you should take note. Just the thing for a last-minute gift from the kitchen, they require  less than half an hour of active work. Plus you're likely to have all the ingredients sitting in your pantry and fridge.
They're so good that you're liable to find yourself whipping up a batch solely to indulge your sweet tooth.  The recipe does use a small amount of corn syrup to hold together all that glorious butter and sugar, but it's not the high fructose variety that you find in processed foods.  Besides, no one would ever call this health food.
I found this recipe in "Chez Jacques," by Jacques Pepin (Stewart, Tabori & Chang, 2007), the famous TV chef's memoir with recipes and fabulous photographs.  It's one of my favorite books and the caramels  are winners.
All I've really changed is the temperature recommended for the first boiling of water sugar and corn syrup.  Pepin call for cooking the syrup to 320 degrees, which must be a typo.  My sugar burned long before that.   Instead, I recommend you start watching the syrup carefully at 270 degrees, remembering that it will darken even more after you add the butter and cream and cook it longer.
The only equipment you'll need is a heavy saucepan with lid, a candy thermometer and a small loaf pan to form the caramels.
One note of caution:  Be sure your candy thermometer is accurate before you begin. Everything hinges on cooking the caramel syrup to precisely the right temperature.  Five degrees one way or another and your candy will either be too hard or too soft.  That isn't really a disaster – I'll share some fixes – but it is annoying and discouraging.
Some people can make candy by just eyeballing the syrup as it turns from crystal clear to a shimmering gold and testing for the soft or hard ball stages by dropping some of the boiling syrup into cold water.  But I'd rather rely on the word of a trusted thermometer.
To check yours for accuracy, insert the thermometer in a pan of boiling water.  It should register 212 degrees.  If not, note the difference and adjust the recipe temperatures accordingly.
I made two batches of overcooked caramel this week before I realized my thermometer was off by 10 degrees.  It tasted great but was too hard to cut, much less eat.  So I melted each batch of caramel back down over low heat, stirring minimally with a chopstick to avoid splashing against the sides of the pan and poured the boiling syrup out over a cookies sheet lined with silicon mat to make toffee.  After it cooled a little, I sprinkled a cup of chopped bittersweet chocolate over the top, spread the chocolate out as it melted and showered it with chopped nuts.  It was delicious.
Pepin likes his caramels soft and chewy.  I do, too.  If you miss the mark, though, your caramel will never harden and be too soft to cut.  Put it back in the saucepan, slowly bring it back to a boil and cook it to the proper temperature.  It will set nicely the second time.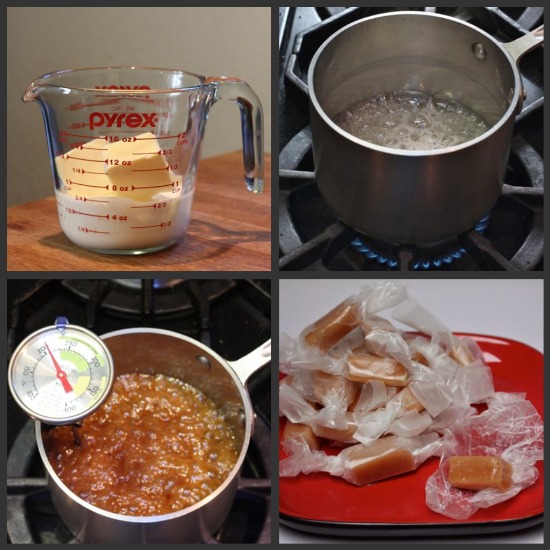 CARAMELS
Makes about 24 pieces
1 stick butter (8 tablespoons), cut into pieces, plus more for buttering pan
½ cup heavy cream
3 tablespoons water
¼ cup light corn syrup
1 cup sugar
Lightly butter a 7½-inch by 3½-inch loaf pan and line with a strip of buttered parchment paper long enough to extend over the ends of the pan.
Place butter and cream in a 2 cup glass measure or small bowl and microwave for about 1½ minutes, until hot. Set aside.
Combine water, corn syrup and sugar, in that order, in a heavy 2-quart saucepan. Stir just enough to moisten the sugar without having the mixture splash onto the sides of the pan, where it may crystallize. Cook over medium-high heat without stirring until the mixture comes to a boil, and then cover with a lid for a minute or so.  This will create moisture in the pan and melt any sugar clinging to the pan sides.
Place the candy thermometer in the pan, and cook mixture for about 6 minutes, until the sugar begins to darken and turn gold around the edges.  The temperature should be around 270 degrees, at which point it will begin to take on a light golden color.  Cooking to a higher level will produce a deeper color.
Pour the butter and cream mixture gradually into the pan, adding about a third of it at a time, and stir, using the base of your thermometer or a wooden chopstick to incorporate it. Continue cooking for another 5 or 6 minutes, until the mixture reaches a temperature of 240 degrees, the soft-ball stage. (This will create a relatively soft caramel; if you bring the temperature to about 245 degrees, the caramels will be hard. Adjust­ to your own tastes.)
As soon as the caramel reaches the desired temperature, pour into prepared pan. Cool, uncovered, at room temperature, for about 4 hours. Invert onto a sheet of parchment paper or waxed paper (pulling gently on the paper strips, if necessary). If the caramel is still too soft to work with, refrigerate for an hour or so to firm it up. Cut into strips about ½ inch wide, and then cut the strips into 1½ -inch lengths to have about 24 caramels.
Wrap in squares of plastic wrap or waxed paper and eat immediately, or refrigerate or freeze for later.
Note:  If you want salted caramels, sprinkle cooling candy with a generous pinch of sea salt.  Fleur de sel is especially elegant.
Adapted from "Chez Jacques,'' By Jacques Pepin (Stewart, Tabori & Chang, 2007)