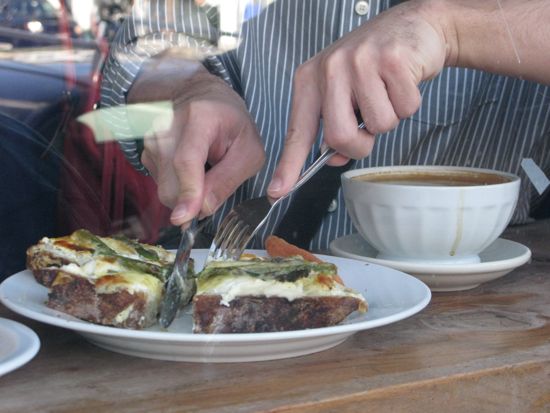 Wandering around San Francisco's Mission neighborhood, camera in hand, for Penny de los Santos' food photography workshop last week, I spotted this sandwich through the window at Tartine Bakery & Cafe.  It was so tempting with its plump asparagus spears tucked beneath a luscious blanket of bubbling cheese and bechamel.  But the line was long and time was short.
I left without tasting it, alas, and I couldn't get that sandwich out of my mind.  So I resolved to make one for myself when I got home. 
Tartine bills its version as a croque monsieur although it takes a few liberties with the classic.  First off, it's served open face on a thick slab of peasant bread.  Then there's the seasonal vegetable – asparagus, of course, at this time of year – offered as an alternative to the traditional ham.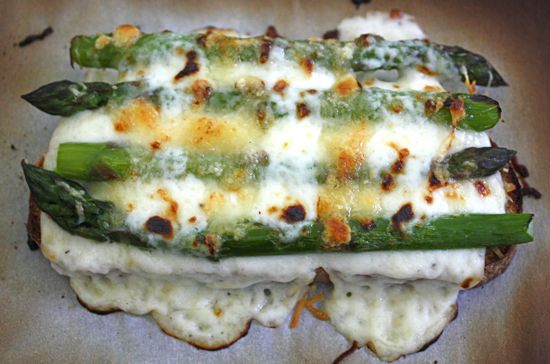 This is a simple dish, ideal for a light supper or spring lunch.  It takes more time to shop for the right ingredients than to make it.  Even the buttery bechamel sauce comes together quickly.
A substantial, rustic bread made with whole grains is essential for the base.  The asparagus must be fresh and the cheese should melt easily.  I used a raw milk emmentaler but a nutty gruyere would work just as well.
The vegetarian version lets the fresh grassy flavor of the tender asparagus shine through.  But a thin slice of ham is a nice addition, too.
Either way, this is a terrific dish to mark the arrival of spring at last.
ASPARAGUS CROQUE MONSIEUR
Serves 4
16 stalks of asparagus
1 tablespoon unsalted butter
1½ tablespoons all-purpose flour
1 cup milk
½ teaspoon kosher salt
Freshly ground black pepper
Pinch of nutmeg
About 8 ounces Swiss cheese, Emmentaler or Gruyere
½ cup freshly grated Parmesan cheese
4 large slices of rustic bread, ½-inch thick
Dijon mustard
4 thin slices ham
Preheat oven to 425 degrees.
Fill a deep, wide skillet about halfway with water and bring to a boil.  Wash asparagus and snap off the tough ends.  Place asparagus in the boiling water in a single layer and cook until just tender when pierced with a sharp, thin knife, about 3 minutes.  Drain asparagus and rinse in cold water to cool.  Set aside.
Cut 8 thin slices off the block of Swiss cheese and grate the rest.  Toast bread and set aide.  Bring milk almost to a boil in a small saucepan and set aside.
In another small saucepan, melt butter over medium low heat.  Add the flour all at once and cook, stirring for 2-3 minutes with a wooden spoon, to make a roux.  Slowly pour hot milk into the roux, whisking rapidly to eliminate any lumps.  Continue to whisk and cook for 3-5 minutes more, until the sauce thickens.  Remove pan from heat and stir in the salt, a few grindings of pepper, nutmeg, and ¼ cup each of the grated Swiss cheese and the Parmesan.
To make the sandwiches, place the slices of bread on a large baking sheet.  Smear a thin coat of mustard over each  and top with a slice of ham, followed by two slices of cheese.   Spread each sandwich with a couple of generous tablespoons of bechamel and arrange four asparagus spears on top. Divide remaining grated Swiss cheese among the sandwiches, blanketing the asparagus, and sprinkle with Parmesan.
Bake sandwiches in the middle of the oven for about 5 minutes, until the cheese melts.  Turn on the broiler and move the baking sheet to the top shelf to broil for about 3 minutes, or until the cheese is bubbling and lightly browned.
Sandwiches should be served hot.
Aleta Watson