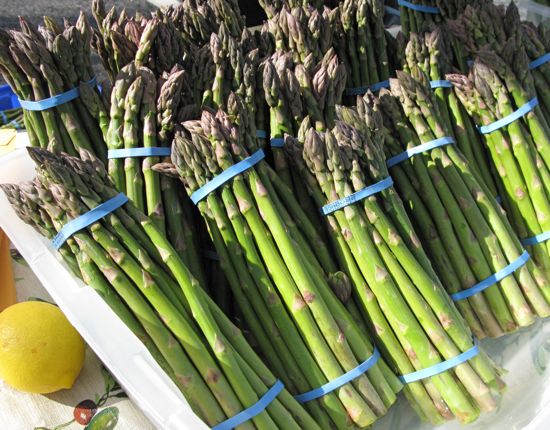 Can it be?  Is that the sun blazing in the sky for the third day in a row?   After a long, wet winter, even an elusive promise of warm, sunny days to come is cause for celebration.
For me, that calls for an asparagus binge.  No vegetable is a better harbinger of spring than the slender spears of grass-green asparagus that finally have arrived in the farmers markets here.  Yes, you can get asparagus year-round in restaurants and supermarkets anymore, but those crops are grown thousands of miles away.  By the time the get here, the stalks have lost all the fresh, green flavor  and crisp texture I adore.  There is no substitute for local asparagus straight from the fields.
At one time, nearly two-thirds of the asparagus consumed in the U.S. was grown in California, most of it in the fertile San Joaquin Delta region west of Stockton. Production has dropped precipitously, however, as the high labor costs for harvesting the stalks has made the price of California asparagus less competitive year after year with the asparagus imported from Mexico and Peru.  Fortunately, farmers markets have created a profitable outlet for small farmers.
I buy my asparagus from Hog Farms, which cultivates 30 acres near Hollister.  It's not exactly cheap at $3.50 a pound but it's worth the splurge.
The stalks are so fresh and flavorful that they need little more than a plunge in boiling water until just tender, followed by a rinse in cold water to stop the cooking and preserve the vibrant color.  Serve them on their own with a little melted butter or hollandaise whirled in a blender.  Wrap them in bundles with tissue-thin slices of prosciutto.  Or top them with a fried egg, if you like, and a dusting of Parmesan for a classic French salad.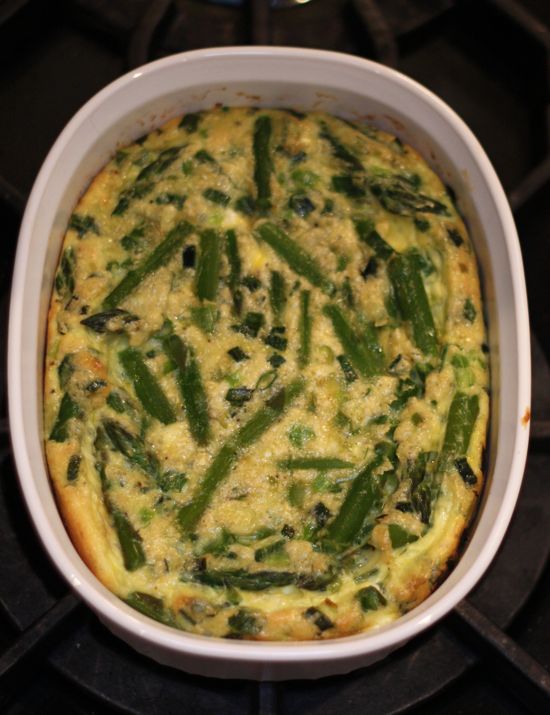 Eggs, mild and mellow, are a perfect partner for asparagus.  So is green garlic – another only-in-springtime vegetable – with a delicate flavor and perfume that merely hints at the pungency to come with full maturity.  Throw in a handful of crumbled feta and you have all the makings of a frittata worthy of the season.
Think of the frittata as a thick omelet suitable for brunch or a light supper.  I've adapted this recipe from "Antipasti," by Joyce Goldstein (Chronicle Books, 2006).   One of its virtues is it's baked in the oven, eliminating the trauma associated with cooking the fritatta the traditional way in a skillet, flipping it out onto a plate, and then slipping it back into the skillet to cook on the other side. I've increased the green garlic to 1/3 cup and switched from Parmesan to feta cheese.
This is an easy dish to whip up at the last minute.  It can be served warm or at room temperature, making it a good candidate for a brunch buffet.  Cut into cubes and skewered with toothpicks, it's also a nice companion for drinks.
One bite and you, too, will feel like spring has arrived.
ASPARAGUS FRITTATA
Serves 4
Extra virgin olive oil
Salt
1 pound thin asparagus spears
1/3 cup minced green garlic (see Note)
8 eggs
¼ cup heavy cream (see Note)
1 tablespoon all-purpose flour
½ cup crumbled feta
Freshly ground black pepper
Preheat oven to 350 degrees.  Rub a 1.8 liter or 2 quart round or oval baking dish with about a tablespoon of olive oil.  Set aside.
Rinse asparagus, snap off tough ends and cut into 1½-inch pieces.  Fill a large pot  about half full with water, salt liberally and bring to a boil.  Add asparagus pieces and cook about 3 minutes, until just tender.  Drain well, cover with cold water to refresh and drain again.
Heat 2 tablespoons of olive oil in a medium skillet and saute for a few minutes, until softened.  Set aside to cool for a few minutes.
Whisk the eggs in a large bowl.  Add cream, flour, cheese, 1 teaspoon salt and several grinds of pepper and whisk together.   Stir in sauteed green garlic and pour mixture into prepared baking dish.
Bake until top is set and beginning to turn golden brown, about 25-30 minutes.  Remove from oven and cool for at least 10 minutes before cutting into squares or wedges and serving.  May be served at room temperature.
Note: Milk or half and half may be substituted for the cream if desired.  Green onions also may be substituted for green garlic.
Adapted from "Antipasti," by Joyce Goldstein (Chronicle Books, 2006)