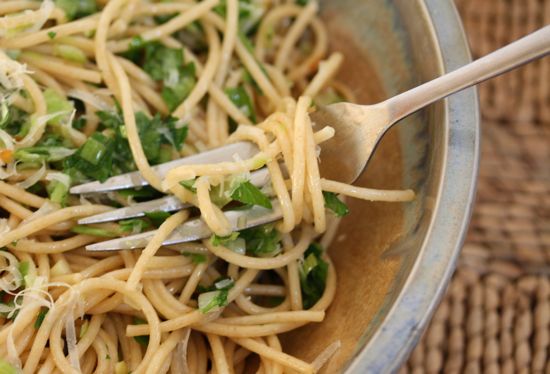 If mention of olive oil turns your thoughts to Italy, it's time to expand your horizons.  Some of the freshest most flavorful olive oil on the market today comes from California.
For more than two decades the state's  boutique producers of high end oils have been getting all the attention.  One of the most popular and widely distributed, McEvoy Ranch, commands more than $20 for a 12.7 ounce bottle of its  intense, pungent oils from Tuscan varieties of olives.
Now, California is building a reputation for high quality oils delivered at a more modest price, thanks to intensive planting techniques, mechanical harvesting and a proliferation of high tech mills.   Although many may be familiar with the oils from the mammoth California Olive Ranch, with mills in Oroville and Corning, far fewer are likely to recognize the products of the state's number two producer, Corto Olive.  That's because most of its oil production is bottled under private labels for the likes of Zabar's and Sam's Club.
I chanced upon the Corto label in a Whole Foods store last fall.  The price was so reasonable at $5.99 on special for a half liter bottle (about 17 ounces) that I couldn't resist.  It even carried a seal from the California Olive Oil Council, which signifies that it's a true extra virgin olive oil, with minimal acidity, that has been cleared of any defects by an expert tasting panel.  That's more than you can say for most of the imported olive oil on grocers' shelves.
The oil wasn't terribly complex but it delivered fresh olive aroma and taste with a nice little kick and none of the mustiness or off-flavors so common in supermarket oils.  It's great for everyday cooking and makes a terrific pasta aglio e olio, the traditional Italian dish that draws its flavor from garlic and olive oil.
About a month later, I was lucky enough to tour the Corto plant outside Lodi with a group from the UC Davis Olive Center.  The mill stands in the middle of sprawling olive orchards planted about 700 trees to an acre in hedge rows designed to be harvested mechanically.  The olives go from tree to mill in a matter of hours.  After the vibrant green oil is cold pressed in machinery imported from Italy and Germany, the unfiltered juice is piped into stainless steel tanks for storage until its ready for bottling to order.
Barry Whitlow, the president of Corto Olive, says he has no ambitions to make gourmet olive oil with unique character. He just wants to sell honest and flavorful oil at a competitive price.  "We're about producing an approachable oil, fruity and fresh," he says.
Corto now has a permanent place in my pantry.  I pull it out whenever I saute vegetables, brown a piece of meat or make this California-style variation on aglio e olio starring whole wheat spaghetti and green garlic.
Whole grain pasta brings a pleasant, earthy flavor and a little more substance to this simple dish.  Green garlic, an early spring treat which is easily mistaken for scallion until you get a whiff of the lively aroma, is a little brighter and fresher tasting than the usual cloves.   (Mince the white and pale green portions of the stalk.)  Whole cloves are just fine, though, if green garlic is unavailable.
I often use a wok to cook the oil and garlic so I'll have plenty of room to toss the spaghetti with the sauce.  A pair of short tongs also comes in handy.  You want to make sure every strand is coated.
This dish is perfect for a busy spring weekend when the welcome warmth of the sun and growing hours of daylight keep you out in the garden or on a hiking trail all day. It comes together in no more time than it takes to cook the spaghetti.   Although purists would never add cheese to aglio e olio, I confess that I like to dust it lightly with salty Pecorino Romano, which makes the flavors pop.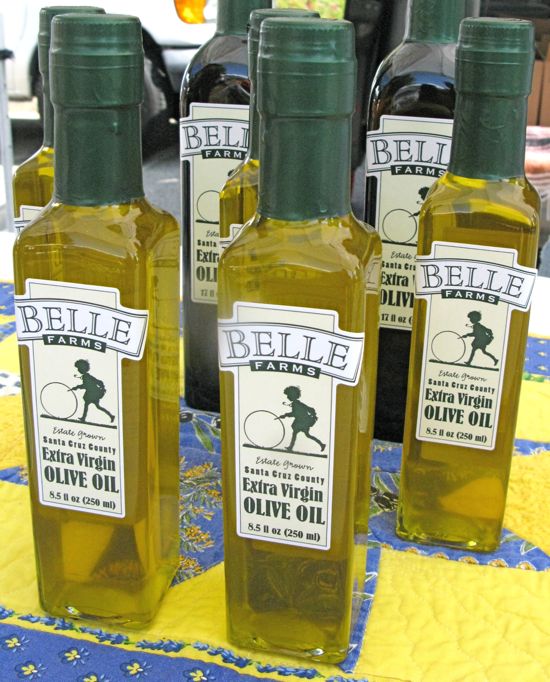 For more subtle dishes, I'm likely to reach for Belle Farms extra virgin oil from Watsonville.  Steve and Marguerite Remde produce a lovely Tuscan-style oil from a blend of olives grown on their small farm in the Santa Cruz Mountains.  It's a golden, buttery oil with nice fruit and a little peppery bite on the finish–ideal for dressing a salad or drizzling over steamed broccoli.
The Remdes pick their fruit by hand, crush their harvest in Modesto and sell the oil at local wineries and grocery stores.  Marguerite also sells at the Cabrillo College farmers market in Aptos on Saturday mornings.
Oil from the 2009 harvest was just released a couple of weeks ago and I scored a bottle for my kitchen.  At $14 a half liter, it's not exactly cheap, but it's not a huge splurge either.
Life is too short to cook with inferior olive oil.
WHOLE WHEAT SPAGHETTI WITH AGLIO E OLIO
Serves 4
Salt
1 pound whole wheat spaghetti
½ cup extra virgin olive oil
4 stalks green garlic or 6 cloves garlic, minced
½ teaspoon red pepper flakes
½ cup minced flat-leafed parsley, chopped
Grated Pecorino Romano cheese (optional)
Bring a large pot of water to a boil.  Add 1 tablespoon salt and spaghetti, stirring well to separate strands.  Cook until pasta is al dente, about 10 minutes.
Meanwhile, warm olive oil over medium low heat in a large skillet or wok and add garlic and pepper flakes.  Cook gently for a few minutes, until garlic softens and begins to turn golden.  Remove from heat.
When pasta is done, reserve about ¼ cup of the cooking water, then drain quickly and transfer dripping spaghetti to pan with warm olive oil.   Toss the pasta with the olive oil, garlic and red pepper until coated and glistening.  Add a little of the reserved pasta water if necessary to moisten all the strands.  Add parsley and toss again.
Serve, passing the grated cheese for diners to add if they wish.
Aleta Watson