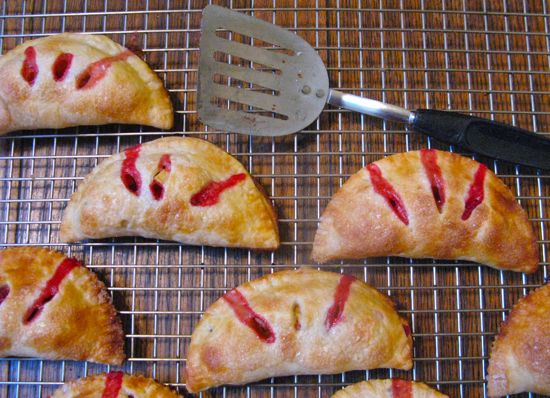 Pie season is upon us.  For the next couple of months, even cooks who live in fear of pastry will be putting holiday pies on the table to satisfy their families' taste for tradition.  Far too many of those pies will be baked in crusts that come from the supermarket freezer.
As a recovering pastry phobe myself, I'm going to share a secret here.  Homemade pie crust is truly a snap if you let the food processor do most of the work.  I rely on a foolproof recipe we found in an old cookbook dating back to the early days of those amazing machines.  It's been used so many times, the book's broken spine automatically falls open to "Easy-As-Pie Crust."
This dough is a miracle.  It's simple to throw together, rolls out with very little fuss and bakes into a buttery crust that works for every kind of pie from apple to pumpkin.  I used it to make the cranberry-apple turnovers in the photo.
This crust is so good that my mother-in-law, who was legendary for her apple pies, always asked us to make it for her when she visited.  She filled each crust with a mountain of sliced tart apples and folded the sides up over the top like a galette.
The  key to the recipe is an  egg and a little lemon juice.  The egg binds the ingredients together for strength, which is important for these hand-held pies, and acid in the lemon juice keeps the crust tender and makes it easier to handle.  Although many cooks swear by shortening for a really flaky pie crust, I gladly sacrifice a little flakiness to get real butter flavor.
Just be sure to keep your ingredients cold and don't process the dough too long.  As soon as it begins to clump together in a shaggy ball, it's ready.
Since this crust isn't that delicate, you don't have to worry too much about overworking the dough when you roll it out.  Let it warm up a little after you take it out of the refrigerator, lightly flour a pastry board or counter and roll out from the center to about 1/8-inch thick.  It's easiest to roll the pastry over the pin in order to lift it into the pie pan.
For these turnovers, I piled raw fresh cranberries and little cubes of  tart Newtown Pippin apples onto one side of a pastry circle, folded the crust over the top and sealed it before brushing with a little milk.  They puffed up and turned golden brown in the oven.
With the right crust, any form of pie is easier than you might think.
EASY-AS-PIE CRUST RECIPE
Makes a double crust for one 10-inch pie
2 sticks (8 ounces) chilled butter
2 1/2 cups all-purpose flour
1/2 teaspoon salt
1 egg
2 teaspoons lemon juice
3 – 4 tablespoons ice waterCut each stick of butter into 5 or 6 slices.  Fit steel blade into food processor.  Add the flour, salt, and butter slices.  Process with a few pulses until butter has been cut into pea-size pieces.  Crack egg into a glass measuring cup and add the egg, lemon juice and enough ice water to make 1/2 cup of liquid.  Beat liquids with a fork until blended.
With processor running, pour liquid through the feed tube in a steady stream.  Stop processing as soon as the dough begins to gather into a ball.  Turn out onto waxed paper.  Divide dough in half, shape into two balls and then flatten into smooth, thick disks, making sure there are no cracks along the edges.  Wrap tightly in plastic wrap and chill in refrigerator for at least 20 minutes or up to a week.  If the dough has been chilled for days, it will take more time at room temperature to warm enough for rolling.
Preheat oven to 400 degrees.  Remove dough from refrigerator and allow to soften slightly.  Flour a pastry board or counter top and roll each ball out into a circle about 1/8-inch thick.  Fit into pie pans and chill again for about 20 minutes before baking according to pie recipe.
Adapted from "Food Processor Cookbook," by Janis Wicks (Nitty Gritty Productions, 1977)
CRANBERRY APPLE TURNOVERS
Makes 8-10 hand-held pies
1 recipe pie crust
3 cups (about 3 medium) firm, tart apples, cut into 1/2-inch dice
1 tablespoon lemon juice
1 cup fresh cranberries
2/3 cup sugar plus more for sprinkling
2 tablespoons flour
1/2 teaspoon cinnamon
1/4 teaspoon nutmeg
1/8 teaspoon salt
Cold water
1/4 cup milkPreheat oven to 400 degrees.  Toss apples with lemon juice in a large bowl and stir in cranberries.  In a small bowl, mix together sugar, flour, cinnamon, nutmeg and salt until well blended.  Add to fruit and toss to coat. Set aside.
Roll out one ball of dough and cut into circles about 4 1/2 to 5 inches in diameter either using a cardboard pattern or tracing around a small bowl or saucer.  Lay circles on a baking sheet lined with parchment paper or a silicone mat.  Place 3-4 tablespoons of fruit mixture on one side of each circle, brush a little cold water along the rim of the circle and fold dough over top to create a half moon.  Pinch edges together or crimp with a fork to seal.  Place baking sheet in refrigerator to chill while you repeat these steps with the second ball of dough.  Chill the second batch of turnovers for about 20 minutes.
Remove baking sheets from the refrigerator. Brush each turnover lightly with milk and sprinkle with 1/2 teaspoon sugar.  Bake for about 20 minutes or until golden brown.
Note:  There may be filling left over.  I usually roll the dough scraps  from the turnovers into an irregular circle and pile the remaining filling in the center before folding up the edges like a galette.  It can bake along with the turnovers.
Aleta Watson