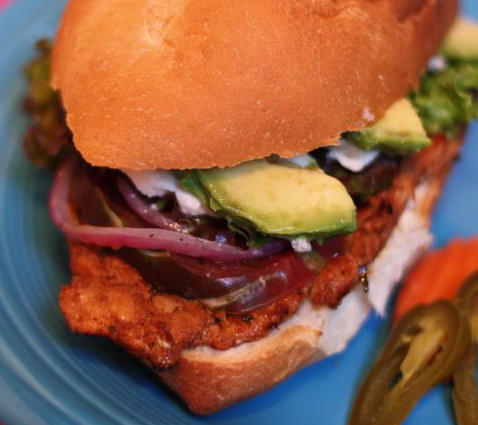 With our kitchen out of commission for a few weeks, we're trying to simplify dinner.  Cooking isn't really the issue – there's always the grill or the camp stove– but I'm definitely not eager to wash piles of dishes by hand.
Sandwiches are part of our strategy. We're not talking fast food here. My ideal sandwich is homemade on good bread with lively fillings and the fresh flavors of summer produce.
These tortas qualify on all counts.  Pork tenderloin, marinated for hours in a vibrant adobo sauce before grilling, is the star.  But it wouldn't shine so brightly without a strong supporting cast:  Yeasty rolls (preferably fluffy bolillos from a Mexican bakery), grilled red onions, dead ripe tomatoes, salty Mexican cheese, lettuce and avocado.  Plus pickled jalapenos and carrots for a fiery jolt.  Together, they're a irresistible combination of complementary flavors, textures and temperatures.
If you've never eaten a Mexican sandwich, you're in for a treat. Throughout Mexico, tortas compete with tacos for popularity on the street. The right bread is crucial. Although some recipes call for a crusty roll, the torpedo-shaped bolillos, fairly soft and a little sweet, are the best choice.  In a pinch, a French style sandwich roll will do fine.
Soft, salty queso fresco is classic and easy to find in most Northern California markets, though mild goat cheese makes an acceptable substitute.  Pickled jalapenos and carrots are available in jars, labeled en escabeche, at many stores.
For the meat, I prefer pork steeped in a chile marinade then grilled.  This simple adobo comes from Rick Bayless' "Mexican Everyday" (W.W. Norton, 2005).  Since I had some dried ancho chiles in the pantry, I made it from scratch, but Bayless also offers a speedy version made with ancho chile powder, which I'm including here.
Most frequently, the pork is sliced thinly before marinating and grilled quickly over a hot fire. It's very good that way, although butterflying the meat and pounding it to an even ¼ inch thickness is a little tricky.  My experiments, on the other hand, revealed that tenderloin is also terrific when cooked whole and sliced thinly just before serving.   The juicy slices sing with porcine flavor, ancho spice and a hint of smoke.
Flavors this bold and satisfying make a sandwich truly worthy of dinner.
ADOBO PORK TORTAS
Serves 4
For the marinade:
1 tablespoon olive oil
4 garlic cloves, minced or pressed
1/3 cup ground ancho chile powder (see Note)
2 tablespoons apple cider vinegar
1 teaspoon oregano
½ teaspoon sugar
¾ teaspoon salt
Water
For the sandwich:
2 pork tenderloins (about 1½ pounds total)
4 thick slices red onion
4 bollilos or soft French rolls, split in half horizontally
Mayonnaise
1 medium tomato, sliced
4 slices queso fresco or goat cheese
4 leaves red or green leaf lettuce
1 avocado pitted and sliced lengthwise
Jalapenos and carrots en escabeche
Make the marinade: Warm the oil in a small saucepan over medium heat and add garlic, stirring just until fragrant, about 1 minute.  Whisk in the chile powder, vinegar, oregano, sugar, salt and ¾ cup water.  Simmer for about 10 minutes then allow to cool to room temperature.  Marinade can be made ahead and refrigerated in a covered container for a month or more.
Marinate the meat: Rinse and pat dry the tenderloin.  Leave whole.  Or, if you're going to butterfly the meat, cut tenderloin in half lengthwise.  Then make a deep cut lengthwise in each half to about ½ inch from the opposite side, being careful not to cut all the way through.  Open each half up like a book and place it between sheets of plastic wrap on a flat, sturdy surface and pound with a heavy cleaver, rolling pin or the bottom of a hefty skillet until it's uniformly about ¼-inch thick.
Place meat in a container large enough for it to lie flat and pour marinade over it.  Turn meat to coat evenly in marinade, cover tightly and refrigerate for 4-6 hours, turning meat a couple of times during marination.
Grill meat and assemble sandwiches: Preheat grill.  Clean and oil grate.  Carefully place slices of onion on grill and cook a couple of minutes until grill marks are visibile on one side.  Flip them over and cook the other side.  Remove to a plate and set aside.
For whole tenderloins, lower heat to medium and grill directly over fire, turning every 5 minutes, until barely pink in the center – about 15 minutes total.  Remove from grill and let rest 5 minutes before slicing.
For butterflied meat, keep the grill heat high.  Lift meat out of marinade, shaking off excess, and place on grill.  Cook 2 minutes on one side, until nicely marked, then turn and cook 2 minutes on the other side.
To make sandwiches, spread cut sides of each roll with a thin coat of mayonnaise.  Layer bottom half of roll with slices of meat, onions, tomato and cheese.  Top with a lettuce leaf, a couple of slices of avocado and pickled jalapenos and carrots to taste.  Cap with the top half of roll and serve.
Note: To make marinade with dried chiles, stem and seed about 8 ancho chiles.  In a dry skillet over medium heat, toast each side of chiles about 10 seconds, until aromatic.  Place toasted chiles in a bowl and cover with hot water, using a smaller plate as a weight to keep them submerged.  Let stand for 30 minutes until soft, then drain and whirl in blender with 2 cups water. This makes about 3 cups of puree.
For the marinade, follow above instructions using 1/3 cup puree in place of the chile powder. Reduce water to 1/3  cup and increase salt to a generous teaspoon.  Bring mixture to a simmer but skip the last 10 minutes of cooking.
Marinade adapted from "Mexican Everyday" by Rick Bayless.