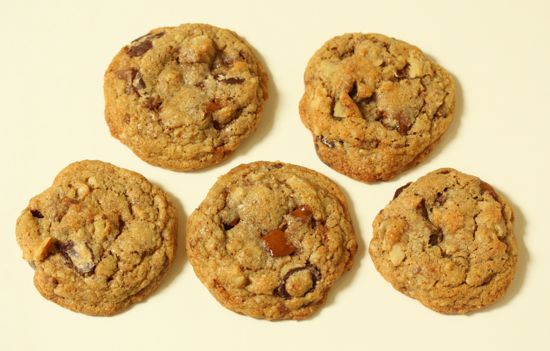 Meet my new favorite cookie.
I know, I'm a fickle cookie lover, easily distracted by the latest flavor sensation.  I've rarely met a homemade cookie I didn't like.
But this combination of toffee and chocolate chips has my number.  It's chewy and nutty at the center with crisp edges and the buttery flavor of toffee playing off  bittersweet chocolate chips. One just leads to another and another and…..
It all began with a cookie I spotted at the bakery counter at the local Whole Foods.  I was intrigued by the idea of a toffee cookie and the one I bought was pretty good.  But it was too sweet on balance and far too cakey for my taste.  I knew it could be much better with a few tweaks.
I started with a standard chocolate chip cookie batter and began playing around.  First I needed to find the toffee and, although I've read that toffee chips are available in markets, I couldn't find any where I live.  So I settled on toffee candy bars – Skor brand were the best – and chopped them up myself.
I tweaked the proportions of ingredients, cutting the total amount of sweetener and shifting the balance from granulated to brown sugar for deeper flavor.  I added sea salt and doubled the vanilla.  Then I let the dough rest overnight in the refrigerator to allow it to hydrate.
The biggest change, though, was a switch from all purpose white to whole wheat pastry flour inspired by Alice Medrich's incredible cookbook, "Chewy Gooey Crispy Crunchy Melt-In-Your-Mouth Cookies" (Artisan, 2010).  Alice is a wizard and her whole wheat chocolate chip cookies are so good that no one would ever compare them to dowdy health food store cookies.
The key is the pastry flour, which is softer and contains less protein than regular whole wheat flour.  It produces a tender cookie with a nicely nutty flavor set off by a generous portion of toasted walnuts.
I've been baking these cookies all winter.  The story I tell is that I need to test the recipe one more time to make sure it's right.  But I'm not fooling anyone.  I'm hooked.
I hope you love them, too.
TOFFEE CHOCOLATE CHIP COOKIES
Makes about 3 dozen 3-inch
2 1/3 cups whole wheat pastry flour
1 teaspoon sea salt
¾ teaspoon baking soda
1 cup unsalted butter (2 sticks) at room temperature
¾ cup muscavado or brown sugar
½ cup granulated sugar
2 teaspoons vanilla
2 large eggs
4 ounces chocolate covered toffee (3 Heath or Skor bars), chopped
6 ounces bittersweet chocolate chips (1 cup)
1½ cups chopped walnuts, toasted
Whisk together flour, salt and baking soda in a small bowl.
Beat butter on medium speed in the work bowl of an electric mixer until smooth and fluffy, about 1 minute.  Add sugars and beat on medium for 1 minute more.  Scrape down bowl and beaters.  Beat in vanilla and add eggs, one at a time, beating well after each addition.
With mixer running on low speed, add flour in three portions, just incorporating the flour from each addition into the batter before introducing the next.  Scrape down the bowl if necessary. Stir in toffee bits, chocolate chips and walnuts, distributing them evenly.
Cover bowl, pressing plastic wrap down to the surface of the dough, and chill at least 3 hours or – even better – overnight.
When you're ready to bake, remove cookie dough from refrigerator and let it warm up a bit while you preheat the oven to 350 degrees.  Spoon dough onto parchment lined baking sheets in 2-tablespoon portions, leaving about 1½ inches between cookies.  Bake for about 9-10 minutes, until golden brown and crisp around the edges.
Remove baking sheets from oven and let cookies rest on them for about 5 minutes before removing cookies with a small spatula and placing them on wire racks to finish cooling.
Aleta Watson