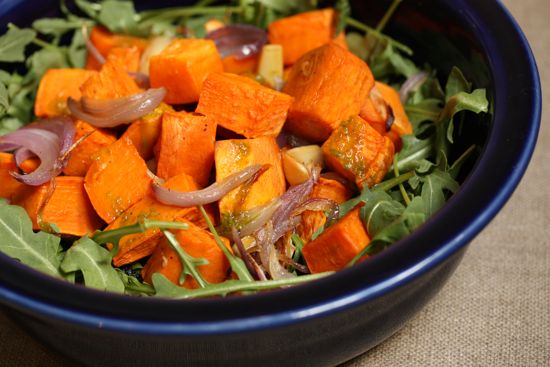 Although I've always liked sweet potatoes, I've never really thought of them as anything but holiday food.   Once Christmas is past, they're out of mind.
All that changed a couple of weeks ago when my  friend Susan Cohen took me to Poulet, a take-out/eat-in deli in Berkeley,  before her poetry reading.  There in the glass case among the salads was an intriguing dish pairing sweet potatoes and black beans.  It looked so appealing, I had to try it.
The first bite was amazing.  A spicy jolt of lime and chile dressing banished all the usual associations with brown sugar and cinnamon.  Suddenly, the familiar sweet potato was exotic and exciting.  Its earthy sweetness played the essential bass note in a jazzy riff of lively flavors.
The next day, I was still thinking about that salad. I knew I had to make it myself and I found this Mark Bittman recipe on the New York Times web site that seemed very close to what I ate in Berkeley.
But I wanted to play with this fascinating juxtaposition of sweet, fruity, spicy and savory flavors.  The fact that sweet potatoes are  among of the most nutritious vegetables in the produce department only added to the appeal.
The sweet potato tops the 10 best foods list compiled by the Center for Science in the Public Interest, which calls it a nutritional all-star.  It's packed with carotenoids, vitamin C, potassium, and fiber.
Don't be confused by the names.  There are many varieties and the red-skinned, orange-fleshed tubers labeled garnet yams at the supermarket are actually sweet potatoes, according to botanists.  They're native to Central and South America but have been adopted around the world. In the U.S., they're mostly grown in North Carolina and California with smaller production in Mississippi and Louisiana.  They're available year-round.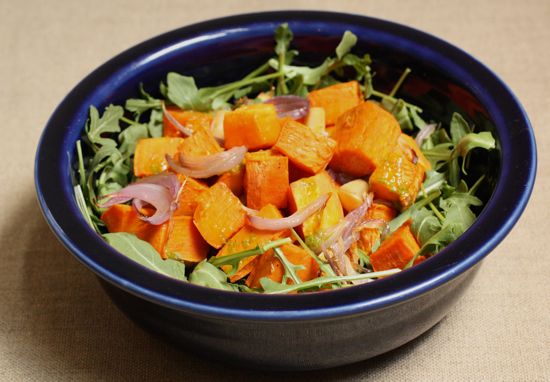 Although most people mash sweet potatoes, they're very good roasted like squash in chunks so they hold their shape.    That's the way I prepared them for this recipe.  To keep things simple, I roasted the red onion slivers and garlic cloves along with the potato chunks.
Pleasantly bitter arugula made a good counterbalance to the sweet and savory roasted vegetables.  If you toss it with the vegetables while they're still warm, the arugula will wilt a bit, softening its bite.
The dressing was inspired by one Rick Bayless uses for a jicama salad in "Mexican Everyday" (Norton, 2005).  It whizzes together lime juice, zest, cilantro, a jalapeño and oil in a blender. The bright flavors are a perfect foil for sweet potatoes.
Try this salad and you may find your perspective on sweet potatoes shifting, too.
SWEET POTATO SALAD WITH LIME AND CHILE DRESSING
Serves 4
2 pounds orange fleshed sweet potatoes (aka garnet yams)
1 medium red onion
1 head garlic
2 tablespoons plus ½ cup extra virgin olive oil, divided use
Salt and freshly ground black pepper to taste
1 jalapeño pepper, seeded and coarsely chopped
½ cup fresh cilantro, coarsely chopped
¼ cup freshly squeezed lime juice
Zest of one lime
2-3 large handfuls of arugula
Preheat oven to 400 degrees.  Line a large baking sheet with parchment paper or foil.  Peel sweet potatoes,  cut into 1-inch cubes and place on prepared baking sheet.  Peel onion, slice in half lengthwise, cut each half into thin vertical slivers and add them to sweet potatoes on the baking sheet.  Separate head of garlic into cloves, peel cloves and place on baking sheet.  Drizzle 2 tablespoons of olive oil over the sweet potatoes, red onion slivers and garlic cloves and sprinkle with salt and pepper. Toss vegetables with oil and spread out in a single layer.   Bake for  30-40 minutes, until sweet potatoes are tender when pierced with a fork.  Don't worry if the onions  char a little on the tips.
While the vegetables are cooking, whirl the jalapeño, cilantro, lime juice, zest and remaining ½ cup olive oil together in blender.  Add a little salt to taste if desired.
When vegetables are tender, let cool briefly, then toss with about half the dressing in a large serving bowl.  Add the arugula and toss again, adding more dressing if needed.  Serve warm or at room temperature.
Aleta Watson