I can't go on vacation without a book tucked into my bags.  Even the most exotic destination requires a good read for the plane or those odd hours between excursions and dinner.
Since I can't go for long without thinking about my next meal, either, a food book is always a great choice. This year, my nominees for the best summer food reads include a new look at the life of M.F.K. Fisher, a beautifully written chef memoir, and an inspiring diary of gardening and cooking from one of Britain's best food writers.
"An Extravagant Hunger," by Anne Zimmerman (Counterpoint, 2011) and "Blood, Bones & Butter," by Gabrielle Hamilton (Random House, 2011) are portable enough to carry in a beach bag.  They're fascinating stories of lives shaped by food, cooking and a hunger for love and meaning.
"Tender," by Nigel Slater (Ten Speed Press, 2011) is fairly bulky and better suited for a week or two at a country cottage, preferably with a farmers market nearby.  It practically demands that you get into the kitchen and cook after reading Slater's loving descriptions of his London vegetable patch and the dishes he prepares from his produce.
"An Extravagant Hunger: The Passionate Years of M.F.K. Fisher"
Even though I have read and loved almost everything ever written by the venerable M.F.K. Fisher, I've always felt I missed something just beneath the surface of her words. While her writing is intensely personal and sensuous, it often skips lightly over important events, among them the failure of her first marriage.   Zimmerman fills in the blanks with finely researched detail in her excellent biography.
Some of Zimmerman's conclusions about what went wrong after Mary Frances Kennedy married Al Fisher in 1929 are speculative at best.  Still, the story she has extracted from Fisher's letters and personal papers  reveals the extent to which the woman who paved the way for modern food writing was shaped by her longing for intense emotion.   Anyone who wants to learn more about the elusive personal life of M.F.K. Fisher should read this book.
"Blood, Bones & Butter: The Inadvertent Education of a Reluctant Chef"
Gabrielle Hamilton, on the other hand, leaves very little to the imagination in her memoir.  Hamilton, who was named Best Chef: New York City at the James Beard Awards in May, is a gifted writer who doesn't hesitate to discuss killing chickens, snorting cocaine and stealing from the boss, or cheating on her lesbian lover with an Italian doctor she later married so he could get a green card.
What sets this book apart, though, is not just the unflinching honesty.  The language is powerful and the narrative nicely structured. Hamilton earned an MFA in fiction writing from the University of Michigan between stints at the stove and it shows on every page.  The writing is so wonderful, even people who aren't interested in food will find themselves sucked into Hamilton's gritty world.
"Tender: A cook and his vegetable patch"
The best vacation I could imagine would be to visit London and have Nigel Slater feed me. I've been entranced by his lusty, no-fuss approach to cooking since I first spotted "Real Food" (Harper Collins UK, 1998) in an Edinburgh book shop.
Since that vacation is not in the cards, I'll settle for his latest book, which zeroes in on vegetables in all their glory.  Slater's story of planting a garden behind his urban terrace house and tending his crops is as engrossing as a novel and it nurtures my dreams of growing my own produce  once again.
Take this little treatise on growing tomatoes as an example:  "A tomato's character is enhanced by a rough life, a certain negligence, a gasping thirst, and the occasional drenching downpour.  Pamper a tomato, overfeed it, overwater it, and you will get a Paris Hilton of a tomato.  The rougher time it has, the more ugly its appearance, the more interesting it generally is."
The recipes that accompany Slater's discourse on vegetables are just as compelling.  This savory dressing for tomatoes is destined to become a summer standard at my house.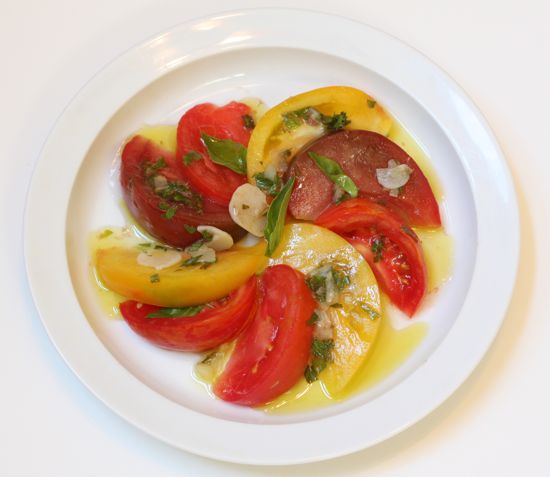 WARM BASIL DRESSING RECIPE

Makes about ¾ cup dressing
3 small shallots
½ cup extra virgin olive oil
2 cloves garlic
6 bushy springs of parsley
Juice of half a lemon
1 tablespoon red wine vinegar
8 anchovy filets
½ cup basil leaves, packed
Peel shallot, chop finely and warm with olive oil in a shallow pan over low heat.  Peel and thinly slice garlic and add to the pan.  Remove parsley leaves from stalks, chop coarsely and stir into shallot mixture.  Add lemon juice and red wine vinegar.
Rinse, dry and coarsely chop the anchovies and add to dressing just before serving.  Tear up basil leaves and drop into the to the warm dressing at the last minute.  Stir, taste and season with coarsely ground black pepper if needed.
Drizzle dressing over sliced tomatoes or toss with small tomatoes cut into halves or quarters. Serve.
Adapted from "Tender," by Nigel Slater