Every time I see a new recipe for  sesame peanut noodles, I feel compelled to try it.  Somewhere out there, I know, is the elusive sauce with the ideal balance of lively spice and creamy texture that turns cold noodles and fresh vegetables into a feast.
Most of the recipes I've made, however, tend to turn out bland, stodgy and gloppy.  Once the sauce joins the cooled noodles, it congeals and becomes almost impossible to toss with the pasta.
For years, my best bet was Nina Simonds' rainbow peanut noodle salad from "Asian Noodles" (Hearst Books, 1997).  It was always a hit at potlucks and summer picnics with its creamy dressing and generous helpings of crisp vegetables, but it lacked the spark I craved.  I wanted the undercurrent of lime and tingle of chile that make Thai cuisine so irresistible.
During an extremely hot spell this month, though, I began experimenting with my own sauce, bumping up the heat with ginger and red chile sauce (I like sriracha in the plastic squeeze bottle with a rooster on it) while introducing the zing of fresh lime juice.  The ingredients are available in most supermarkets.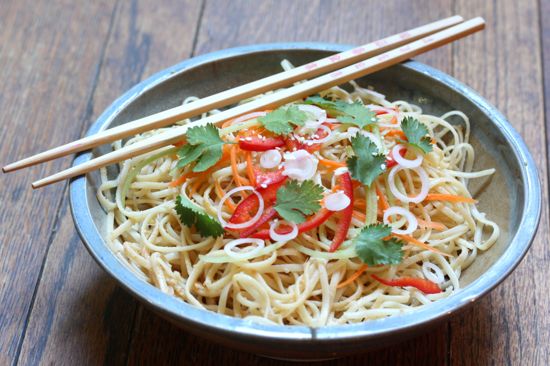 For the noodles, I've taken a tip from Simonds and used linguine or spaghetti rather than the usual Chinese egg noodles.  The pasta is a little firmer and stands up to the heavy sauce without getting soggy.  Whole wheat spaghetti works very well.
I've dumped the raw mung bean sprouts typical to most sesame peanut noodle recipes because I don't like their starchy flavor and introduced a lot of cilantro, which I adore.  If you're someone for whom cilantro leaves a soapy aftertaste, just substitute parsley.
The vegetables blend better with the noodles if you slice them into thin julienne strips.  The easiest way is to use a special peeler, which produces slender strings of the carrots and cucumbers, but an inexpensive Asian mandoline also does the trick if your knife skills are a little weak.
At last, I have a recipe that satisfies all my cravings.  The search is over.
SESAME PEANUT NOODLES RECIPE
Serves 4
For the sauce:
½ cup smooth peanut butter
2 tablespoons Asian dark sesame oil
2 tablespoons soy sauce
1 tablespoon grated ginger
4 garlic cloves, pressed or minced to a paste
3 tablespoons fresh lime juice
1 tablespoon red chile sauce
1 tablespoon rice vinegar
1 tablespoon plus 1 teaspoon brown sugar
1 tablespoon hot water
For the salad:
½ pound dry spaghetti or linguine
1 tablespoon Asian dark sesame oil
1 red bell pepper, seeded
2 carrots, peeled
½ English cucumber, peeled and seeded
2 scallions
¼ cup cilantro leaves
2 tablespoon sesame seeds, lightly toasted
Blend all the sauce ingredients together in a small bowl until smooth and set aside.
Bring a large pot of salted water to a boil and cook pasta according to package directions until al dente.  Drain pasta in a collander, reserving half a cup of the cooking liquid, and rinse with cold water until cooled.  Toss with sesame oil and place in a large serving bowl.
Slice red pepper, carrots and cucumber into thin julienne strips.  Slice scallions, thinly, including several inches of the greens.  Mince cilantro leaves.
Reserving a tablespoon of cilantro for garnish, add cut vegetables to the noodles and toss.  Pour about half of the sauce over the noodles and toss with a couple of spoons or a pair of tongs, adding more sauce as needed to coat the noodles.  If the sauce is too thick  to blend smoothly with the noodles and vegetables, add a tablespoon or two of the reserved cooking water while tossing.  Sprinkle with sesame seeds and toss again to distribute evenly.
Serve at room temperature with a garnish of cilantro.
Note: Excess sauce can be stored, tightly covered, in the refrigerator for up to two weeks.  It makes a nice dip for vegetables or sauce for grilled chicken.
Aleta Watson