Many cookbooks are primarily kitchen manuals filled with no-nonsense instructions.
Not "Ripe."  Author Cheryl Sternman Rule and photographer Paulette Phlipot break the cookbook mold.  Their  gorgeous tribute to fresh produce in all its glory is more inspiration than instruction, although filled with creative recipes.
"Ripe" (Running Press, 2012) will send you straight into the kitchen — right after you get home from the farmer's market.  You may find yourself keeping it out on the coffee table, though, to thumb through in idle moments.  The photographs are downright luscious and the text is whimsical, amusing and informative.
Rule and Phlipot wanted to get away from the "eat your vegetables" cookbooks.  Their goal is to make you want to eat vegetables and fruit just because they're so irresistible.
They definitely succeed.  Even the photograph of a red apple is tempting, and I don't care much for red apples.  Raspberries glow, peas gleam, bok choy beckons.  The Bosc pear belongs on the wall of an art gallery.
The beautiful photographs are the appetizers of this cookbook. They draw you in and prime your palate with vivid colors and textures. Sections are arranged not by seasons, as is common in produce cookbooks, but by color.
The main course, though, is the encyclopedic introduction to a wide range of fruits and vegetables, from pomegranates to jicama. Even familiar vegetables show a fresh side of their personality here.
Rule is an engaging writer and gifted cook who offers a little background on each fruit or vegetable along with a few simple uses and an unexpected recipe.   The pomegranate, for instance, is represented by a pomegranate clove thumbprint cookie, tomatoes by an open-faced grilled sandwich with smoked mozzarella.  I loved the kumquat and arugula salad, which explodes with bold but complementary flavors.  The Israeli couscous with fava beans, shallots, and olives was stunning.
I zeroed in on the broccoli soup with cheddar croutons, however, because  it felt particularly appropriate given the cookbook's mission to entice diners into eating fresh produce.  When Supreme Court justices go out of their way to badmouth broccoli, you know its reputation could use a little help.
The creamy green soup is especially healthful because it doesn't include a drop of cream.  But it's packed with so much flavor from cumin, coriander and fennel balanced with lemon and Greek yogurt that you'll never notice.  Just go slow on the crunchy cheddar croutons, which are infinitely munchable on their own.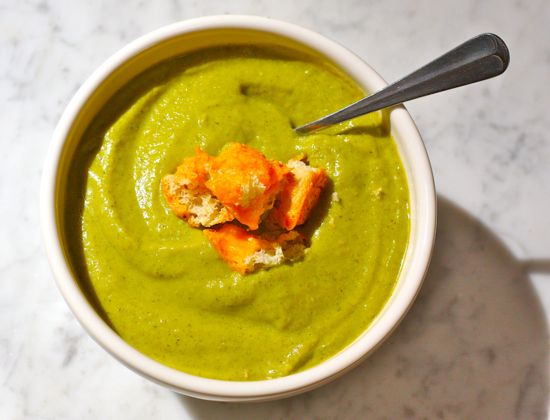 The soup was even better the second day, when the flavors had time to meld.  Although Rule recommends pureeing with an immersion blender, I got a far smoother texture with a more powerful standing blender.
I should note that Rule is a San Jose resident and I got to know her when I was a food writer at the Mercury News.  I've followed her freelance career ever since and am a fan of her blog, 5 Second Rule.  This cookbook with Phlipot is her first.
BROCCOLI SOUP WITH CHEDDAR CROUTONS
Serves 6-8
4 thick slices sturdy, bakery-style bread (pugliese, sourdough, country white etc)
1 teaspoon plus 2 tablespoons extra virgin olive oil, divided use
1 1/2 cups grated cheddar cheese, divided use
1 1/2 teaspoons cumin seeds
1 teaspoon ground coriander
1/2 teaspoon fennel seeds
Kosher salt and freshly ground black pepper
1 medium yellow onion, diced
2 pounds broccoli, stalks peeled and thinly sliced, florets finely chopped
2 cups vegetable stock, plus more for thinning
3/4 cup water
1/2 cup packed chopped fresh Italian parsley
1 teaspoon fresh lemon juice
1/2 cup plain Greek yogurt (nonfat is fine)
Preheat oven to 350 degrees.  Line a rimmed baking sheet with parchment.
Dice the bread into 1/2-inch cubes.  Toss on the prepared baking sheet with 1 teaspoon of the oil and 1 cup of the cheese.  Spread in a single layer. (Most of the cheese will fall off the bread; carry on.) Bake for 20 minutes, until golden brown and bubbly, flipping the bread and lifting the melted cheese with a spatula twice during baking.  Set aside.
Meanwhile, heat a large Dutch oven over medium high heat.  Add the remaining olive oil, cumin seeds, coriander, fennel seeds, 1 1/2 teaspoons salt, 1 teaspoon pepper, onion and sliced broccoli stalks.  Saute until vegetables are very tender, about 10 minutes, stirring frequently so the spices don't burn.  Add the stock, water, and florets and bring to a boil.  Reduce heat and simmer, uncovered, for 15 minutes.
Remove from heat and stir in the parsley.  Puree using an immersion blender (you'll have to tilt the pot and work slowly) or a traditional blender, in batches.
Stir in the lemon juice, yogurt, remaining cheese and additional salt, to taste.  (The soup may be made ahead to this point, cooled, and refrigerated, covered, overnight.) Serve hot, thinning with a touch of water or stock, if desired, and garnished with the cheddar croutons.
"Ripe," by Cheryl Sternman Rule and Paulette Phlipot