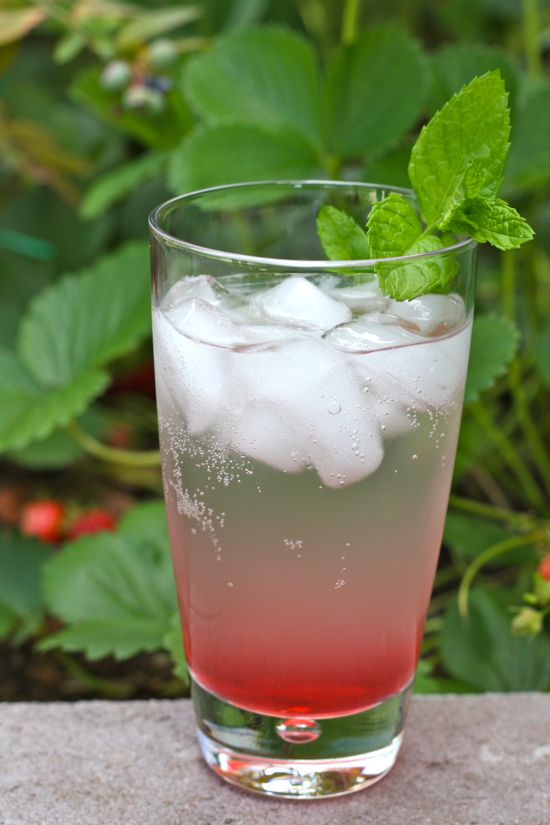 Brace yourself, dear reader.  I'm about to make the case for drinking vinegar.
Not for health – although there are many advocates of that, too – but for pleasure.  And not straight out of the bottle.
What I'm touting is a sweet and tart libation made with fruit and sugar to soften the sharp edge of the vinegar and served with a generous splash of sparkling water.  It's light, refreshing and sophisticated, just the thing to sip in the shade on a summer afternoon.  Think of it as the cocktail's non-alcoholic cousin.
Drinking vinegars have been around for centuries.  Colonial Americans drank a vinegar-laced beverage known as a shrub that was similar to an English punch often made with rum or brandy.  The vinegar served as a preservative for fresh fruit.
Today, trend-setting bartenders across the country are making their own vinegar concoctions as the base for signature cocktails.
My romance with drinking vinegar began a couple of weeks ago when I was having lunch with a friend at Sharp, the student restaurant at the Art Institute of Portland's culinary school.  A rhubarb shrub was on the menu and I never pass up an opportunity to try a new variation on one of my favorite flavors.  It was delightful and reminded me of an Italian soda, but with less sugar and just enough acid to pair beautifully with food.
That evening, we ate at Pok Pok, the wildly popular Thai restaurant on Division Street.  Chef Andy Ricker, the James Beard Best Chef Northwest winner in 2011, made his name in Portland before going on to pick up two stars from the New York Times for his Brooklyn outpost, Pok Pok Ny last year.
Pok Pok has been serving drinking vinegars for years. Since I was the designated driver and rhubarb was one of the offerings on the menu that night, I ordered one.  It was even better than my afternoon beverage, with tantalizing flavor and a mildly tart finish. It was every thing I could want in a non-alcoholic drink.
Ricker bottles some flavors of his drinking vinegars and sells them on the web and in his restaurants as Som.  Tamarind is especially nice.  But rhubarb, alas, is not among the bottled choices.  So I just had to figure out how to make it myself.
It's not that hard.  There are plenty of recipes on the Internet to get you started, but none were just what I wanted.  The cold method, in which the fruit is macerated with vinegar and allowed to set until the flavor infuses the vinegar, was most appealing but rhubarb isn't soft enough to smash easily.  That meant cooking the mixture.
At first I cooked the rhubarb, a chunk of ginger, and equal parts sugar and water together to make a syrup.  After the syrup cooled, I strained the rhubarb and ginger out and stirred the vinegar in.  That version was pretty good, but it lacked fruity intensity and the vinegar was too sharp for some tastes.  More sugar was in order.
In the end, I settled on cooking everything together, letting the mixture steep, and straining out the chunks of fruit and ginger.  It was a taste test winner and much simpler to prepare.  Plus the color was far more striking.
Now I'm ready to try new flavors from the same blueprint.   Maybe strawberry-basil next time.
Give it a try.  I'll bet you like it.
RHUBARB GINGER DRINKING VINEGAR
Makes about 2 cups
8 ounces rhubarb stalks, diced into 1/2-inch chunks
1 1/2-inch length of fresh ginger, sliced thinly
1 1/2 cups superfine sugar
1 cup rice wine vinegar
Combine rhubarb, ginger, 1 1/4 cups sugar and vinegar together in a medium, non-reactive saucepan and bring to a boil.  Lower heat and simmer for five minutes.  Remove from heat, cover, and let steep for 30 minutes.  Strain juice into a glass container and discard the fruit and ginger.   Dilute a tablespoon of the syrup in a quarter cup of water and taste.  If it's still to sharp, stir in remaining sugar to taste, stirring until dissolved.  Store in a sterilized glass container in the refrigerator. (See Note)
To serve, place 1 part drinking vinegar over ice in a highball glass.  Add 4 parts sparkling water and stir till mixed.  Enjoy.
Note:  Since rice vinegar is relatively low in acidity, plan on consuming the syrup within a couple of weeks.  For longer term storage, consider using champagne or white wine vinegar with an acidity level above 5 percent.
Aleta Watson