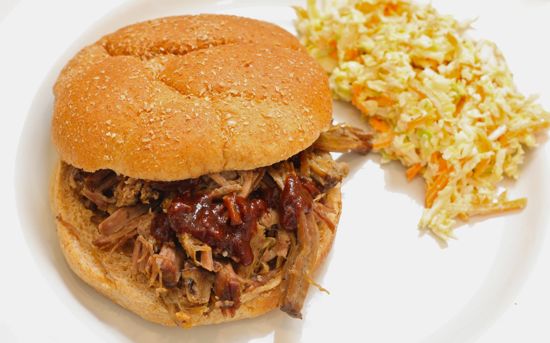 I grew up in a beef-eating family. My dad, who was poor as a child, loved nothing more than a slab of sirloin and a monster baked potato for dinner. There were vegetables on the table only because my mom insisted.
As an adult, though, I've had an uneasy relationship with beef and have avoided it more often than not in the interest of health.  For more than a decade, the only beef I consumed was an occasional hamburger – one of my guilty pleasures.  When I became a restaurant reviewer, though, I could no longer reject red meat, since it stars on so many menus.  Beef returned to my life, but I remained a little uncomfortable about it.
Then I received a review copy of Lynne Curry's cookbook, "Pure Beef," Running Press, 2012.  The book looks at the movement toward artisan beef  raised on open pasture, slaughtered as humanely as possible and dressed by craftsman butchers.  This is meat for the conscientious consumer, light years removed from the industrial model beef sold at most supermarkets.
What struck me most was the case Curry makes for eating grass fed beef, which is becoming more widely available.  Beef from cattle fed exclusively on grass is much leaner than meat from feedlot animals, which are stuffed with grains, antibiotics and hormones for rapid weight gain in the last months of their lives.  It boasts more healthful omega-3 fats and an extra measure of vitamins A and E.
Of course, when meat is very lean, you need to take more care in cooking it or you'll spend a lot more time chewing it. Along with her extensive guide to beef cuts and cooking techniques, Curry offers a treasure trove of recipes for grass fed beef.  As a rule of thumb she suggests slow cooking at low temperatures for the tougher cuts, such as chuck roasts, and quick cooking over high heat for steaks and hamburgers.  The most important point she makes is to be careful not to overcook the more tender cuts, which can go from medium rare to extremely chewy in the blink of an eye.
I bought grass fed beef at a local natural foods market to try out a few of the recipes and was impressed by the deeper flavor of this meat.    It was so much more savory than most supermarket beef that it didn't require much additional seasoning.
Following Curry's instructions, I seasoned New York steak with nothing more than salt, pepper and a quick rub with a garlic clove before searing it in a hot skillet with a little oil and butter for two minutes a side. Then I popped it into a  475 degree oven for  4-5 minutes.   It was the best steak I've had in years.
Dutch Oven Barbecue, which I made in a slow cooker, was simply rubbed with modest amounts of smoked salt, paprika, cumin, black pepper and cayenne before roasting at a low temperature.  It was so good, it didn't need the spunky barbecue sauce with its undercurrents of coffee and chile.  However, it would have been a shame to skip the condiment.  I wanted to eat the sauce with a spoon.
Curry offers 140 appealing recipes for every part of the cow.  It's an eclectic collection ranging from chicken fried steak and beef bourguignon to Argentinian empanadas and Vietnamese pho.
I'm still not ready to put beef on my table every day, but I feel much better about it now that I've switched to grass fed meat.   With Curry's cookbook in hand, I can't miss.
DUTCH OVEN BARBECUE
Serves 6 with leftovers(Note:  Although Curry cooks her barbecue in a Dutch oven, I converted the recipe to a slow cooker so I could leave it unmonitored.  I started the roast on high for an hour, then switched to low for 6-7 hours, until the meat was fork tender.)
Meat:
2 teaspoons smoked sea salt
1 teaspoon smoked paprika
1 teaspoon ground cumin
1/4 teaspoon freshly ground black pepper
1/8 teaspoon cayenne
2 1/2-3 pound chuck roast
Barbecue sauce
(recipe follows)
for serving
Combine the salt, paprika, cumin, pepper and cayenne is a small bowl and mix well.  Rub the mixture all over the roast.  Put roast in a plastic bag or covered baking dish and refrigerate for at least 12 hours and up to two days.
Preheat oven to 200 degrees.  Roast meat, covered, until you can pull it apart with a fork–5 1/2 to 6 hours.  The internal temperature should register at least 180 degrees.  Remove from oven.
When meat is cool enough to handle, slice or shred it, discarding any fat or bone.  Serve with some of the accumulated broth and the barbecue sauce.
Tangy barbecue sauce
Makes 1 1/2 cups
1/2 cup ketchup
1/2 cup apple cider vinegar
1/2 cup strong brewed coffee
1/4 cup Worcestershire sauce
2 tablespoons packed light brown sugar
1 tablespoon grated onion
4 cloves garlic, minced
1 tablespoon chile powder
1 teaspoon smoked paprika
1/4 teaspoon cayenne
Whisk all ingredients together in a small saucepan until smooth.  Bring to a boil over medium high heat, then reduce heat to low.  Simmer, stirring occasionally for 1 hour until thick.  Cool to room temperature before serving.
Adapted from "Pure Beef," by Lynne Curry