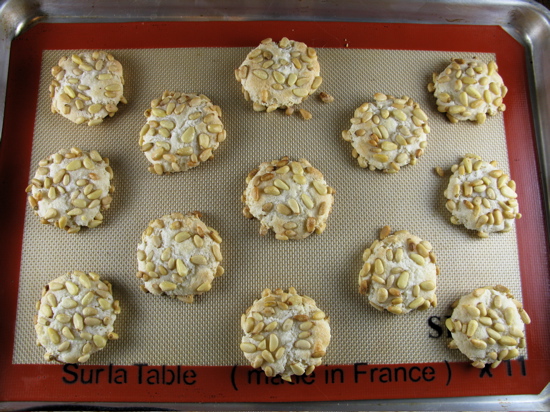 Time is getting short. Passover begins at sunset Wednesday night. If you still don't have any idea what to take to the seder, do I have a treat for you.
I'm no expert in matters of Jewish cuisine, it's true. I'm not even Jewish. But many of my friends are and somehow I was always the one tapped to write a Passover story in recent years at the Mercury News. I also was lucky enough to be invited to participate in a Passover seder, the ceremonial feast celebrating the delivery of the Israelites from Egypt.
This much I do know: For most families, the seder menu is a cherished tradition. Whether it's brisket or lamb stew, the heart of the menu changes little from year to year. The one place where there's really any room for innovation is dessert. Still, the strictures against flour or leavening make it a challenge.
Amaretti con pignoli, the Italian classic cookies, are the perfect answer for a dessert that will delight diners and satisfy Passover restrictions at the same time. They're easy but elegant, with a chewy texture and the buttery richness of pine nuts. Essentially, they're macaroons made with almond paste, sugar and egg whites, a staple on Passover dessert tables. What sets them apart, though, is the luxurious coat of pine nuts that brings new layers of flavor to the simple cookie.
I first made these cookies during the winter holidays and fell in love. It shouldn't have been surprising – what's not to like about macaroons or toasted pine nuts? Still, my first version, made with pine nuts in the dough as well as the coating, was a bit too rich, believe it or not. This stripped down recipe from Lidia Bastianich was just right, however. It comes from "Lidia's Italian-American Kitchen" (Knopf, 2001).
I would have shared the recipe earlier except I was in danger of hitting sugar overload on the blog in December. So I've been holding it in reserve till now.
It's easiest to make these cookies with canned almond paste, but I'm also giving the directions for preparing them with blanched slivered almonds, which makes for a marginally grainier and less sweet cookie. The cans can prove difficult to locate and when I finally tracked down Solo canned almond paste at Cosentino's, an upscale, independent grocer in San Jose – it was only labeled kosher, not "kosher for Passover." Products certified as "kosher for Passover" go through an extremely strict inspection from start to finish to certify they don't contain any chametz – forbidden breads, grains or leavened products.
Solo is available online, too. But all I could find at other local stores were plastic tubes of Odense almond paste, which is not kosher and has a drier texture. It works fine, though I think the canned paste is better.
I've also increased the volume of pine nuts. You can use less – the original recipe calls for 1½ cups – but then you have to be very careful or you'll run out of nuts before you've used up all the dough. To keep costs down, I buy my pine nuts at Trader Joe's or Costco.
Just whirl the almonds with sugar and egg whites in a food processor, form the dough into little balls, coat in pine nuts and bake. The cookies can be made ahead and stored in an airtight container for up to a week.
You don't have to be Jewish to enjoy pignoli cookies. They come from Italy, after all, where millions of Catholics know a good thing, too.
AMARETTI CON PIGNOLI
Makes about 4 dozen cookies
1 pound canned almond paste
or 1 pound blanched and slivered almonds
1½ cups granulated sugar
3 large egg whites
2 cups raw pine nuts
Preheat oven to 350 degrees after placing racks in the upper and lower thirds of the oven. Line two baking sheets with parchment paper or silicone liners or grease lightly.
In the work bowl of stand mixer, crumble the almond paste and beat on medium speed until it has the texture of wet sand. Sprinkle sugar over top of almond paste and continue to beat until well-blended. Add egg whites, one at a time, and beat until dough is smooth.
Alternatively, place almonds or almond paste and sugar in a food processor and grind, scraping down the sides of the work bowl as necessary, until they make fine paste. Add egg whites and whirl until the batter is very smooth.
At this point, the dough can be wrapped in plastic wrap and refrigerated up to 1 day or baked immediately.
Place the pine nuts in a shallow bowl or pie plate. Using a tablespoon or 1 1/4 -inch scoop, form dough into small balls, rolling them between your palms for a uniform shape. Roll each ball in pine nuts until coated lightly and place on prepared cookie sheets, spacing them about 2 inches apart. Flatten each ball slightly with your hand, lightly pressing the pine nuts into the dough.
Bake until cookies are lightly browned and springy to the touch, about 15 minutes. Allow cookies to cool a few minutes on the baking pans, then transfer to a wire rack to cool completely. Cookies may be stored for up to a week at room temperature in an airtight container.
Adapted from "Lidia's Italian-American Kitchen," by Lidia Bastianich