I'm heading north – to Alaska, no less. It's the ultimate road trip, more than 3,000 miles of asphalt one-way through some of the most gorgeous scenery in the world. We've been fantasizing about it for years and making preparations since January.
Before we left,  I baked a batch of these extra nutty peanut butter cookies for the drive.  You never know when you're going to find yourself starving, miles from the nearest grocery store or restaurant. And I like to rationalize that there's at least some protein in these big, crunchy cookies to tide us through a long day on the road.
We'll be camping most of the way in our pint-sized, pop-top camper.  It's about as basic as you can get without pitching a tent.  There's  a queen size bed, a stove, a sink and an ice box.
So we're not going to be doing a lot of elaborate cooking.  That doesn't mean we don't plan to eat well:  We intend to get our fill of Alaska's famous wild salmon and halibut.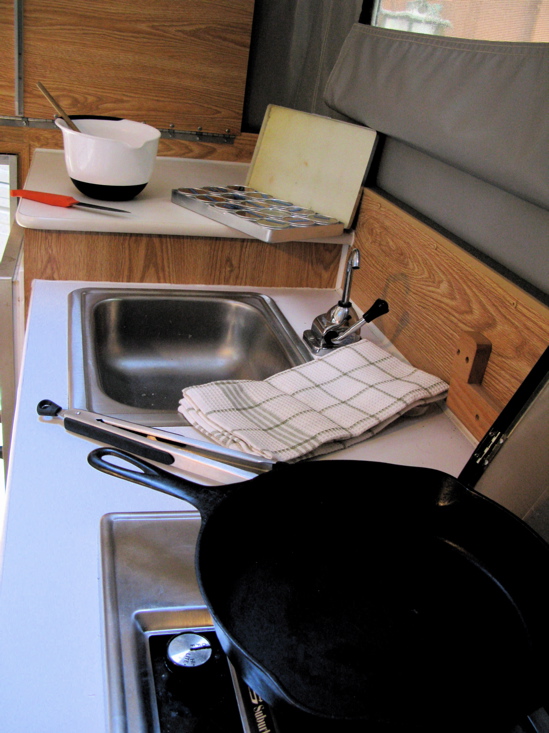 I'll be cooking most of the time since we're on a budget and Alaska isn't really known for it's restaurants.   I'm even bringing along a jar of sourdough starter in tribute to the miners who rushed north in search of gold more than a century ago.
By necessity, the recipes will be simple but I've come up with tasty camping dishes that also would work well as summer meals in a hurry. I'll share them here as well as photos and reports on what we find  on our way.  I hope you'll come along for the ride.
This cookie recipe marks a breakthrough for me.  I've finally figured out how to bake with the natural peanut butter I like best rather than the excessively processed, big name brands that most cookbooks insist are required for successful cookies.
I started with a basic recipe and played around with techniques and proportions of ingredients.  Then I introduced chopped, salted peanuts just before baking to get more intense peanut taste and a better balance between sugar and salt.
The cookies are sturdy, substantial and satisfying – just the thing for a long road trip.  The only problem is they're so good, they never last long.  Next trip, I would bake at least a double batch.
EXTRA NUTTY PEANUT BUTTER COOKIES
Makes about 2 dozen 4-inch cookies
1¼ cups flour
½ teaspoon salt
½ teaspoon baking soda
¾ cup butter (1½ sticks) butter, at room temperature
½ cup granulated sugar
½ cup dark brown sugar, packed
¾ cup natural peanut butter, chilled
1 egg
1 teaspoon vanilla
1½ cups salted peanuts, chopped
1 cup chocolate chips, optional
Preheat oven to 375 degrees. In a small bowl, whisk together flour, salt and baking soda.  Set aside.
In the work bowl of an electric mixer, beat butter and sugar together until creamy.  Beat in egg and then peanut butter until mixture is light and fluffy.   Mix in vanilla before adding flour in two or three additions, mixing thoroughly after each one.   Stir in chocolate chips, if using.
Place chopped peanuts on a plate or in a shallow bowl. For each cookie, scoop out about 2 tablespoons of dough and form into a small ball, then roll in chopped peanuts and place on a cookie sheet lined with parchment paper or a silicone baking mat.  With a fork dipped in flour, press ball flat, making a crosshatch pattern with the tines.  Cookies should be placed about 2 inches apart.
Bake for about 10 – 12 minutes, until lightly browned around the edges but still a little soft in the center.  Remove from oven and let cookies rest on baking sheet for  5 — 10 minutes before transferring to a wire rack to cool completely.