Let's face it, pie is intimidating for many cooks.  Why else would supermarkets sell so many of those cardboard-like frozen crusts in foil pans?
Never fear, pastryphobes.  The French have given us a marvelous alternative to the pie with perfectly ruffled edges–the galette.   A free-form cross between a pie and an open-faced tart, it makes the perfect showcase for sweet and juicy produce of summer's stone fruit season.
What's more, it's a snap to make and actually is supposed to be irregularly shaped. Call it rustic and revel in the imperfections.
The galette crust goes together in minutes with the help of a food processor.  Slice the fruit and toss it with sugar, lemon juice and a little cornstarch.  Then pile the mixture in the center of the rolled-out crust, tuck the edges up around it, and bake until it's a beautiful golden brown.  If the crust should sag a little or the juices leak out of the pastry, it only looks that much more appetizing.
This summer, I've been following a very adaptable Martha Stewart recipe for galettes.  A little cornmeal in the pastry enhances the flavor and makes the tender crust sturdy and easy to handle.  It stands up well when nearly overloaded with fruit.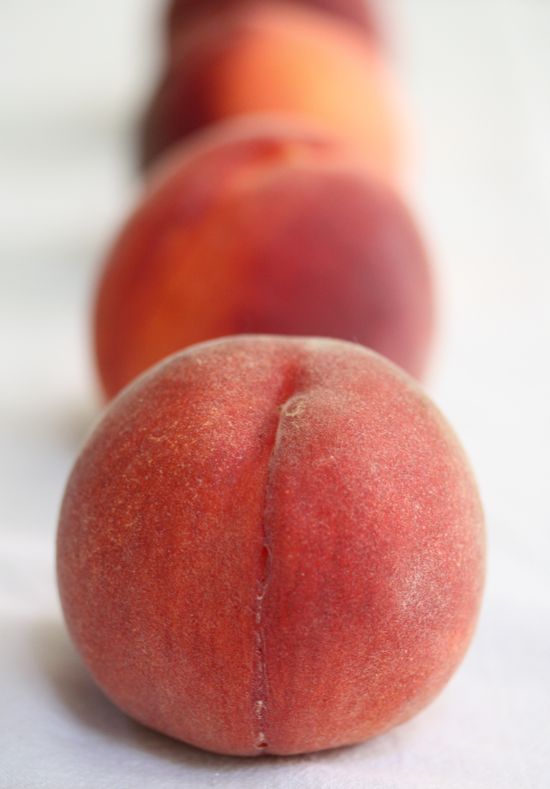 My favorite filling combination is Blenheim apricots and Bing cherries.  Alas, the all-too-short season is over for those varieties, though.
Still, peaches are fantastic, whether paired with blackberries or blueberries.  I like yellow-fleshed varieties with plenty of acid to balance out the sugar.
The legendary Sun Crest peaches, made famous by David "Mas" Masumoto in "Epitaph for a Peach," were absolutely incredible.  But I also adore the July Flame peaches we picked up at the Aptos Farmers Market last weekend.
Just be sure to taste any fruit before you buy.  It should be ripe but firm, with a deep, complex flavor.  White-fleshed sugar bombs rarely have the character to make a memorable galette.
Plums, nectarines and other fruits should work well, too, but you may need to adjust the amount of sugar.

One warning:  If the fruit is very juicy, don't try to scrape every bit of sugar and juice out of the bowl and into the galette.   Excess juice is all but guaranteed to leak out of the crust and spread across the baking sheet.
On the other hand, don't worry if it does.  The beauty of a galette is no one expects it to look picture perfect.
PEACH AND BERRY GALETTE
Makes one 10-inch pie
For pastry:
1 cup all-purpose flour
¼ cup cornmeal
1 teaspoon sugar
½ teaspoon salt
½ cup (1 stick) cold, unsalted butter, cut into small pieces
¼ cup ice water
For galette:
4-5 large peaches, pitted and cut into eighths
1 pint fresh blueberries or blackberries
½ cup plus 1 tablespoon granulated sugar, divided use
Juice of ½ lemon
2 tablespoons cornstarch
Pinch of salt
1 large egg, lightly beaten
Make the pastry: In the work bowl of a food processor, combine flour, cornmeal, sugar, and salt.  Pulse several times to blend.  Add butter pieces and process just until mixture resembles a coarse meal. With motor running, slowly pour ice water into mixture until dough begins to come together, no more than 30 seconds.  It may not need all the water.
Turn dough onto a large piece of plastic wrap and, using the plastic, gather together into a ball.  Flatten dough to form a disk, wrap tightly and chill for at least 1 hour.  Dough will hold for a day in the refrigerator or up to a month in the freezer.
Assemble galette: Roll out dough into a 14-inch circle about 1/8-inch thick on a lightly floured work surface, patching and trimming if necessary to get a fairly even edge.  Transfer dough to a large rimmed baking sheet lined with parchment paper.  Refrigerate until ready to use, up to one hour.
Preheat oven to 375 degrees while you prepare the filling.   Place blueberries and cut-up peaches in a large bowl.  Toss fruit with ½ cup sugar, lemon juice, cornstarch and salt until well coated.  Arrange fruit mixture in center of chilled pastry dough, leaving a border of about 2 inches around the outside edge.  Gently fold the pastry up over the fruit, pressing the dough into evenly-spaced pleats to enclose the fruit.  Brush the pastry with beaten egg and sprinkle with remaining sugar.
Bake on center rack of oven until crust is browned and juices are bubbling, about 45-50 minutes.  Leave galette on baking sheet and let rest on wire rack until cooled enough to slide onto a serving platter.  Serve warm or at room temperature.
Adapted from "Martha Stewart's Baking Handbook," by Martha Stewart (Clarkson Potter, 2005)