Ordinarily, I don't put much effort into breakfast.  I start the day with whole grain toast, peanut butter and jam more often than not.
When we're car camping, however, it's another story.  I'm ready for a real breakfast when hiking, paddling or just hanging around the campfire are on the day's agenda.  And nothing delights the whole family more than blueberry pancakes with butter and maple syrup.
Pancakes from a boxed mix just won't do.  Somehow they always taste too much of baking powder and one glance at the ingredient list gives me the willies.
So I usually stir together the dry ingredients at home and transport them to camp in a zippered plastic bag.  Add eggs, water, and oil and you have light pancakes with enough whole grains to make me feel good about feeding them to little ones.  The blueberries, an Oregon staple, are added at the stove.
These pancakes start with a standard recipe from Mark Bittman's "How to Cook Everything," (Wiley, 1998).  I scale it up and convert it to a mix by adding whole wheat pastry flour, buttermilk powder (available in the baking aisle at major markets), and a little baking soda.  At camp, I add extra virgin olive oil instead of melted butter and the results are terrific.  The oil is rich and buttery, unlike the ubiquitous canola oil, and the flavor is not a distraction–particularly when you add blueberries and maple syrup.   What's not to like?
They were a hit last weekend at Cold Water Cove on Clear Lake in the Cascade Mountains.
Of course, you could make them at home, too, but it wouldn't be as much fun.  And I'm not sure they would taste quite as good.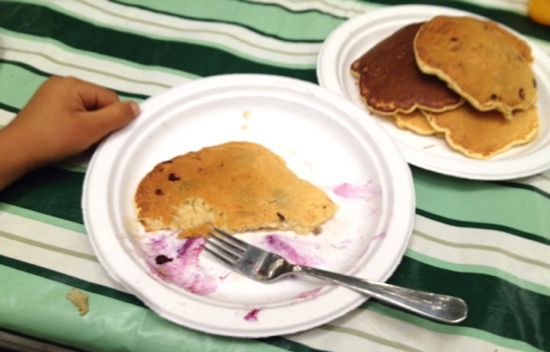 BUTTERMILK BLUEBERRY PANCAKES
Serves 6 generously
2 cups all-purpose flour
1 cup whole wheat pastry flour
3/4 teaspoons salt
1 tablespoon brown sugar
3/4 teaspoon baking soda
1/2 cup plus 1 tablespoon dried buttermilk
2 eggs
3 tablespoons extra virgin olive oil
2 1/2 cups water
1 pint fresh blueberries
Butter and maple syrup for servingAt home, combine flours, salt, sugar, baking soda and dried buttermilk.  Package in a zippered plastic bag or other sealed container for transport.
At camp, pour dry mix into a medium bowl.  In a separate bowl, beat egg and oil together, then stir in water.   Make a well in the center of the dry ingredients and pour the liquid mixture into it.  Stir gently, just until the flour has been absorbed.  Add a little more water if necessary to thin the batter to a pourable consistency.  Don't worry about getting out all the lumps.
Heat a griddle or heavy skillet over medium high heat, adjusting as needed when you begin to cooking so the pancakes brown evenly and cook all the way through.  Pour batter by spoonfuls onto the hot griddle or skillet.  Scatter 4 or 5 blueberries on the surface and cook until bubbles surface on the batter and the edges begin to look dry.   Using a spatula, lift an edge of the pancake to be sure it's browned to your liking and then flip it over to cook the other side.  Remove when pancake is lightly browned on the bottom.
Serve with butter and maple syrup.
Aleta Watson