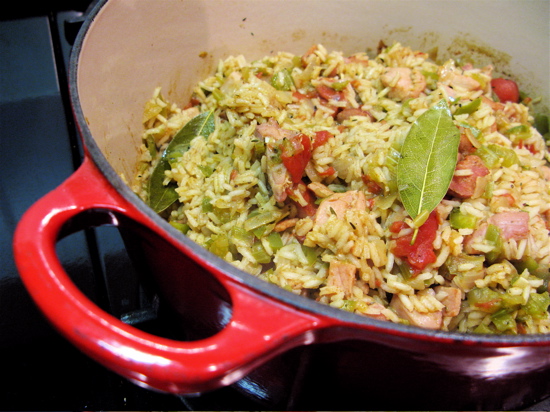 New Orleans pulls out all the stops for Mardi Gras, which ends tomorrow with Fat Tuesday. Fabulous food is always at the center of festivities.
Still, you don't have to break the bank with pricey Gulf shrimp, fresh oysters and crawfish flown in live from Louisiana to join the party at home. Just follow the lead of the thrifty Cajuns, who've always managed to make the most of humble ingredients. Crawfish, after all, were one of the gifts of the bayous to resourceful settlers centuries ago – an abundant native crustacean free for the catching.
In honor of Mardi Gras, here's a deeply flavored jambalaya with budget-friendly ingredients perfect for our times. The shrimp you might expect at the heart of a tasty jambalaya are just too expensive for my wallet this year – unless I break down and buy imported shellfish, which are a bad environmental choice in any case. So I made chicken thighs the stars of this one pot meal, with andouille sausage for spice and a little ham for smoky depth.
The inspiration comes from Paul Prudhomme, the icon of Cajun cooking years before Emeril became a Food Network star and head of a Louisiana-based culinary empire. My mother, a fan of all things New Orleans, collected several of Prudhomme's cookbooks in the 80s along with a pile of magazine and newspaper clippings on Cajun and Creole cuisine.
I inherited many of her cookbooks along with her love of vibrant food. I pored over them in search of something terrific for Mardi Gras this year, planning in the back of my mind to make a gumbo, one of the dishes that propelled the charming and irrepressible Carla Hall into the finals of Top Chef. I could feel my arteries starting to clog, however, when I realized how much fat was called for in most recipes.
Then I found Poorman's Jambalaya in "Chef Paul Prudhomme's Louisiana Kitchen" (Wm. Morrow, 1984). The name alone was enough to attract my attention and the fat content was not outrageous. But I had my heart set on something with economical chicken. I started tinkering, bringing in elements I liked from other recipes and, when I was finished, about all that remained untouched was the trademark seasoning mix. The feisty blend of peppers, dry mustard and herbs is what separates a lively jambalaya from a bland dish of chicken cooked with rice.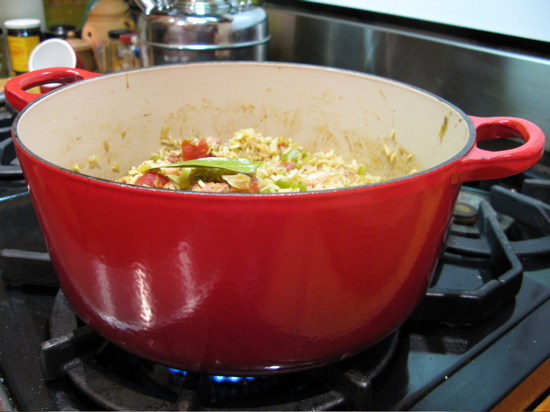 I used Canadian bacon instead of the traditional spicy tasso ham, which is hard to find outside Louisiana unless you order it online. Prudhomme recommends Hormel's Cure 81 ham, which is widely available at chain supermarkets, but I didn't want to buy a lot more than I needed for the recipe and Canadian bacon comes in small packages.
To make up for its mild flavor, I threw in an extra half teaspoon of cayenne pepper. Unless you like your food on the fiery side, though, you probably ought to wait until the jambalaya is done and taste it before turning up the heat.
Don't be deterred by the long list of ingredients. About half of them go into the spice mixture and you'll probably have most of those in your pantry except the gumbo file, which can be found at most big markets. It's optional anyway.
Although there's a fair bit of ch0pping involved to get the critical flavor base of onion, celery and bell pepper, the dish comes together with minimal attention from the cook after the initial saute.
Jambalaya is easy enough to cook on a weeknight. Yet it makes dinner a cause for celebration.
Hard times never tasted so good.
CHICKEN AND SAUSAGE JAMBALAYA
Serves 4-6
4 small whole bay leaves
1 teaspoon salt
1 teaspoon white pepper
1 teaspoon dry mustard
1 teaspoon cayenne pepper
1 teaspoon file` powder (optional)
½ teaspoon ground cumin
½ teaspoon black pepper
½ teaspoon dried thyme leaves
2 tablespoons canola oil
3 ounces Canadian bacon or smoked ham, diced
6 ounces andouille sausage, diced
4 skinless, boneless chicken thighs cut into bite-sized pieces
1 medium onion, chopped
3 stalks celery, chopped
1 medium green bell pepper, chopped
1 clove garlic, minced
2 cups long-grain rice
1 can (14.5 ounces) diced tomatoes, drained
3 cups chicken stock
In a small bowl, mix bay leaves, salt, white pepper, dry mustard, cayenne pepper, file` powder, cumin, black pepper, and thyme to make seasoning mix.
In a 4-6 quart Dutch oven, heat oil over medium high heat. Add Canadian bacon or ham and sausage, and cook, stirring occasionally, for about 3 minutes. Add chicken and cook for 5 minutes more. Add onion, celery, bell pepper, seasoning mix and garlic and continue cooking for about 5 minutes, stirring and scraping bottom of pan as needed. Vegetables should be tender but still firm.
Add rice to pan and cook for 3 or 4 minutes, stirring frequently. Add drained tomatoes and chicken stock. Bring mixture to a boil, reduce heat to low to maintain a gentle simmer, and cover. Cook for 15-20 minutes, until rice is tender but firm to the bite.
Stir well, remove bay leaves, and serve.