Every year I'm a sucker for those gorgeous days in mid-February filled with the promise of an early spring.  Then the sun goes back behind the clouds and it starts to rain again.  I have to remind myself that it's still winter.
This is the perfect season for stracotto, an Italian take on a slow-cooked pot roast, steeped in red wine, mushrooms and aromatic vegetables.
My introduction to this gutsy and soul-warming dish came in the beautiful cookbook, "Organic Marin," by Tim Porter and Farina Wong Kingsley (Andrews McMeel Publishing, 20080).  A fund-raiser for Marin Organic's school lunch program, it's filled with mouth-watering photographs and appealing recipes from some of Marin County's best restaurants. The braised chuck roast was the contribution of Piatti Ristorante & Bar in Mill Valley.
I was so smitten that I made stracotto several times in the oven before I began experimenting with a slow cooker variation for one of my favorite cooks, who had just acquired her first Crock Pot.  Along the way, it picked up porcini mushrooms, bacon, and a generous portion of red wine to pump up the already vivid flavors.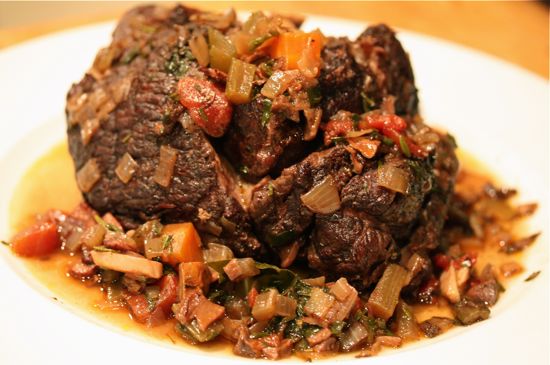 The secret to this recipe is browning the meat, sauteing the vegetables and reducing the wine before placing them in the slow cooker.  Those steps – which many recipes skip in the name of convenience – help develop and concentrate the flavors.
So then, you ask, what's the advantage of using a slow cooker instead of  just shoving the roast into the oven for three or four hours?  For one thing, it gives you flexibility.  Prep this dish in the morning before you go out for the day and you won't have to worry about getting back in time to put it in the oven.
You could even get it ready the night before and stash the cooker's ceramic insert in the refrigerator.  Take it out when you get up in the morning, let it come to room temperature while you're getting ready to leave, then put it in the cooker and let it simmer all day.
When you come home, you'll have a dinner fit for company.  Serve it over soft polenta with good bread and a simple salad.  Winter suppers don't get much better.
SLOW COOKER STRACOTTO

Serves 4-6
1 2½-3-pound boneless beef chuck roast, tied
Kosher salt
1 ounce dried porcini mushrooms
1 cup beef broth
2 tablespoons olive oil
1 strip thick-sliced bacon, coarsely chopped
1 large onion, coarsely chopped
1 carrot, peeled and coarsely chopped
2 stalks celery, coarsely chopped
5 cloves garlic, peeled and halved
2 cups red wine
1 14.5-ounce can diced tomatoes, drained
1 tablespoon tomato paste
1 tablespoon fresh rosemary, chopped
¼ cup chopped parsley
2 bay leaves
Salt and freshly ground pepper to taste
While you prepare the vegetables, bring stock to a simmer in a small saucepan.  Remove pan from heat and soak mushrooms in hot stock for 30 minutes, until softened.  Strain mushrooms through a coffee filter or cheesecloth and reserve liquid.  Chop mushrooms coarsely and set aside.
Heat olive oil in a large, heavy bottomed skillet or Dutch oven over medium high heat.  Add meat and brown well on all sides.  Transfer meat to medium or large sized slow cooker.
Pour off excess fat and sauté the bacon until it begins to brown.  Add onion, carrot, celery, and garlic to skillet and sauté until lightly browned.  Scrape vegetables into the slow cooker with meat.  Using the same pan, reduce heat to medium, stir in wine, bring to a boil over high heat. and cook for 5-10 minutes until reduced by half.  Stir in tomatoes and tomato paste and cook for a couple of minutes.  Add rehydrated mushrooms and reserved soaking liquid.  Stir in rosemary, parsley and bay leaves.
Pour liquid mixture over meat and vegetables in slow cooker.   Set temperature on low and let cook for about eight hours, until meat is fork tender.
To serve, remove meat to platter, cover and keep in a warm place while you transfer the braising liquid to a saucepan and boil it down until slightly thickened.  Cut meat into ½-inch slices. Pour sauce over meat or pass separately.
Aleta Watson