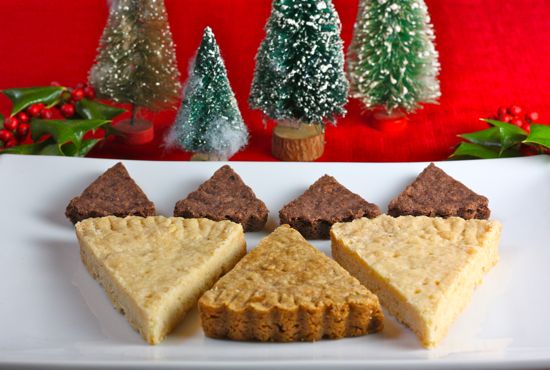 No matter how much I plan ahead for the holidays, it seems life starts spinning out of control about this time every year.
Here it is less than two weeks 'til Christmas and I still haven't made any of the usual decorated cookies.  Maybe sometime next week.  Who knows?
With these buttery shortbread cookies in the house, I'm not too worried.  They're so good in their natural state, one bite banishes all thought of frosting and sprinkles.
The beauty of these cookies is they're so simple to make.  No rolling, no cutting into cutesy shapes, no decorating.   Just press the dough evenly into a fluted tart pan and bake.
Over the course of refining this classic recipe and it's variations, though, I picked up a few tips to make Scottish-style shortbread even better:  Use the best butter, handle the dough as little as possible, and chill well before baking to let the flavors develop.
Butter is the heart and soul of shortbread, so you really don't want to cut corners here.  I used some pricey vat-cultured butter from Sierra Nevada Cheese Company in one batch and the cookies were wonderful.  However, the Straus organic European-style butter at 85 percent butterfat also was incredibly good and a little less expensive.
Although most recipes call for letting the butter soften to room temperature first, I've had better results starting with cold butter, cutting it into small chunks and whirling it in the food processor.  If the butter is too soft and you beat it too long in an electric mixer, myriad tiny bubbles form in the dough, leading to unwanted rising and bubbling in the oven.
For the most tender results, you want the dough to be crumbly and loose before you press it into the pan.  Like pie dough, it shouldn't be overworked.  It will continue to hydrate in the refrigerator and come together when the butter melts in the oven.
The vanilla bean shortbread should be a pale yellow when it emerges from the oven.  The equally delicious brown sugar variation is a little darker, hinting at its intriguing caramel flavor.
In deference to chocoholics, I've also developed a variation with cocoa and cacao nibs. Those chunky little bits of roasted cacao beans bring an extra layer of flavor to these cookies and it continues to develop as they're stored after baking.  Scharffen Berger makes the nibs, which are readily found at most supermarkets.
After baking, cool the shortbread completely in the pan before cutting into the wedges known at petticoat tails in Scotland.
If you really must decorate, you could drizzle these cookies with melted chocolate.  But I wouldn't.  They're perfect just out of the pan.
VANILLA BEAN SHORTBREAD COOKIES
Makes about 16 large cookies
1  3/4 cups all-purpose flour
1/4 cup cornstarch
1/2 teaspoon fine sea salt
1 cup butter (2 sticks), chilled
1 vanilla bean
3/4 cup superfine sugar
Lightly butter a 9-inch tart pan with a removable bottom or a regular 9-inch cake pan.  Alternatively, prepare six 4-inch tart pans for smaller cookies.Sift together flour, cornstarch and sea salt in a small bowl.  Set aside.
Cut sticks of butter lengthwise into quarters and slice those pieces into small cubes. Slice vanilla bean in half lengthwise and scrape out the pulp with the tip of a knife. In the work bowl of a food processor fitted with a metal blade, whirl butter with vanilla pulp and sugar until smooth.  You may have to stop the motor a couple of times and break up the larger clumps.   Add flour mixture all at once and pulse in bursts just until the butter and flour are well blended.  It should still be very loose and crumbly.  Don't let processor run until you have a smooth ball. The dough will come together when it bakes.
Dump dough into prepared pan.  Using a piece of plastic wrap, if necessary, press dough evenly into the pan.  Wrap tightly in plastic wrap and refrigerate for at least 2 hours or, better, overnight.
Preheat oven to 300 degrees.  Remove dough from refrigerator, uncover, score into wedges with a sharp knife and prick all over with a wooden skewer, if desired.  If using a regular cake pan, gently press the tines of a fork into the outer edge of the cookies, following the rim of the pan, to create a decorative border.
Bake for about 1 hour, until firm in the center but still pale. Let cool in pan on a wire rack and cut into wedges along the scored lines while still warm.  Cookies may be stored, tightly covered, for 4-5 days or frozen up to 2 months.
Brown sugar shortbread:  Follow main ingredient list, omitting vanilla bean and substituting brown sugar for superfine. Whirl brown sugar in processor to achieve a finer texture before adding butter and proceeding with instructions above.
Chocolate shortbread with cacao nibs:  This variation uses an egg yolk to produce a wetter dough and introduces 1/4 cup cacao nibs at the end.  It will not be much smoother when it's ready to go into the pan.  Substitute top quality cocoa powder for cornstarch and 1 teaspoon vanilla extract for vanilla bean.  Add 1 egg yolk to the butter and vanilla mixture and follow instructions above.  After adding flour, mix until flour is almost completely incorporated, add the cacao nibs and pulse a couple of times to distribute evenly before pressing dough into pan and chilling.  Bake as directed above.
Aleta Watson