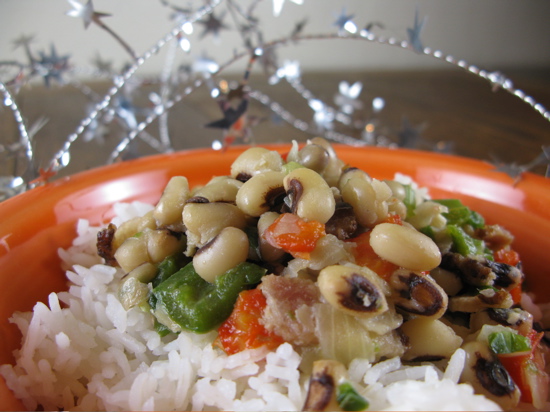 Black-eyed peas were always on the New Year's Day menu when I was a child. It's a Southern tradition said to bring prosperity in the coming year, much like the custom of serving lengthy noodles at Chinese New Year is intended to ensure a long life. Each cute little pea we consumed was supposed to put a dollar in our pockets.
We ate them fairly plain, usually out of a can. Truth be told, they were rather dull and boring, hardly the sort of food the uninitiated would expect at a celebration. No wonder I found it hard to interest my Midwestern-born husband in continuing the tradition.
Little did I know then how good black-eyed peas could be. Today, it's a delight to eat them as an auspicious beginning to a brand new year. And they're just the sort of food we need in hard times – cheap, tasty, and lucky, to boot.
The secret to the best black-eyed peas is to cook them from scratch and treat the bland and starchy beans as a blank canvas for more vibrant flavors. Onions and ham hocks or bacon are traditional. Add more lively flavors and they sing.
Frozen peas, now widely available at supermarkets, deliver the most appealing flavor and texture, although dried peas will do in a pinch. Just don't cook them too long. They should be tender to the bite, but not mushy.
I've prepared black-eyed peas a number of ways over the years. Still, it's hard to beat the Texas-style recipe in Rebecca Rather's delightful cookbook, "The Pastry Queen Christmas" (Ten Speed Press, 2007). Rather, who owns a bakery and cafe in the Texas hill country town of Fredericksburg, revs up the peas with a flavor base of chopped onion, bell pepper and garlic, much like the red beans of Cajun fame. Then she throws in a jalapeno pepper for good measure and simmers the peas until they've soaked up all the deep flavors. A teaspoon of baking soda is included to help keep the legumes tender.
This dish is lively enough for a party and a great addition to the New Year's menu. I like to serve it over hot rice in the style of Hoppin' John or red beans and rice. Aromatic Texmati rice, an American hybrid of Basmati, is a good choice.
Top it all off with a dollop of your favorite salsa, homemade or from the deli, and you have a dish that's more Tex-Mex than Deep South. It may not be strictly traditional but it definitely has wide appeal. Besides, the country really needs some better luck right now. It can't hurt to have more people eating black-eyed peas to launch 2009.
BLACK-EYED PEAS WITH BACON, ONIONS AND GARLIC
Serves 6-8
5 cups frozen, shelled black-eyed peas (or 1 pound dried)
4 slices bacon
1 yellow onion, chopped
2 stalks celery, diced
1 red bell pepper, seeded and diced
1 green bell pepper, seeded and diced
1 jalapeno pepper, seeded and minced
4 cloves garlic, minced
3 cups chicken broth
2 cups water
2 teaspoons kosher salt
2 dashes Tabasco sauce
1 teaspoon baking soda
4 cups hot cooked rice
Salsa for garnish
Place frozen peas in a colander and run warm water over them for a few minutes to separate them for cooking. (If using dried peas, clean, sort and soak according to package directions.)
In a large Dutch oven or heavy pot, cook bacon over medium-high heat until cooked through but not crisp, 3-4 minutes. Reduce heat to medium and add onion, celery, peppers and garlic to pot. Saute, stirring frequently, for about 5 minutes, until vegetables are softened but not browned. Add broth, water, salt, Tabasco, peas and baking soda to the pot and bring to a boil over high heat. Lower heat to a simmer and cook the peas uncovered for about 1 hour, until tender. (Fresh peas will cook faster than soaked, dried peas.)
Serve over hot rice, topped with a spoonful of salsa.
Note: The black-eyed peas may be cooked in advance, allowed to cool, and refrigerated for up to three days. Reheat gently before serving.
Adapted from "Pastry Queen Christmas," by Rebecca Rather