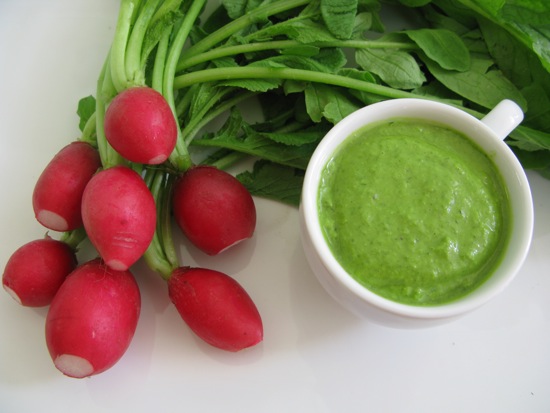 We eat green salads year-round at my house, but they become even more popular at this time of year, when the produce is gorgeous and temperatures jump into the high 80s.    Many a warm evening I abandon the stove altogether and throw together a huge salad for dinner.
Usually a simple vinaigrette is my first-choice dressing for a pile of impeccably fresh greens,  heirloom tomatoes and whatever else catches my eye at the farmers market.  Lately, though, I've been playing with more elaborate dressings to turn even the most basic salad into a memorable meal.   This updated Green Goddess dressing has become a favorite.
Based on a classic created at San Francisco's Palace Hotel in the 1920s, it carries all the lovely flavors of fresh herbs without all the fat of the mayonnaise-based original.   I've switched the herbs around to fit what looks best at the market, added good olive oil, and substituted whole milk yogurt for the mayo.  Arugula contributes a peppery undertone and anchovies bring a depth of flavor without any overtly fishy taste.
This is a creamy dressing with a beautiful green color and bright flavors to match.  It works just as well as a dip for a platter of crudites as it does as an elegant accent for a tossed salad.  You can vary the herbs to suit your taste. Just be sure to use plenty of parsley for the color.
Summer's magnificent produce deserves a divine dressing.
UPDATED GREEN GODDESS DRESSING
Makes about 2 cups
1 cup fresh parsley
1 cup arugula leaves, torn
2 tablespoons chopped chives
2 tablespoons chopped tarragon leaves
1 clove garlic, coarsely chopped
6 anchovy filets, torn in half
Juice of ½ lemon
½ cup extra virgin olive oil
1 cup whole milk yogurt
Freshly ground black pepper to taste
Place parsley, arugula, chives, tarragon, garlic, anchovies and lemon juice in a food processor or blender and whirl, stopping the motor to scrape down sides of container.  Drizzle olive oil into container while motor is running, stopping now and again when necessary to push the leave down toward the blades.
When the mixture becomes a smooth paste resembling a thick pesto, stir in yogurt and mix until blended.  Season with pepper and chill.
Dressing will thicken upon standing and make a nice dip for crudites.  If you prefer a thinner dressing for tossing with salad greens, stir in a little more olive oil and a couple of drops of lemon juice.