Hummus often is the easiest dish to skip at a party.  It's that creamy beige dip in a plastic tub that someone picked up at the store on the way to the host's house.  It's pleasant enough if the processor hasn't used too much citric acid as a preservative but hardly worth the calories when there are more exciting choices on the table.
At least that's what I always thought until I was coaxed into sampling the garlicky hummus offered at a farmers market in Santa Clara.  Who knew that such a silky, seductive dip could come from pureed chickpeas laced with mellow garlic and spices?  I was hooked.
I knew I had to make my own if I were to satisfy my cravings, though.  And canned chickpeas – better known on the West Coast as garbanzos – just wouldn't do, even if I slipped off the skins for a smoother puree as many cooks advise.  Besides, dried chickpeas are quite cheap in the bulk bins and aren't that difficult to prepare, given a little advance planning.
I made a couple versions of hummus soon after I acquired a VitaMix blender this summer, but they weren't quite right.  One was too bland, the other too watery. So when I was invited to a party thrown by food-loving friends last weekend, I decided to try again to come up with a new variation that could hold it's own against all the tempting cheeses and hors d'oeuvre I knew would crowd the appetizer table.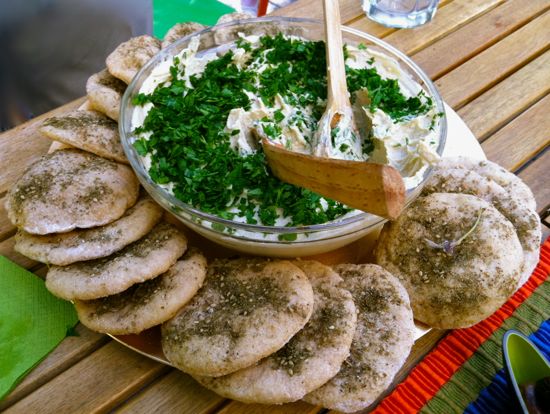 Starting with a basic recipe from the Greek cookbook, "The Olive and the Caper," by Susanna Hoffman (Workman, 2004), I began pumping up the flavor.  Garlic was roasted for nuttier flavor and so was the sesame paste, known as tahini.  I increased the lemon  juice, cumin and coriander seeds and reduced the water.
The result was an exceptionally smooth and almost buttery puree with a hint of lemon and savory undertones of garlic and spice.  It was light, flavorful and almost irresistible.  I kept finding excuses to dip a spoon into the bowl to check the seasonings.
It was a hit at the party, too, though the home baked pita sprinkled with zatar certainly helped.  (Zatar is a wild thyme-based spice mix sold at Middle Eastern markets or online at Penzey's Spices.  Alternatively, you can make a fair approximation at home from the recipe below.)
The pita looks impressive and tastes far better than any store-bought flat bread, but it's really not hard to make.  Just divide any basic bread dough – the whole wheat pizza dough from Trader Joe's works well –  into balls about 2 inches in diameter. Flatten the balls, then roll out to ¼ inch or thinner. (I use a tortilla press to speed things up.)  Brush each circle of dough lightly with water, sprinkle with zatar, and bake on a pizza stone for 5 minutes or so at 475 degrees.
Serve this at your next party and no one will pass over the hummus.
ROASTED GARLIC HUMMUS RECIPE
Makes about 3 cups
1 cup dried chickpeas
1 small head garlic
¼ cup olive oil plus more for drizzling
¾ teaspoon salt
2 tablespoons roasted tahini
Juice of 1 lemon (about 4 tablespoons) or more to taste
¼ cup water
¾ teaspoon ground cumin
¾ teaspoon coriander seeds, or ¼ teaspoon ground coriander
¼ cup Italian parsley
The night before you plan to prepare the hummus, rinse and pick over the dried chickpeas.  Place in a medium saucepan and cover with water by about  ½ inches.  Let soak overnight.
The next day, drain the chickpeas and return to pot, covering them with fresh water by about 1½ inches.  Bring to a boil, then lower heat and simmer, partly covered, for about an hour, until the skins are bursting and the chickpeas are very tender.  The cooking time will depend on how large the chickpeas are and how recently they were dried.  They should not be chewy or chalky when done.
Meanwhile, preheat the oven to 400 degrees.  Peel off the loose outer layers of the garlic's papery skin and slice off the top of the head to expose the cloves.  Drizzle with a little olive oil, wrap in a double layer of aluminum foil and bake for 30-40 minutes, until the cloves are very soft when squeezed.  Remove from oven and let cool.
In a measuring cup, beat together the tahini, lemon juice, water and olive oil with a fork.  Set aside.
When chickpeas are done, turn off heat, stir in ½ teaspoon of the salt and let cool to room temperature.  Drain, reserving 1 cup of the cooking liquid, and transfer to the work bowl of a food processor or blender.  Add ½ cup of the liquid and about half of the roasted garlic cloves, saving the rest for other uses.  Whirl until very smooth and thick, scraping the sides of the container as necessary.  With motor running, slowly drizzle the tahini mixture into the hummus and whirl until absorbed.  Add the spices and remaining ¼ teaspoon salt and whirl again until thoroughly blended.
The mixture should be very smooth and the consistency of thick sour cream.  If it's still too thick, stir in the remaining cooking liquid, a tablespoon at a time, until the right texture is achieved.  Taste for seasoning and adjust as desired.
Before serving, spoon hummus into a bowl and sprinkle with parsley.  Pair with fresh pita.
Aleta Watson
ZATAR RECIPE
Makes about 1 1/4 cups
2 teaspoons ground oregano
2 tablespoons ground thyme
2 teaspoons whole dried oregano
2 teaspoons ground savory
2  teaspoons ground marjoram
½ teaspoon whole-leaf dried marjoram
½ cup sesame seeds, lightly toasted
1½ teaspoons kosher salt
Finely grated zest of 2 lemons
In a small bowl, combine all ingredients.  Store in an airtight container for up to two  months.
From www.bread-bakers.com