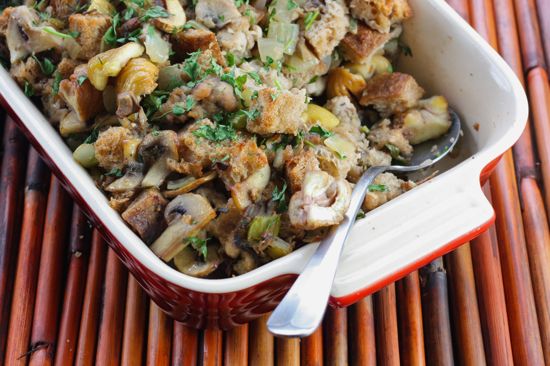 One of my best discoveries at Portland's fabulous downtown farmers market this fall was the glory of fresh chestnuts.
I know, I know. People all over the world adore fresh chestnuts.  But as many times as I've prepared with them over the years, they've rarely seemed worth the trouble.
Most of the fresh chestnuts in the supermarket are already too old and starchy despite the promise of their glossy shells.  Then cooking them – as in "chestnuts roasting on an open fire" – has always proved a dicey undertaking.  The shells are hard to score with a knife, it's difficult to decide when they're done, and I usually burn my fingers trying to peel them.
When chestnuts were called for in a recipe, I bought them already cooked and peeled.   Chestnuts out of a jar have been my standby in this very traditional Thanksgiving recipe that I first ripped out of a Williams—Sonoma catalog about a decade ago.
The truth, though, is that the dressing is even better with the Italian variety of chestnuts I picked up at the farmers market. The fruit is tender and slightly sweet with a mysterious complexity, unlike anything I've tasted before.  It's just as good nibbled plain as it is starring in a holiday side dish.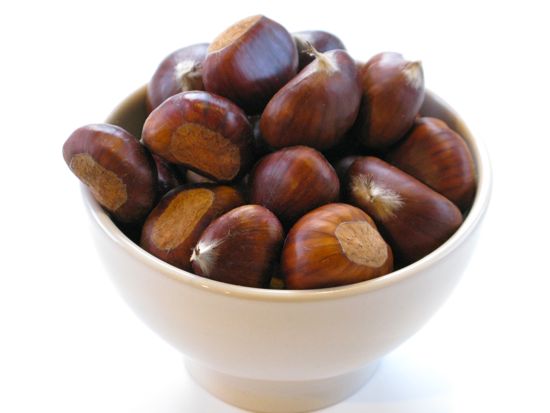 My family was pleasantly surprised by the flavor, particularly since I had subjected them recently to a failed experiment in cooking chestnuts foraged at the neighborhood park. We later learned those were horse chestnuts, an extraordinarily bitter distant relative of culinary chestnuts.   They're supposed to be slightly poisonous but we wouldn't know since we spit them out immediately.
That experience led me to seek the good stuff at the Saturday market near Portland State University.  That's where I meet the folks from Cascadia Chestnuts.
The sweet taste and moist texture of their chestnuts were enough to prompt me to plan to use them in the Thanksgiving dressing this year.  But it helped that the farmer shared his tip for preparing them.   He suggested I just cut the chestnuts in half and boil them for about 10 minutes before removing the shell and peeling off the inner lining known as the pellicle.
It worked, although the peeling process was still a little finicky and time consuming.  So I tried steaming them as suggested on one of the many web sites I visited. That really did the trick. The steamed halves almost popped out of their shells with minimal prodding. Very little additional peeling was required.
I cut them in half from top to bottom, slicing parallel to the flat side when possible and steamed them in a single layer over boiling water for about 10 minutes.  Then I turned off the heat and pulled out three or four at a time to peel – the shells tend to harden again as they cool.  They were still hot enough to be a little uncomfortable at times but I didn't need to handle them for very long while peeling.
Of course you don't have to prepare your own chestnuts for this dressing, which has evolved over time to include celery, garlic, dried porcini mushrooms, and whole wheat bread.  It's very good with canned chestnuts.
If you find really good fresh chestnuts, though, they're more than worth the extra effort.
CHESTNUT AND MUSHROOM DRESSING WITH SAUSAGE
Serves 10
1 pound loaf whole wheat
levain,
an artisan bread
1 ounce dried porcini mushrooms
4 tablespoons unsalted butter
1 medium yellow onion, chopped
1 large stalk celery, chopped
2 large cloves garlic, minced
1/2 pound white mushrooms, cleaned and sliced
1 1/2 cups steamed chestnuts, halved (about 12 ounces in shell or 8 ounces peeled)
3/4 pound mild Italian chicken or turkey sausage, bulk or removed from casings
Salt and freshly ground pepper to taste
1 tablespoon chopped fresh thyme
1 tablespoon chopped fresh sage
1/4 cup chopped parsley
About 2 cups chicken or turkey stockThe night before, cut bread into 1/2 – 1-inch cubes and spread out on a baking sheet to dry.  If the cubes are still too soft the next morning, pop the baking sheet into a 250 degree oven for 15 – 20 minutes to finish drying.
Preheat oven to 375 degrees and butter a 9 x 13-inch baking pan.
Quickly rinse the dried porcini, place in a small bowl and cover with boiling water.  Soak for 30 minutes or until soft.  Strain the mushrooms through a coffee filter or several layers of cheesecloth.  Remove rehydrated mushrooms and chop coarsely.   (You can substitute the soaking liquid for some of the broth if you wish.)
Melt butter in a large skillet over medium high heat. Add onion, celery and garlic and and saute until they begin to soften, 3-5 minutes.  Add fresh mushrooms and saute for a couple of minutes before adding the rehydrated porcinis and cook until all the ingredients are soft and onion is translucent, about 5 minutes.  Add chestnuts and cook for about 2 minutes.  Transfer mixture to a large bowl and season with salt and pepper.
In the same pan, over medium high heat, cook the sausage, stirring with a wooden spoon to break it up into small chunks as it browns, for about 10 minutes.  Add to bowl with the sauteed vegetables and sprinkle with herbs.  Add dried bread and stir to combine.  Pour about 1 3/4 cup of stock over the mixture and stir.  The dressing should be moist enough to hold together but not soggy.  Add more stock if needed.
Transfer dressing to prepared baking pan and bake until golden brown on top and thoroughly heated, about 1 hour.   Check at the half hour mark and cover loosely with foil if dressing appears to be browning too fast.
Note:  The dressing is even better if you make it the night before, refrigerate it, and bake it off just before serving.  If oven space is at a premium, you can bake it early in the day and then return it to the oven while you let the roasted turkey rest before carving and serving.
Inspired by a Williams—Sonoma recipe