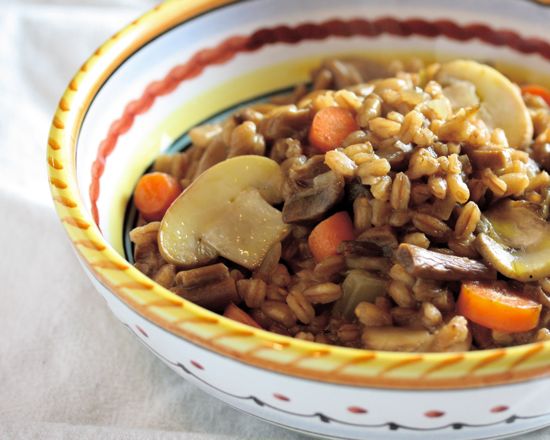 The trouble with writing about seasonal cooking at this time of year is you never know what the weather gods are going to deliver from day to day.
When I started working on this post, temperatures were chilly and the skies overcast.  Nothing seemed more appropriate than this hearty variation on risotto made with mushrooms and an ancient form of wheat Italians know as farro.  By the time I got up this morning, though, temperatures already were in the 60s and the sun was rising in a clear sky.
Still, the forecast is for rain and cold weather again in a couple of days.  Unless you have a well-stocked pantry, it may take that long to round up the essential ingredients for this dish. Not every market carries farro alongside the rice and pasta, although it has become more widely available in recent years.
Nutty in flavor and nicely chewy, farro is one of my favorite whole grains. It makes a tasty change from brown rice and bulgur and cooks about as quickly as white rice.   Semi-perlato farro, with lightly polished grains, still retains some of its nutritious bran and it's a lot less daunting than wheat berries.
Italians, of course, have devised delectable ways to eat this descendant of wild emmer wheat.  They add it to soups and cook it with broth in a dish they call farrotto.  I first tried it in a recipe from "The Zuni Cafe Cookbook," by the inspiring chef, Judy Rodgers (W.W. Norton, 2002).  It was so good, I kept going back to it again and again.
This new recipe was born of one of my pre-payday treasure hunts in the pantry.  I wanted something substantial and satisfying for dinner but I was bound and determined not to go to the grocery store again.  I found half a bag of farro, a box of chicken broth, an onion and a package of dried shiitake mushrooms on the shelves.  The carrot and celery were hiding in the crisper drawer of the refrigerator.
This simple farrotto was so good that I decided to introduce fresh mushrooms the next time.  It was even better.
Don't be deterred by the instructions for adding the broth in increments.  If you keep the temperature low, only sporadic stirring is required to prevent the grains from sticking while they absorb the liquid.  You can do it while you're setting the table and making a salad.
This is just the dish for cold and rainy fall evenings.  Stock your pantry now and you'll be ready when they show up again.
MUSHROOM FARROTTO RECIPE
Serves 6
1 ounce dried porcini or shiitake mushrooms
2 tablespoons extra virgin olive oil, plus more for drizzling
4-5 cups chicken or vegetable stock
1/2 medium onion, chopped
1 stalk celery, chopped
1 medium carrot, chopped
3 cloves garlic, chopped
1/2 pound fresh mushrooms, sliced
1 -1/3 cups semiperlato farro
1/4 cup grated Parmesan cheese
In a small bowl, cover dried mushrooms with hot water and let stand until soft, 10-15 minutes.  Remove mushrooms from bowl, reserving soaking liquid, and squeeze dry before chopping coarsely.
Pour stock into a 2-quart saucepan and bring to a boil over medium heat.  Lower heat and keep at a simmer.
Meanwhile, warm oil over medium heat in a heavy bottomed 3-quart saucepan or Dutch oven.  Add onion, celery and carrots and saute until onion begins to soften and turn translucent.  Add garlic and mushrooms, cooking until mushrooms become limp and soft.  Stir in farro and saute 1-2 minutes.
Add most of reserved mushroom soaking liquid to the vegetable and farro mixture, being careful to hold back the last bits of debris at the bottom of the bowl.  Reduce heat to medium low and cook at a slow simmer, stirring occasionally until the the liquid has been almost totally absorbed.  Then begin adding the stock about a cup at a time, stirring until one addition has been absorbed before introducing the next.  Taste after about 15 minutes of cooking.   You want the grains to be tender to the bite but not mushy.  Continue adding stock and stirring until the farro is tender and the mixture is a little loose but not soupy–about 20-30 minutes in all.  You may not use up all the stock.
Stir in the Parmesan and transfer to a serving dish. Drizzle with a little more olive oil if you wish, and serve.
Unlike risotto, farrotto will hold, covered and in a warm place, for up to half and hour before serving without breaking down.  You may need to add a little more stock before serving to loosen up the texture.
Aleta Watson