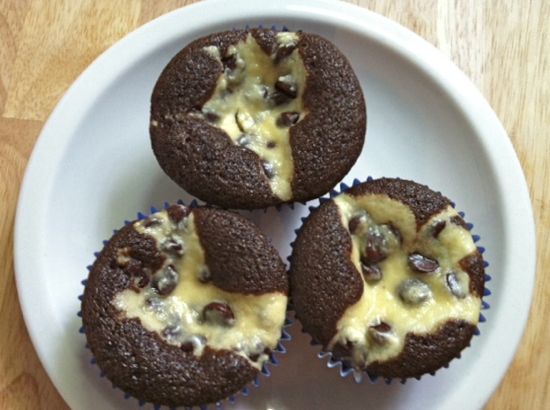 Chocolate, cheesecake and cupcakes.  What's not to like?
Amid all the change in my life right now, it's comforting to return to old favorites.  I had almost forgotten about these fabulous, moist black bottom cupcakes until I needed something easy to fill out the menu at a children's birthday party last month.
We were afraid the birthday cake wouldn't go far enough, so I whipped up a few dozen of these backups–no frosting required.  All the children headed for the red cake with the Captain America shield on top.  The smart adults gravitated toward these little treats with the cheesecake and chocolate chip centers.
At one point, these cupcakes were the staple of every potluck at my old paper.  That's where I snagged the recipe that was floating around the newsroom.
Baked in silver foil and arranged in a pyramid with flowers, they served as one of my best friend's wedding cake.  Several of us baked dozens of the cupcakes over a period of weeks and stashed them in the freezer until the big day. They went fast.
Perhaps the nicest thing about these little cakes is you can stir them together without any special equipment.  A bowl, a measuring cup and spoons, and a wooden spoon are all you need. There's no need to cream butter and, although it's helpful to sift together the dry ingredients, it's not absolutely necessary.
Cocoa is the secret to the dark chocolate flavor of the cake batter.  I use Valrhona if I have it on hand, but Hershey's will do fine.  There's so much flavor going on, most eaters will miss the subtleties anyway.
Plop a couple of tablespoons of the cake mixture into muffin tins lined with paper cups, top each with a heaping teaspoon of the cream cheese and chocolate chip mixture and push them into the oven.  When they're done, so are you.  Frosting would be way over the top.
These cupcakes are so moist, they keep well.  There are still a few stashed in the freezer.  I'd better grab one before they all disappear.
BLACK BOTTOM CUPCAKES
Makes about 18 cupcakes
8 ounces cream cheese
1 egg
1 1/3 cup sugar, divided use
Salt
12 ounces chocolate chips
1 1/2 cups flour
1/4 cup cocoa
1 teaspoon soda
1 cup water
1/3 vegetable oil
1 tablespoon white vinegar
1 teaspoon vanillaPreheat oven to 350 degrees and line about line 2 or 3 muffin tins with paper cup.  You'll be making about 18 cupcakes.
In a medium bowl, beat cheese, egg, 1/3 cup of the sugar and salt together until well blended.  Stir in the chocolate chips.
In another medium bowl, sift or whisk together the flour, 1 cup of sugar, cocoa, soda and salt.
In a small bowl or 2 cup measure, stir together the water, cooking oil, vinegar and vanilla.  Pour the liquid mixture into the flour mixture and stir well until the flour is completely absorbed. Fill each muffin cup about 1/3 full with the chocolate batter.  Drop a generously heaped teaspoon of the cream cheese mixture into the center of each cup.  If you have some leftover when all the cups have been filled, divide the remaining batter among the cups, just making sure the batter doesn't begin to overflow the liners.
Bake for about 30 minutes, or until the chocolate portion of the cupcakes springs back when you touch it lightly.
These cupcakes only get better when stored overnight in an airtight container and freeze very well.
Aleta Watson