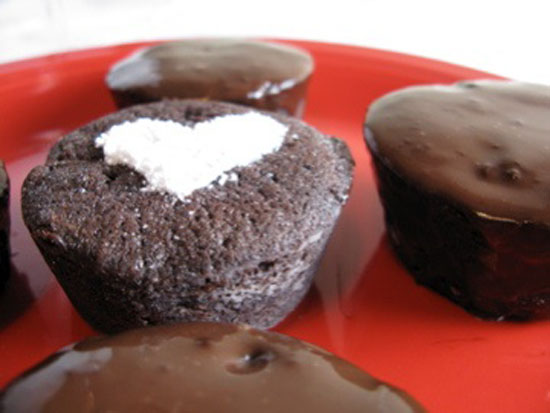 Yes, it's the second post in a row about chocolate. What can I say? It's the season.
There's no better time to go overboard for chocolate than the week leading up to Valentine's Day.
Besides, let's be realistic here: More people are likely to consider baking for the romantic holiday than to make candy, however easy it may be.
So today I offer Espresso Brownie Bites, a cross between a brownie and a cupcake with a firm texture, dusky chocolate flavors underscored by coffee, and a fudgy ganache topping. These are grownup treats for the sophisticated chocoholic – not too sweet and just the right size to indulge oneself with minimal guilt.
More often than not, I bake moist and all but gooey brownies that are difficult to remove from the pan unless they're chilled first. Although I love them, they're a tad too homey for special occasions. Valentine's Day calls for something with a bit more flare.
These little cakes with big chocolate taste fill the bill. The blend of intense cocoa, espresso powder, and bittersweet chunks give them an unusual depth of flavor. Creamy ganache glaze transforms them into small luxuries.
Bake them in cupcake tins for individual servings or mini-muffin pans for two-bite treats. Serve them alone or dress them up with a dollop of softly whipped cream or a scoop of ice cream.
The key to this recipe is cocoa powder, an ingredient I really haven't used that much in recent years. If I want chocolate, I usually melt some bittersweet for deep flavor. But I spotted some E. Guittard Cocoa Rouge powder at my neighborhood supermarket and was intrigued. It has a beautiful mahogany red color and tantalizing chocolate perfume.
Scanning my cookbooks, most of the cocoa brownies I found were in the older volumes. My mother clearly had revised one of her Betty Crocker recipes from the '60s to use cocoa so she could reduce fat and cut calories.
My goal, on the other hand, was true chocolate flavor, calories be damned. I worked off the basic framework of several recipes, throwing in Scharffen Berger chocolate baking chunks and a little espresso powder for good measure. The basic brownie was quite nice but it called out for a crown of ganache, adapted from Gayle and Joe Ortiz's "The Village Baker's Wife" (Ten Speed Press, 1997), to get the right balance between cake and fudge.
You don't need to use the most expensive ingredients, though, to get good results. I made the brownie bites again with Droste cocoa and Ghirardelli bittersweet chocolate chips and they still were terrific. I even used the chips for a very credible ganache.
ESPRESSO BROWNIE BITES

Makes 18 cupcake size brownies
1 cup butter
1 cup unbleached flour
¾ cup Dutch process cocoa
½ teaspoon salt
1 tablespoon instant espresso powder
1 cup sugar
3 large eggs at room temperature
1 teaspoon vanilla
2 cups (about 12 ounces) dark chocolate baking chunks or chips, divided use
½ cup ultra-pasteurized whipping cream
Preheat oven to 350 degrees. Grease and flour muffin pans.
Melt butter and let cool while you assemble the remaining ingredients. In a small bowl, stir together flour, cocoa, salt and espresso powder.
Place sugar in the bowl of an electric mixer and add eggs, one at a time, beating between additions until the mixture is pale yellow and the batter falls from the beaters in thick ribbons. Stir in vanilla. With the mixer on low speed, beat in about a third of the cooled butter until incorporated, then about a third of the flour mixture. Continue alternating the remaining butter and flour until all the batter is thick and smooth. With a rubber spatula or wooden spoon, fold in 1 cup of the chocolate chips or chunks.
Fill each muffin cups with about 2 rounded tablespoons of batter and bake in pre-heated oven for about 20 minutes, until the brownies are just baked and their tops spring back at the touch. Be careful not to over-bake or the brownies will be dry. For mini-muffin pans, fill each with a rounded tablespoon of batter and bake for 12-15 minutes.
Remove pans from oven and let cool on a wire rack.
While brownies are cooling, make ganache. Coarsely chop the remaining 1 cup of chocolate into small pieces if the chunks are large. They should be about the size of typical chocolate chips. Place in a small mixing bowl. Bring cream to a boil in a small, heavy pan. Remove pan from heat and pour about half of it over the chocolate. Reserve the rest of the cream in the pan. Let the chocolate and cream mixture sit for a minute or so and then stir in slow circles with a rubber spatula until smooth, being careful not to introduce create air bubbles. Don't worry if all the chocolate hasn't melted.
Reheat the cream in the pan and pour about half of what is left into the chocolate and stir gently again until it is all incorporated. Repeat with the remaining cream.
Let the mixture cool, uncovered, at room temperature, stirring every 5 minutes or so in the first 30 minutes, then at 45 minutes. As the ganache cools, it will thicken. After about an hour, it should have the consistency of unwhipped cream and be ready to use as a glaze. Dip brownie tops into the ganache or spread it over the tops with a small spatula. (Any leftover ganache can be stirred into hot milk for outstanding hot chocolate.)
Brownies are best eaten the day they are baked but will keep several days in an airtight container. Do not refrigerate or the ganache will lose its shine.