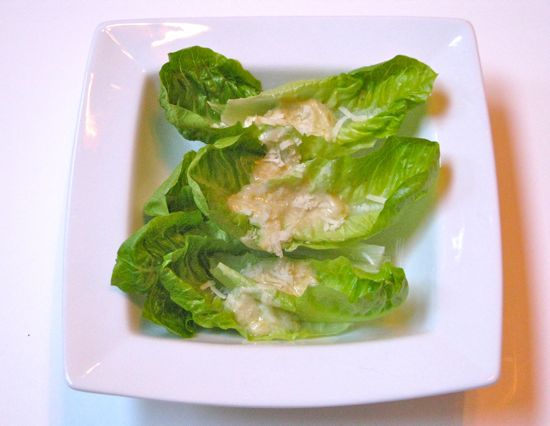 One of the delights of shopping at the farmers market is the baby lettuce I've been getting from Blue Heron Farms.  These small heads of Little Gem lettuce look like miniature romaine. They're just as crisp and crunchy at the heart, too, but the leaves are tender and sweet.
Lettuce this good cries out for a simple treatment.  It should be the star of the salad bowl.
I've been serving it in a Caesar with a garlicky dressing made with Greek-style yogurt in the place of eggs. Normally, I don't like to mess with classic recipes. But Caesar salad has been subjected to so much interpretation that I don't feel too bad cheating on the dressing as long as the end result is as good as this one.
It's not that a traditional Caesar dressing is that hard to make, but I'd rather not use raw eggs and barely coddling them is a little tricky.  A moment too long in the simmering water, and the yolks get too firm to whisk with the oil.
Yogurt solves that problem.  It also reduces the fat in the dressing and makes a nice emulsion. The key is to use non-fat Greek-style yogurt, which has the right texture, neither too thick or too thin.  It's fairly easy to find in ordinary supermarkets now.
The dressing whirls together in a blender or food processor in no time.  I like it with the traditional anchovies, although Asian fish sauce is a good substitute in a pinch.  If you absolutely cannot abide the taste of salty fish, however, add a bit more Worcestershire sauce.
Use just enough dressing to lightly coat the salad.  You don't want to obliterate the great fresh taste of the lettuce.
CHEATER'S CAESAR SALAD DRESSING
Makes about ¾ cup dressing
2 anchovy filets or 1 tablespoon fish sauce
1 garlic clove
½ cup nonfat Greek-style yogurt
1 tablespoon fresh lemon juice
3 tablespoons extra virgin olive oil
Dash of Worcestershire sauce
Salt and pepper to taste
3 tablespoons grated Parmesan cheese
In a blender or food processor, whirl together the anchovies, garlic, yogurt, lemon juice, olive oil and Worcestershire sauce until well blended.  Season with salt and pepper and stir in Parmesan.
Aleta Watson