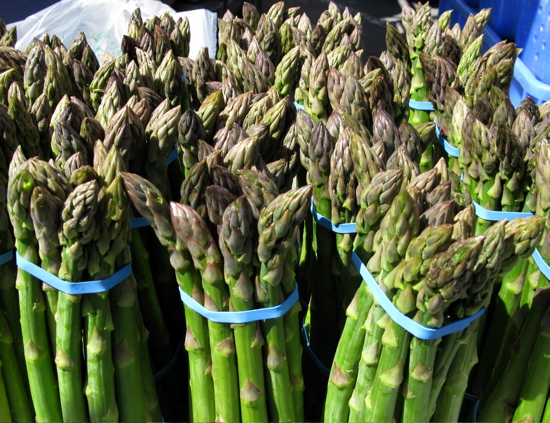 Whatever happened to spring? The season seems to have leapfrogged from winter to summer when I wasn't looking. One night I was snuggling under a down comforter and the next I was wondering why I still had flannel sheets on the bed. The thermometer shot to over 90 when I was out hiking yesterday and, around here, that's pretty hot even for summer.
No matter, the comforts of spring remain in the market. I'm grateful that I can still savor the bright, grassy flavor and crisp texture of fresh, locally-grown asparagus. Even better, the prices are coming down.
When asparagus first arrives at the farmers market, I'm happy just to eat it as plain as possible. It's the first fresh taste of wonderful produce to come as the days get longer and the weather gets warmer. Nothing more than a little sweet butter is required.
After a few weeks, I start looking for other ways to enjoy one of my favorite vegetables. Any new dish, though, has to emphasize the asparagus. The flavor is too good to mask with heavy sauces or overpower with too many competing tastes.
This pasta, inspired by Nigel Slater's "Real Cooking" (Penguin, 1999), is just right. It's extremely simple and the fresh asparagus flavor gets even deeper because the spears are roasted rather than steamed. Butter, prosciutto and Parmesan are the perfect complements.
Toss this sauce with any pasta you like. I used fresh rigatoni that I also picked up at the farmers market for this photo, although penne would do just as well. I tend to use tubular pasta more than the long strands, but that's just personal taste.
As always, you can substitute good, salty ham for the Prosciutto
Since this dish requires turning on the oven, you might want to wait a few days before you make it if you're also experiencing an unseasonal heat wave. Surely, spring will show up again one day soon.
PASTA WITH ASPARAGUS, PROSCIUTTO AND BUTTER
Serves 4
1 pound fresh asparagus
About 4 ounces thickly sliced prosciutto
6 tablespoons unsalted butter
1/4 cup freshly grated Parmesan plus more for passing
1 pound pasta of your choice
Salt and pepper
Preheat oven to 375 degrees. Snap tough ends off asparagus and cut each spear into 2-inch lengths. Cut prosciutto into strips about 1/4 inch wide by 2 inches long.
Smear 2 tablespoons of the butter in the bottom of a skillet with an oven-proof handle. Scatter prosciutto strips over the butter and top with the asparagus. Sprinkle asparagus with Parmesan and top with remaining butter, cut into small cubes. Pop into the oven and roast, basting once or twice, for about 20 minutes – just until the asparagus begins to brown on the edges.
While asparagus is roasting, bring a large pot of liberally salted water to a boil and cook pasta according to the package instructions. Drain pasta, reserving about 1/2 cup of the cooking water. Remove asparagus from oven, add drained pasta to the skillet along with a little cooking water, if necessary, to create a light sauce. Season to taste and serve, passing additional Parmesan for diners to add as desired.