For the first time ever I have more persimmons than I know what to do with.
Who knew that little tree in the backyard of my new house would bear so much fruit?
Don't get me wrong. I still adore the bright orange fruit that I used to track down at farmers markets, feeling lucky if I scored half a dozen.  A whole tree-full is a big responsibility, though.  I've given a bunch away to neighbors and family but there still are trays of ripening persimmons covering the counters in the laundry room and more in bowls in the dining room and kitchen.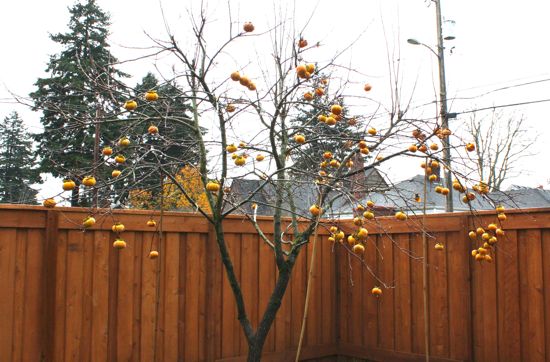 These are fuyu persimmons, the variety that you can eat like an apple.  They're best when they've just turned bright orange and little cracks have begun to form at the stem end.  At that point they're delightfully crisp with a mildly spicy flavor evoking cinnamon and nutmeg.  By the time they get soft, the flavor declines and all you have left is mush.
So time's awasting. Thus far I've made my favorite salad with pears, hazelnuts and blue cheese, experimented with a huge batch of persimmon butter, dehydrated persimmon slices, and converted an old-fashioned apple pudding to persimmons.
The pudding was such a hit that I'm sharing it here as a holiday treat. The inspiration came from Marion Cunningham's "The Supper Book," (Knopf, 1992), a collection of homey but extraordinarily delicious dishes from another era.
Really more of a moist cake, it gives bread pudding a run for its money.  There are plenty of walnuts for fabulous crunch and the brown sugar topping accentuates the spicy flavor of the fruit while contributing another layer of texture.  My favorite part is the crispy edges where the sugar has caramelized but the sauce at the bottom of the pan is wonderful, too.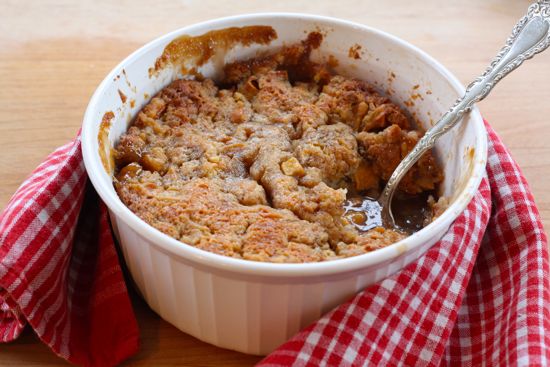 I had to fiddle with the recipe to get it to fit into one of my baking pans –the original called for an uncommon 10 x 10-inch square pan. Now, it works with a 1.6 liter souffle dish or any baking pan that holds about 6 3/4 cups of batter.  I've cut the sugar quite a bit, although it's still plenty sweet.
The pudding rises like a souffle in the oven but collapses as it cools.  Don't worry.  In this case, you want the dense texture AZ– all the better for supporting a scoop of slowly melting vanilla ice cream.
Ice cream–now that's an idea.  Maybe that's what I should do with some of the remaining fruit.
The possibilities are endless.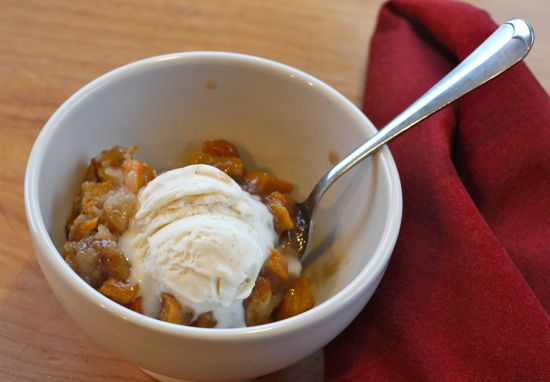 PERSIMMON-WALNUT PUDDING
Serves six
3/4 cup unbleached all-purpose flour
1/2 cup plus 2 T white sugar
1 1/2 teaspoons baking powder
1/4 teaspoon Kosher salt
1/3 cup plus 1 tablespoon milk
2 cups peeled and diced fuyu persimmons
3/4 cup chopped walnuts
1 cup boiling water
1/2 cup dark brown sugar
2 teaspoons butter
Vanilla bean ice cream for serving
Preheat oven to 350 degrees and butter a 1.6 liter (about 6 3/4 cups) baking dish and set aside.
In a large mixing bowl, whisk together the flour, white sugar, baking powder and salt.  Add milk and stir until smooth.  Fold in chopped persimmons and nuts.  Spread batter in the prepared dish.
In a small saucepan, combine the boiling water, brown sugar and butter.  Bring mixture to a boil then pour the syrup evenly over the cake batter.
Bake uncovered for 50 minutes to an hour.  When cake is done, the topping will be golden brown and bubbling.
Serve warm with a scoop of ice cream on top.
Aleta Watson
(Inspired by "The Supper Book," by Marion Cunningham)