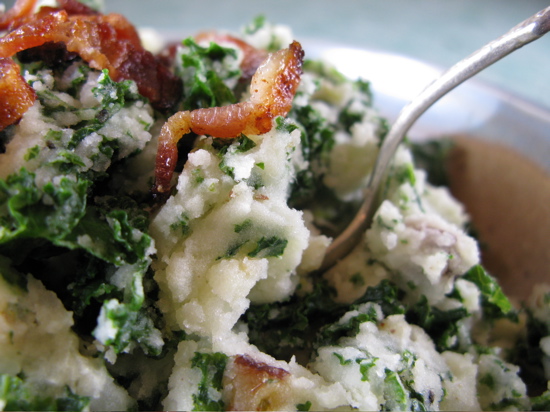 Chances are you've never heard of colcannon, much less ranked it high on your list of favorite Irish foods. It certainly wasn't part of my repertoire until recently, when I began looking for new ways to cook the kale that floods local farmers markets during the winter months.
For the record, colcannon is a traditional Irish peasant dish dating back at least to the 18th century. It sounds a little odd: A concoction of mashed potatoes and cooked cabbage or kale with a little onion thrown in, and perhaps some bacon if you're flush.
On the plate, however, it's a revelation. The greens bring pleasing texture and a new layer of flavor to often stodgy mashed potatoes, while onions contribute sweet and savory notes. The bacon – well, what's not to like about bacon? It's the spark of salt and fat that brings the dish to life.
St. Patrick's Day seems the perfect time to introduce this wonderfully thrifty, nutritious and tasty dish to a larger audience. Pair it with a pot roast braised in Guinness and you have an uncommonly good menu for a feast in honor of Ireland's patron saint.
I've adapted this recipe from "Kitchen Seasons" by Ross Dobson (Ryland Peters & Small, 2007). He's an Australian food writer with an eye for simple, flavorful food in rhythm with the seasons – a cook after my own heart. Although colcannon is more often made with green cabbage, he uses curly kale, which retains its bright green color and ruffled texture when cooked. I've swapped out most of the butter in his ingredient list for cream or milk to make the potatoes more silky.
To go with it, I've turned a classic Belgian stew recipe from Julia Child's "Mastering the Art of French Cooking" (Knopf, 1967) into a pot roast braised in dark Irish beer. You might recognize it as Carbonnades a la Flammande. The ingredients are economical – chuck roast, onions and beer – and the preparation is easy, although it does take a few hours in the oven to develop the luscious, caramelized flavors.
I've simplified the recipe by omitting the last step of thickening the braising liquid with cornstarch, which tends to dull the flavors. Instead, I reduce the liquid into a sauce by boiling it for a few minutes after removing the meat.
Serve this with a glass of Guinness and you're Irish for the evening. On the other hand, it also goes down nicely with a good cabernet.
Kale colcannon
Serves 4
½ pound curly kale
2 large potatoes, peeled and quartered
1 tablespoon olive oil
2 strips bacon, cut into strips
4-6 scallions, thinly sliced
¼ – ½ cup cream or milk, to taste
1 tablespoon butter
In a large pot of boiling water, cook kale for 6-7 minutes, until tender but not mushy. Drain, chop finely and set aside. Add potatoes to the pot and refill with enough cold water to cover the potatoes. Bring to a boil and cook for 15-20 minutes, until potatoes are easily pierced with a small, sharp knife but not yet falling apart.
While potatoes are cooking, put the olive oil in a non-stick skillet over medium heat. Add bacon and cook for about 5 minutes, stirring frequently, until bacon turns golden. Add scallions and cook for 2 minutes more. Stir in kale and remove pan from heat.
When potatoes are done, drain well and return them to the pan. Mash and stir in enough cream or milk to create a silky, but not loose texture. Stir in bacon and kale mixture, top with the butter and serve.
Adapted from "Kitchen Seasons," by Ross Dobson.
Guinness pot roast
Serves 4
1¾ – 2 pound chuck roast
Salt and pepper
2 tablespoons olive oil
2 medium yellow onions, sliced
3 cloves garlic, mashed
½ cup beef broth
1½ cups dark beer, preferably Guinness
1 tablespoon dark brown sugar
1 bay leaf
4 parsley sprigs
3 sprigs fresh thyme or ½ teaspoon dried
Preheat oven to 325 degrees. Pat roast dry with paper towels and season with salt and pepper on both sides.
Heat oil over medium high heat in a large, heavy Dutch oven and brown roast on both sides. Remove meat from pan and set aside on a plate. Reduce heat to medium, stir onions into the fat and cook for about 10 minutes until lightly browned and soft. Stir frequently. Add garlic, broth and beer to the pan and heat to a simmer while scraping up the browned bits from the bottom of the pan. Stir in brown sugar until dissolved and return roast to the pan, nestling it among the sliced onions. Tie bay leaf, parsley and thyme together with string into a little bundle and tuck it among the onions. Bring pan back to a simmer.
Cover pan and place in the bottom third of pre-heated oven. Braise for about 2½ hours, until meat is fork-tender.
Take pan from oven and transfer meat to a plate or shallow bowl. Remove herb bundle and discard. Return pan to stove and heat over medium high until liquid and onions begin to boil. Cook, stirring frequently to prevent sticking, until liquid has reduced by about half to a slightly thickened sauce. Pour sauce over the roast and serve.
Adapted from "Mastering the Art of French Cooking," by Julia Child, Louisette Bertholle and Simone Beck.